Briefly: Gold is likely to plunge below $1,000 this year and we've been writing about it for months. This article provides a list of critical long-term factors that one should be aware of if they want to invest in or trade gold, silver, and/or mining stocks. We include links to our previous premium analyses and we just made these analyses available to everyone.
But first, a quick short-term update.
There were a few important technical details that took place on Friday that confirmed what we had written previously. The USD Index broke above the rising wedge pattern and the medium-term reverse head-and-shoulders pattern, while silver closed (the daily and weekly close) below its July 2017 lows.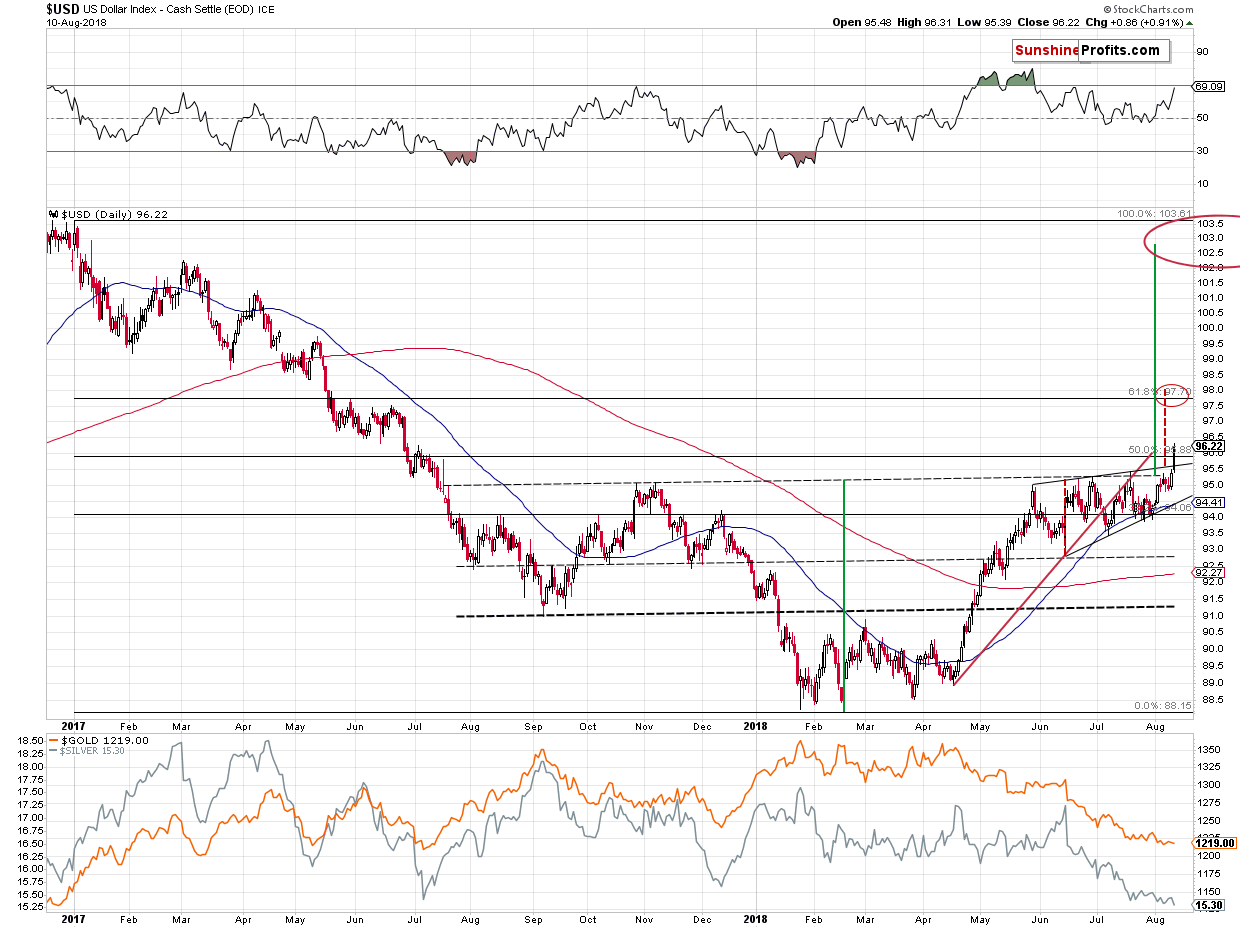 That's a major breakout in the USDX and it's likely to be followed by much higher price levels. The implications for the precious metals market are clearly bearish.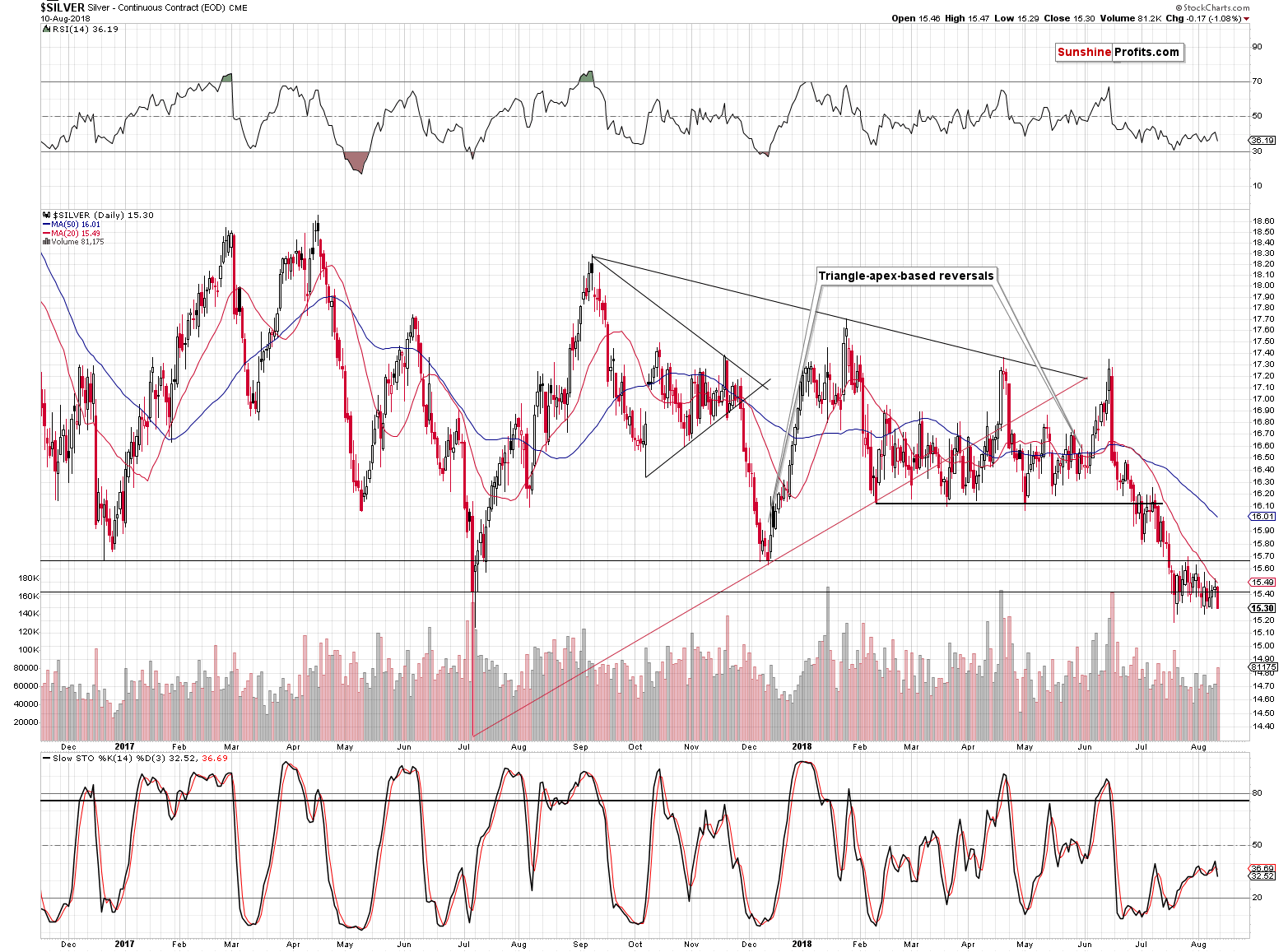 The same goes for silver's crystal-clear breakdown in terms of weekly closing prices and another breakdown in daily prices. The volume on which silver declined was big on a relative basis and the white metal continues to move lower in today's pre-market trading, which means that the breakdown is very likely to be confirmed. The implications are already bearish.
But the overall implications were extremely bearish previously, so nothing really changed. Consequently, our previous comments and the current investment / trading positions remain up-to-date. Therefore, instead of repeating what we wrote on Friday, we decided to do something different today.
The inspiration came after explaining the USD Index's outlook along with some PM details. We were asked: So, is there anything else pointing to lower PM prices other than the USD Index? Our initial reply was that there were multiple very important reasons but for some reason we couldn't recall more than a few of them. It turns out that when so many things are explained and written down, they seem obvious and they are removed from the active part of one's memory (for the same reason, if you can't sleep at night because you have so many things on your mind, writing them down to deal with them on the next day actually helps).
But, that's not how it should be in the case of one's investments. The prudent investor should always be aware of what the situation is along with the reasons for it being this way. Unless it's clear what justifies a certain opinion, it might be an emotional view, not a logical justification. So, why do we really think that the precious metals sector is about to decline? There are indeed numerous important reasons and we gathered them in the following list. We discussed some of them recently, but some of them seemed "too obvious" to discuss them in the past few weeks. In some cases, we haven't discussed a given issue in months.
Key Factors for Gold & Silver Investors
In today's analysis, we will provide a list of key factors that are likely to result in lower precious metals prices in the coming weeks and months. Naturally, we'll not discuss them from scratch, as that would imply writing a book. Instead, we will provide you with a list of links that includes the most important details that are important from today's point of view and we'll provide very brief summaries of each point. Let's start with the big picture.
Now, moving to the critical questions: When and at what price is gold likely to bottom?
You will find the best explanation of the up-to-date (as of August 13, 2018) gold's price and time target in our January 22, 2018 analysis. The $890 / late-Sep - early-Oct target is marked with the red ellipse and if you ever wonder if this target is up-to-date, please take a look at gold's long-term chart in one of the recent analyses - the up-to-date price-time combination will be marked with a red ellipse. Of course, if there are any major changes, we'll comment on that in addition to making changes on the chart.
And as far as the most recent price developments are concerned, we can say the following regarding (please use the links to access the details):
Moreover, we prepared a list of "boomerang questions" along with our detailed replies (in the linked analyses):
The reason behind the limited usefulness of the CoT signals and the ones coming from the RSI is also the reason why many short-term- and even some medium-term oriented techniques are likely to provide false signals at this time. The current and upcoming decline is a huge, long-term development and it's not likely to be stopped by short-term factors. Unless one looks at the really big picture (we provided multiple links above to make it easier), there's no difference between the current decline and the December 2017 downswing or the July 2017 one. Therefore, applying the same techniques that would have been useful back then seems to make sense. But there are so many signs that point to a huge move lower that it's not correct to compare the current slide with the previous medium- or short-term slides. It's not going to work because that means using a wrong tool to certain job. If you put a big truck (significant barrier) in front of a speeding motorcycle, it's very likely to stop the motorcycle (a short-term price move). But, if you put the big truck in front of a train that goes at its full speed (big, long-term price move), it won't do much. The train will go right through the truck without stopping. The key is knowing if the price move that one is looking at is a motorcycle or a train and the point of this quite significant commentary is to show that the current decline in the precious metals market really is the latter.
Summary
Summing up, there are multiple very meaningful reasons due to which the precious metals sector is likely to move lower in the following weeks and months. The USD's major breakout and the breakdowns in the precious metals sector serve as confirmations that a big slide in the PMs is already underway. In other words, it seems that our sizable profits on the short positions are going to become even bigger shortly. We may have a local bottom later this month, though, and we'll our subscribers informed regarding the possibility of seeing a bigger turnaround.
Does the above make us perma-bears? Absolutely not. We're long-term "gold and silver bulls" who simply think that there will be a much better opportunity to enter the market than the current situation. Consequently, we are not in the precious metals market at this time with the long-term investment capital (you can read what we mean by this kind of capital and learn more about our approach in our report on gold portfolio structuring), but we are waiting for the opportunity to enter it once again, as we think that fundamentals and the very long-term trend favor MUCH higher precious metals prices. The odds are, however, that we're going to see a big price slide first.
Please note that the above is based on the data that was available when this essay was published, and we might change our views on the market in the following weeks or days. In order to stay updated on our thoughts regarding the precious metals market we invite you to subscribe to our Gold & Silver Trading Alerts.
Thank you.
Sincerely,
Przemyslaw Radomski, CFA
Founder, Editor-in-chief, Gold & Silver Fund Manager

Gold & Silver Trading Alerts
Forex Trading Alerts
Oil Investment Updates
Oil Trading Alerts
Back