Frequently asked questions
Subscription and Payment
How can I subscribe to your services?
In order to proceed with subscribing to the Premium Service:
1. Log into your account
(If you don't have a Sunshine Profits account, you can sign up for one easily. Simply enter your name and email address into the green form to your right)
2. Click "Add more services" button
3. Select the subscription that's best for you and click the "continue" button
4. Provide your credit card details
5. Click "Continue" button
How do I cancel my subscription?
2. Under the "Active services" section click "Manage subscription" link to expand.
3. Click "Cancel renewal" button
You can cancel your subscription anytime. If you cancel the Service before the end of your current billing cycle, your account will remain active until the end of your paid subscription, and will then no longer renew.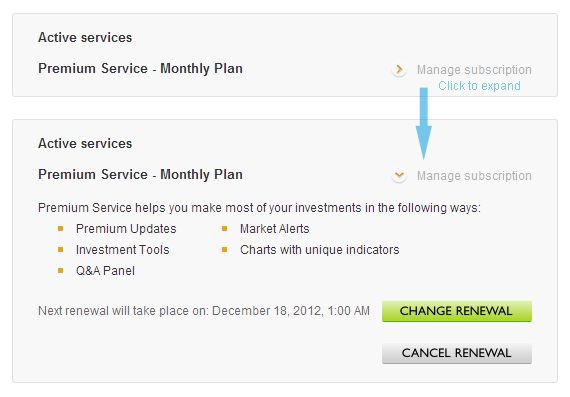 How do I change my credit card details?
2. Select "Change card data" from the left hand navigation menu.
3. Enter your new card information.
4. Confirm changes by clicking the green "Change card data" button below the form.
In order to validate your card, we send over a request to the issuing bank for $1 authorization.
Authorization holds are removed by your card issuer after a short time (usually 1-10 business days). If you use a debit card, you might see authorization holds as charges on your online statement. These charges are automatically reversed by your financial institution.
How do I renew my subscription?
All subscriptions on Commercial Services on Sunshine Profits are on a continuous renewal basis. Your subscription shall be renewed for the same period that you were subscribed to, prior to the date of the renewal.
How do I upgrade / downgrade my subscription?
2. Under the "Active services" tab click "Manage your subscription" link.
3. Select the subscription that's best for you.
4. Click "Save changes" button.
How do you store my personal information?
We appreciate your trust in us and we are strongly committed to keeping your personal information safe. Our server is protected, both logically and physically, against unauthorized access.
How Secure Is My Payment Data?
Credit / debit card purchases for Sunshine Profits' services are processed by the third-party vendor PayLane Sp. z o.o.. When our clients provide their credit / debit card information on our website the data is sent to PayLane, i.e., the payment data is not stored on our systems, with the exception of the card's expiration date. The expiration dates are saved in order to show them to you on the card details page and in order to send you reminders if your card is about to expire, which could result in termination of your active subscription.
For PayPal transactions, Sunshine Profits passes the request to PayPal and the transaction occurs directly on the PayPal website. Therefore, the payment data is not stored on our systems. Both: PayLane and PayPal power online financial transactions for many businesses globally, and they are compliant with PCI-DSS standards for the storage and handling of payment information.
I am a small private investor. Just want to know when to buy and sell. Should I subscribe?
As a small private investor, you'll definitely love our Gold & Silver Trading Alerts, Charts, Gold/Silver Stock Rankings, and the Correlation Matrix.
These sections of our website have been specifically designed for you to be able to make as much money as possible, given your individual risk tolerance and investment time horizon.
For instance, in our Gold & Silver Trading Alert, before a large part of the recent decline, we recommended our subscribers to get out of the precious metals market with their long-term holdings, and focus on making money using the speculative part of the capital only.
A multitude of financial instruments that we provide enables you to see the market from different perspectives. The more of them you adopt, the more accurate your decisions will be.
I'm totally new to investing. Will your services be appropriate for me?
Naturally! We have designed our service to guide you through the learning process without a hassle. How to Use section will help you to get comfortable with using our website and when you will be ready, just start using our comprehensive yet understandable Dictionary. If you are looking for the golden rules of the precious metals investment, make sure you will read our Key Insights, written with Investors like you in mind! Reading it should get you on the right track in no time. Additionally, by browsing our Website, you will see that we have made a large part of our content free, for your educational purposes - for example the Q&A Panel (everyday questions answered in one convenient location) and Multimedia (tutorial videos and more).
And, there's a beginner's guide for each type of trading alerts: Gold & Silver Trading Alerts, Oil Trading Alerts, Stock Trading Alerts, Forex Trading Alerts, Bitcoin Trading Alerts.
The charts in our alerts are dated 1 day prior to the actual release
Our alerts are always up-to-date when we post them and send them. The charts are based on the most recent closing prices that we have. Describing changes on the charts takes some time. So does writing the alert. Then it has to be proofread - otherwise a typo could sometimes change too much in our analysis. Then we have to create the e-mail with the alert, which then has to be tested for deliverability (to maximize the odds that it will reach your e-mail inbox). Then it is once again approved and sent. This means that even if you receive it slightly after the markets open, it means that we had to complete the analysis much sooner in order to prepare the alert and deliver it to you. If changes in the intra-day situation are material and impact the market, then we describe them or send a second alert right after the first one. You are always kept up-to-date even though the charts in our alerts are dated 1 day before you receive the alert.
There is a 7 day free trial of your service. Are there any application or other fees involved?
No, there are no fees involved. The trial is really free.
Sign up and see it for yourself.
What do you mean by "Premium Service"? What can you do for me?
.
In short, Premium Service means the ability to use the content of: Alerts, Tools, Reports and Indicators - depending on the chosen subscription package. What we can do for you depends on who you are and what you are interested in. We believe that we address issues relevant to virtually anyone interested in the precious metals sector, however there are parts of our website exceptionally relevant to particular groups of investors.
What is the $1 charge on my credit/debit card?
In order to validate your card, we send over a request to the issuing bank for $1 authorization.
Authorization holds are removed by your card issuer after a short time (usually 1-10 business days). If you use a debit card, you might see authorization holds as charges on your online statement. These charges are automatically reversed by your financial institution.
What subscription plans do you offer?
Gold & Silver Trading Alerts subscription is priced as follows:
$249 for 1 month
$699 for 3 months (you save $48 compared to a monthly subscription)
$2499 for 12 months (you save $489 (!) compared to a monthly subscription)
For more information on services and subscription plans, visit our pricing page.
When can I request a refund?
Sunshine Profits will refund your payment in full if the refund request is received within 30 days from the date of payment. We do not prorate any payments, charges, fees or taxes (if applicable) on any type of Service, regardless of the term for which the Service has been paid. If you are eligible for a refund please contact us.
Where can I find my Account Summary?
You can access your account information by simply clicking on your name, which is displayed on the top of the website (you need to be logged in to access your account).
Account summary consists of your personal details (such as email address), active services (you can manage your subscription here), payments history and your referral link (Spread the Word among your friends).
Which payment methods do you accept?
We accept credit card payments:
VISA
Mastercard
American Express
Discover & Diners
Japan Credit Bureau (JCB)
China UnionPay (CUP)
If you do not want to pay for your subscription with your credit card you may proceed using PayPal, or an international bank wire (you would need to subscribe for at least 1 year in this way). Please contact us so we may provide you with detailed information.
About Sunshine Profits
Do you accept advertising on Sunshine Profits?
No, we don't accept any advertising on SunshineProfits.com because we are not willing to compromise our objectivity. The only way this website generates revenues are payments from our Subscribers and this is where our loyalty is.
How do you pronounce Przemyslaw?
For English speakers, my name (like many Polish words), does not roll off the tongue naturally.
The first part "Przem", sounds closest to "Pshem", in English. The "y" in Polish is like the short "i" in English (like "i" in "silver"). In the last part of my name, the "L" with a slash is like the English "w," And the "w" sounds like the English "v."
So, my name, spelled in the English way, sounds like Pshem-i-swav.
I would like to say that two of the major cities in Poland today, Przemyśl and Radom, are named after me. I would certainly like to say that, but of course, it isn't true.
How long does it take you to create a new tool?
It depends on the tool, but generally the process takes between 4 and 8 months until the prototype is ready. At first, we try several concepts to analyze a given topic. If none of them provides good results, we stop the project. If the results are promising, we upgrade and fine-tune the tool until the results are good and reliable enough for us to invest our own capital based on it. Once the prototype is ready, we proceed with creating an easy-to-use interactive version for our Subscribers. This takes approximately between 1 to 3 months. As soon as the tool is ready, we start working on a video explaining the usefulness and the logic behind that tool. This takes between a week and 6 weeks.
Summing up, in most cases we're able to provide you with a new tool between 6 months and a year. Naturally, we try to shorten the time needed for the whole process, but in no case are we willing to sacrifice quality for speed.
How long have you been in the business?
We have been researching this market thoroughly since 2003. Our first essay was posted publicly in 2007. The Premium version of the website was introduced in 2009, and we have been developing it ever since (creating charts with unique indicators and interactive tools). From 2010 to 2011, we completely redesigned the website in order to make it as easy-to-use as possible, and to increase interaction between our Subscribers and us.
There is so much free information over the Internet. Why would I want to subscribe?
Assuming that you do your own due diligence and read all free materials that you can find on the Internet, you can still benefit a little extra from the Premium Service. This can be either an extremely timely Market Update, or an issue raised in one of the weekly Premium Commentaries that inspires you to use a particular strategy or purchase particular shares, which explode right after that. The point is that this little extra can at times be worth thousands of dollars. That is just one of the reasons - click here to learn more about other advantages. You know what they say - "Partially informed investor is just as effective, as partially informed surgeon - will only hurt himself and those around him".
Who created the testimonial videos?
Credits:
Director: Diane Estelle Vicari,
Camera: Ulli Bonnekamp,
Editor: Mike Murphy,
Production Coordinator: Bhavi Patel.
Why 'Sunshine Profits'?
Well, we did not want to name our Website with direct regard to any precious metal, because we plan to provide you with valuable information about investments even when precious metals cease to be our first choice. We would prefer to avoid changing our name, should that take place. 'Sunshine' represents optimism and bright look at the future. The combination with 'profits' gives you exactly what we strive to provide you with.
Market Related
A position in the precious metals market has gone sour. Should you revise your thinking?
Even if a trade is not perfect in terms of the entry price, it doesn't necessarily mean that we've made material mistakes in it (it could have been the case as nobody can be correct 100% of the time, but the point is that a move against a position doesn't prove that it's incorrect) - we've been analyzing the situation thoroughly each day and reporting accordingly. It is the same approach that resulted in major gains over a period of several years. When one looks at the chart, it's obvious when a bottom or top was seen IN THE PAST, but naturally, when we were at that moment we didn't have the price data from the future - we only had what was available at that time. For instance, if there were numerous bearish signals present, opening a long position would have been very risky.
Please note that when you review a price chart, you see the price and other things like volume etc. but you don't see the risk that was actually associated with a given position. Consequently, judging based on the price chart alone may lead to wrong results - like whether it was a good decision to buy or sell at a given moment.
It might be the case going long (or short) in the past was - as it turned out – a profitable decision, but at the same a wrong decision, because the risk/reward ratio was not favorable, in our view. With a deterministic situation like what we have in math, you can say that 2+3 = 5 and whoever says otherwise is wrong, but when you have only a 70% or 80% probability of getting a good result, it's not that obvious. If you haven't read Nassim Taleb's book "Fooled by Randomness", we highly recommend that you do - it covers this issue and many other important aspects.
You can think of numerous examples of how risk factors into the assessment whether a decision is right or wrong. For example, if one is asked to play Russian roulette and promised $1,000 for winning (instead of dying), is playing a good decision? The odds are that one will win, and someone who played it and won is profitable - yet, you can understand how this was a bad decision. The same principle applies to trading - if a trade resulted in gains it doesn't automatically mean that it had been a good decision to enter it. If the trade was backed by thorough research and the risk/reward was favorable to enter the trade, it remains to be a good decision regardless of the outcome.
The answer to the question regarding revising our thinking actually has two parts. On one hand, we're revising it each day – we're looking fresh at the charts and then report what we see. If anything changes, we adjust the position whether it's profitable or not. For instance, we might exit shorts at a loss only to re-enter them at a higher price which is likely to increase the overall profits.
On the other hand, we're not looking to revising our model or the way we're making investment decisions, because we don't think one trade, particularly if it is still not over, has any significant implications for the efficiency of the approach. The latter can only be judged over the long run and our results suggest that our approach creates a lot of value.
Even if a trade goes temporarily against us, it wouldn't be the first or second time for it to become very profitable in the end. As you can see, the trades that we feature in the alerts have generated substantial value even if no leverage was applied, so if the final trading results are not as good, then perhaps the reason is something else than our comments.
We'll continue to do our best with our analyses, but we can't promise profits on each trade. We do think, however, that our alerts will be highly profitable over the long run (no promises, though).
Can you analyze my portfolio of gold stocks?
Not yet, but we are working on implementing this product on our website. It should be available really soon.
Can you sell me gold or silver?
No, we do not offer such services. If you wish to purchase physical silver or gold you may consider visiting the Gold Investment Ideas and How to Buy sections for more information.
Do you have a model portfolio for gold/silver stocks?
Both yes and no. No, because we do not have a model portfolio for gold stocks and silver stocks, as we believe that this is an oversimplification that can be unprofitable to our Subscribers. Each Investor has a different investment horizon, and different risk tolerance, so it is really impossible to tell everyone to purchase the same stocks at the same time. Yes, because we have something better. Our Golden Stockpicker and Silver Stockpicker in the Tools section are updated on a daily basis, and provide a list of the best (most leveraged to gold/silver and with higher exposure to the underlying metal) gold/silver stocks with three time-frames in mind: long-term - for buy and hold purchases, medium-term, for medium-term trades, and short-term, for short-term, daily speculative plays. Based on our thorough research, the long-term investment efficiency can be increased thanks to rebalancing the long-term gold- and silver stocks according to our StockPickers. The profits on short-term rallies have also been bigger when stocks chosen by the StockPickers were used instead of a general proxy for the mining stock sector. As far as the precious metals portfolio is concerned, we have researched this topic extensively and you can read our findings free of charge in our gold portfolio report.
Do you provide short term and medium term trading ideas on gold and silver?
Yes, this is our main focus, and we cover these markets regularly. Additionally, we analyze the precious metals stocks. Our analyses are accompanied by suggestions for both: long-term Investors and short-term Speculators. If you're interested in gold trading or silver trading please visit our Gold Trading & Silver Trading Alerts section.
Do you recommend buying shares of XYZ123? How much should I buy?
No, we do not recommend any specific securities. Generally, we will provide you with our thoughts regarding the market and signal particularly favorable moments to enter/exit positions, but unless it is exceptionally clear as to what trading instruments it is best to use (or not to use), we will refrain from suggesting exact position sizes and choosing the securities that you should use. It is not because we don't care - it is exactly the opposite. We don't do it as we believe that it is impossible to do a good job here without knowing one's exact financial situation and their risk preferences. In other words - the action that you should take depends on your investment goals, portfolio size, other investments/correlations with them, how soon you need to sell this position, your risk preferences, etc. Our Subscribers have many different goals, risk preferences, portfolio sizes, and trading styles, and it would be impossible to suggest an action that everyone would be able to take advantage of. Therefore, instead of discriminating a part of our Subscribers by focusing on other part we decided to provide you with general timing suggestions and make the rest of the investment process much easier by developing Tools and  SP Indicators. For instance the Position Size Calculator and the Pyramid Optimizer will help you with your option trades, while the Golden and Silver Stockpicker will create a ranking of gold/silver stocks that is perfect for you.
I have a question to Mr. Radomski...
We appreciate if you send us market-related questions and we forward them to Mr. Radomski, CFA, but we cannot guarantee a direct reply. Still, if you ask a question about market in general, or about particular piece of news, this message increases the odds that we will send out an additional Gold & Silver Trading Alert.
Is there a ranking/list of best gold/silver stocks with regard to their leverage and exposure?
Yes, our Subscribers have been enjoying these rankings for years. We provide them in the form of interactive investment applications; they are called Golden StockPicker and Silver StockPicker. Apart from the abovementioned functionality, our interactive investment tools provide you with the list of best stocks for a particular trade in mind. You enter the price of gold at which you want to purchase your gold stocks, and the price at which you want to sell, and our calculator tells you which stocks to use to make the most of this trade. We invite you to see the tutorial videos in Multimedia section.
The world is constantly changing... How about the usefulness of technical analysis (TA)?
The most important fundamental that never changes is human psychology and emotionality of individual investors. This is something so stable that one, two, or even three quantitative easings are not able to change. Will China's growth cause people to stop being greedy when they see higher prices and fearful when they see them decline? Will Europe's problems cause people to act by means of cold logic only? Definitely not. Moreover, even if TA will someday cease to be useful, it is highly improbable that it will happen any time soon. Certainly, it is not a matter of weeks, months or even years because TA's foundations are based on real psychological mechanisms, that are an inherent part of each human being. Here is what we wrote in the past about the usefulness of technical analysis, and it still holds true today.
What kind of methodology do you use?
We combine various approaches and always try to look at the market situation from various angles. We use fundamental analysis to establish the general tendencies in the market; we use the technical and cyclical analysis with elements of the fractal theory to time the markets; and finally we use quantitative means to choose the size of particular positions. You can find out more in the section dedicated to our gold & silver investment methodology
.
What securities do you cover at Sunshine Profits?
Basically, we cover all precious-metals-related securities, however not all directly. The reason for that is because all assets whose price depends on the price of gold and silver (mutual funds, ETFs, ETNs, mining stocks, junior mining stocks, futures, options, etc.) are highly correlated with the metals, and turning points are likely to take place very close to the turning points in metals themselves. Therefore, no matter which part of the precious metals sector you are interested in, you are very likely to benefit from our service. We directly cover (on a regular basis) gold/silver, gold/silver ETFs/ETNs, virtually all major gold/silver companies and approximately 500 junior stock mining companies, even though not all of them are presented in our rankings, as they feature only the top ones.
If you are interested in gold mining stocks, be sure to check out our Golden StockPicker.
If you are interested in silver mining stocks, be sure to check out our Silver StockPicker.
For information about timing (choosing optimal entry and exit moments, please be sure to visit our Gold & Silver Trading Alerts (premium) or Articles (free) sections.
When do you send Gold & Silver Trading Alerts?
We're sending the Gold & Silver Trading Alerts on each trading day and we send additional Alerts when points made in our previous commentary are no longer up-to-date (new developments on the market), or if we will let you know in advance that we will send one under given circumstances. Besides that, there is no rule as far as scheduling the alert goes - especially, it's not possible to reply to the "are you sending an additional alert today?" question. If the answer would be YES, then it means that Mr. Radomski is just preparing it, and you'll receive it within several minutes. If the answer would be NO, then it doesn't mean that we won't change our mind in several minutes or so (something might just pop up / something becomes clearer as far as chart analysis is concerned etc.), so it's not informative either.
Why are your stop-loss orders often so far from the current price?
The stop-loss orders are often relatively far from the price and that is something that may indeed seem odd. However, it stems from our strategy and it's been working very well. The reason is that we usually don't focus on very short-term moves, but rather short- or medium-term ones (ones that we expect to continue for 1-6 months).
The bigger the projected size of the move, the farther the stop-loss should be set. A stop-loss is the price level that would close the position by itself (!), regardless of the size of the volume, corresponding action in other related markets, ratios etc. If things don't go where we expect them to, we will likely close the position much sooner without using the stop-loss orders. In other words, a stop-loss level is a reply to the question "how far should the price move for us to change our mind on a given trade without considering anything else." We always consider other markets as well, so our positions are rarely closed by stop-loss orders. Please note that a $20 rally in gold on low volume after major bullish news is a bearish phenomenon, while a $15 rally on strong volume without bullish news is a very bullish phenomenon - the price action alone is not everything.
Why don't you cover typical financial / fundamental analysis of companies?
We do use fundamental analysis to establish general tendencies in the big picture and focus on certain sectors; however, we do not perform classic financial analysis of mining companies. There are numerous reasons for that.
First of all, big investment institutions send their own experienced geologists to multiple mining companies and their mines, and then bet accordingly based on their reports months before this information can be reflected in the official fundamental data. Will individual investor be able to outperform them based on analogous, yet limited research? Not really. Instead, one can take a different approach. As the sophisticated investors make transactions, prices will begin to reflect the above-mentioned information. If one knew how to detect these subtle clues in the price itself, one could quickly, and automatically analyze multiple mining stocks and it shouldn't take too much time. We discovered a way to achieve this goal and this is exactly what our Golden StockPicker and Silver StockPicker do.
There are also other reasons why we prefer not to conduct the classic financial/fundamental analysis of mining companies. The mining business it is extremely difficult to compare particular companies, as they might have very different strategies. Take SSRI for example - the company's been one of the most popular silver miners (and a well performing one too) for many years before they started producing. Evaluating junior mining companies is even more difficult, as there are many non-financial factors that need to be considered, the company's management being probably the most important.
The final reason is that we are very cautious when it comes to reading financial statements. Some of the reports might have been produced in the "creative" way and since we are not sure that we can spot each shenanigan, we prefer to use other methods of choosing companies, entering and exiting our positions. For more information, please watch the video dedicated to choosing mining stocks or read our mining stock report.
Technical
I can't log in / read Trading Alert
If you can't log in and our system tells you that your e-mail or password are incorrect, please note that our system is "case-sensitive" meaning that if your password is sunshineprofits and you type Sunshineprofits or SunshineProfits - our system will not recognize you.
If none of the above helps, please try erasing your temporary internet files (you will find more details here) or simply contact us.
I have registered but I didn't receive any message from you so far. What's wrong?
Sometimes our messages might get blocked by your e-mail client and put in the spam folder (most likely this is where you can find the e-mail that you expected to receive - if that is the case please flag our messages as not-spam). To make it more likely that you get all the messages that we send you, please add (if you cannot see the e-mail address, please make sure that you have enabled JavaScript in your web browser) to your address book / "safe senders list" in your e-mail client. Click here and here for more detailed instructions. If you still don't receive an e-mail from us, please contact us.
If you used to receive messages from us, but you don't receive them any longer, please go to "My account" (click on your name in the top-right corner of the website), then click the "Edit" button and check whether the "Inform me about the website activities via e-mail" box is checked or not. If it is not, then please check it by clicking on it, and click the "Update" button. There is also an additional way to receive notifications from us - the RSS feed mechanism - you can receive them via e-mail and they are likely to be received because they are sent from a different IP/server) - click on each section that you are interested in and on the following page click "e-mail").
Some email accounts have set maximum disk space limits. If emails are left on the email server indefinitely, the email inbox may get full. Check your mailbox usage and clean up if necessary.
If you are an Spectrum email user (this includes EarthLink, Roadrunner, Time Warner Cable and Charter email accounts as well), please consider using an alternate email address, so that you can receive email from Sunshine Profits.
I want to receive messages to a different e-mail address. How do I do that?
1. Please access the My account section (after logging in, click your name in the top-right corner of this page).
2. Under "Your personal details" click the "Edit" button.
3. Under "Account" click the "Change" button.
4. Enter your password and new email address.
5. After making appropriate changes click the "Change e-mail" button.
I want to stop receiving e-mails from you. What should I do?
If you do that you will not receive ANY messages from us, including those sent exclusively to the Premium Service members. In order to proceed simply click on the "stop receiving these messages" link in one of the e-mails that you received from us. It is located on the bottom of the message. Alternatively, please log in, then go to "My account" (click on your name in the top-right corner of the website), then click the "Edit" button. Please un-check the "Inform me about the website activities via e-mail" box by clicking on it, and click the "Update" button. If you decide to receive our messages, you can always go to this section again, check this box, and click the "Update" button, to enable them.
Important notice for Spectrum clients / EarthLink, Roadrunner, Time Warner Cable, Charter
If you are an Spectrum email user (this includes EarthLink, Roadrunner, Time Warner Cable and Charter email accounts as well), please consider using and alternate email address, so that you can receive email from Sunshine Profits.
Is my data safe?
You can rest assured that your personal information is safe with us, as we DO NOT and WILL NOT sell, rent, lend or disclose it in any other way.
We are very serious about the security level of any sensitive data you provide us during the registration process. Therefore, we have decided to use DigiCert authentication services, a top-notch SSL certificate provider. We are also aware that even the fancy security certificates and encrypted connections are vulnerable to penetration because of the weakest element -- human. That's why our staff is highly trained in terms of information security.
Day Trading Signals FAQ
Can I see the currently active Signal(s) somehow?
If you are a subscriber to our Signals, you will receive e-mail notifications about the new signals as soon as possible. If you want to check if you haven't missed a message from us or to double-check the price levels, you may always log into the website and navigate to the latest Signal – it will include all the details along with a chart that helps to put the price levels into perspective. The same applies for days when there are no Signals for a given market – we will be sending notifications and post a note on the website as well.
During the initial free access, everyone will be able to access the Signals section on our website and we will send notifications attached to our regular mailings, including our free newsletter. If you'd like to receive the notifications for the Signals as soon as they are posted on our website, please let us know – we will sign you up for a special notification newsletter (it's free during the initial free access).
Do you allow for overlapping Signals?
Signals for a certain market are provided independently from Signals for different markets. For instance, there could be a Signal for gold, a Signal for silver, Signal for stocks, and for some currency pairs at the same time.
In case of a single market, there will always be at most one day-trading Signal active. If the position based on a certain Signal results in holding a position overnight, then the position remains active until it is either closed based on profit-take or stop-loss being reached, or we provide the next Signal for the same market. The next Signal for a given market is effectively an update of the preceding Signal, should one be in place at that time. This may mean closing the position or changing its parameters (the take-profit level and/or stop-loss level).
Do you also short? Do you also keep positions overnight?
Yes, we do short – every futures contract has both the buy and sell sides, so at times it appears more profitable to take position that gains when a given asset declines in value. More or less half of our trades is long, and half is short. Depending on the vehicle you use to carry your trades (i.e. commodity futures, forex futures, CFDs or other), different terms such as margin, spread etc. may apply to your open position. Should you decide to keep the position open overnight, there is also the possibility of a rollover fee being charged by your broker. Be prepared and know the instrument(s) you trade well.
Do you as well trade the Signals (using the same instruments)?
We may (and are likely to) trade the Signals, but we don't want to be obliged to do so in case of every particular signal. We may also trade according to other strategies. As explained above, there are many timeframes in which the trends can be traded. There are even more short-term oriented trends that last only several minutes. We may choose to act on the one of the other trends than the ones that are used to create the Signal. Or – which is more likely – each individual Sunshine Profits employee and associates may invest and trade according to their preferred trend, or a combination thereof.
We might also trade the moves that are too quick to be commented on. For instance, if the move that we aim to catch is starting right now and it seems likely that it will take not more than 10 minutes before the entire trade is over, we might trade it, but we would not attempt to issue a Signal as it would reach you too late to be used.
Additionally, we may (and are likely to) engage in trades that are designed to test new strategies and improve the existing ones. This is an important part of making sure that we deliver Signals (and products in general) that are only of the highest quality. As you probably experienced for yourself, testing a given strategy on a demo or paper-trading account is not enough to really verify a strategy. Therefore, before presenting something to you, we need to test it using our own capital, and this means entering trades based on a strategy that will not be available anywhere, as the service based on it wouldn't exist yet. Some trading methodologies may become outdated and stop working and therefore it is our ethical responsibility to make sure that we're doing all we can to detect that moment and have another strategy to switch to and/or to have strategies that we would diversify into.
Do you guarantee any rate of return, profits, or a number of Signals per month?
We can't guarantee any number of signals, because it's too analyst-dependent. Analysts are people and people sometimes get sick, have to react to personal emergencies and so on. The odds are that there will be at least several Signals per week, but because of the above, we can't guarantee this frequency. Please keep in mind that in case of any health issues it's better not to send any Signal at all as its quality might be impaired.
Just as practically everyone in the trading and investment business, we do not guarantee any kind of performance. Trading is a risky activity and can result in gains just as well as losses. Futures contracts, CFDs and other leveraged instruments involve substantial risk of loss and in rare cases, one can even lose more than the capital that they have on their account. We will continually do our best, but we simply cannot guarantee any kind of performance or reliability.
How do the Signals couple with other market Alerts you provide?
Exactly! This may seem like a bug, but it's actually a feature. Don't be surprised by e.g. a long position in any of our Alert(s) while at the same time aiming to make a quick buck by going short intraday. A picture is worth a thousand words, they say. Here's an illustration of the point being made: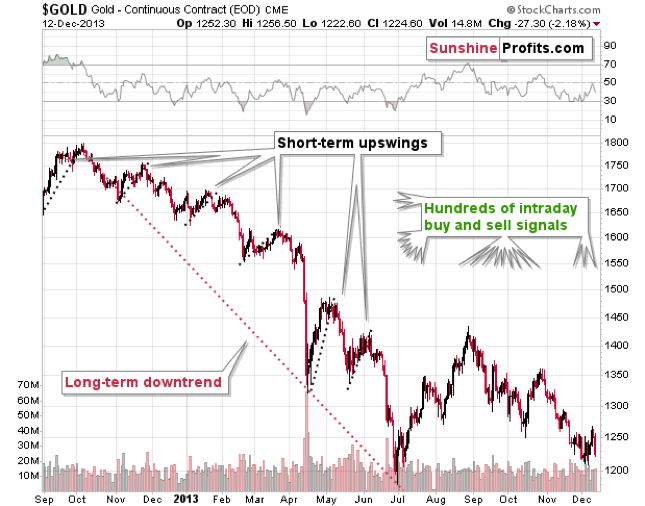 While in a long-term downtrend, gold didn't go down in a straight line back in 2012 and 2013. A back-and-forth movement happens in every market and timeframe, ranging from monthly all the way down to the 5-minute one. Such moves can be captured using appropriate tools. And with the day-trading techniques that Signals draw on, we have them at our disposal and no actionable opportunity goes to waste.
This allows for diversification between strategies and it's a very useful characteristic in order to increase the overall profitability and/or decrease the overall risk. We conducted thorough research and you can read the full report over here. Long story short, when one service brings profits, the other one might not. While the former profits, the latter might not do so at that moment. Herein lies the strength of using uncorrelated trading strategies: applied together, they are stronger than individually and provide for stable returns on investment. Overall, using more approaches at the same time should smoothen the rate of return fluctuations (provided that they are all profitable over time). When the trend is particularly strong, the more long-term oriented services might shine, but when not much is going on in the market from the broad perspective, the quick trades from the Day-trading Signals should more than make up for the big-picture boredom.
Different services act on different market circumstances and aim to utilize their particular edge in a different way. It's dictated by different timeframe used, different tools employed, and methodology applied. There's the long-term and short-term outlook and they both make sense at the same time - one may also allocate different parts of their portfolio to each of these services.
A more robust result stands for more dependable profits, manageable drawdowns and satisfying return on capital employed. Minus the sleepless nights.
How do the Signals look like?
With each Signal, we provide the following price points (entry, take-profit, stop-loss that also works as the cancellation level) that you can read more about the Timeliness section of the description of our Signals for new subscribers.
How do the Signals work?
We do not disclose the full details of our day trading strategy, but we can tell out a bit about our approach with regard to this time frame. Signals are usually provided for the middle part of a given short-term move because of its power and ease of catching. In other words, the risk to reward ratio is usually most favorable for such situations. The philosophy can be expressed as:
Acting on the strongest intraday opportunities only
Taking whatever adequate profit the market is willing to give us
Focusing on consistently increasing the trading capital
The Signals process might be divided into three parts:
We present what's in our opinion is a promising opportunity and we post it on our website in the password-protected section
We send you a notification e-mail with all the trade details in it, allowing for faster action on your part
Based on our above-mentioned opinion on the market and its details, you may (it's up to you) combine this information with your own details like risk tolerance etc. and make a transaction.
How will I get alerted? How do you provide the Signals?
The Signals are delivered primarily via publication on our website. Making sure that you don't miss anything, they are sent to you also by e-mail. These all happen in real time. To be precise, once we see a profitable opportunity emerging, we'll immediately start estimating the entry, profit-take and stop-loss levels and once the above is completed, we'll put it on the chart, publish it on the website and send you an e-mail notification. On average, it should take about 10-15 minutes. As the opportunity is emerging, i.e. developing, we're making sure you don't miss any trade worth acting upon. The important detail here is that we usually provide Signals with entry orders that still remain to be reached. This means that usually we are sending a Signal that is not yet "in" and thus that there is a good chance that will be some time (perhaps in a matter of minutes and perhaps in a matter of hours) before the entry price is reached. In other words, there should be some (not much, but still) time to react to get the entry prices, should you decide to enter a trade based on the opinions from our Signals.
Should we see no profitable opportunity on any given day, you'd be still notified via email not to expect any new Signal for that day. An analogous information also would be provided on the website in the appropriate Signals' section.
If a given signal opens a position, how long should it stay active?
If a given Signal opens a position, then the position remains active until any of the following happens:
Profit target is reached.
Stop-loss is reached.
We send another Day Trading Signal on the following day (this rule applies to all trading days except Fridays and other days that directly precede "long weekends").
It's 2 PM or later on Friday or other day that directly precedes a "long weekend".
In the third case, we might send a Signal message without the previous Day's indication (meaning that it should be closed - in such case we would most likely comment on that), we might adjust the profit target or the stop-loss level (this is the relatively likely option), or we might leave the position intact along with its profit target and stop-loss levels (this is relatively unlikely).
In other words, if neither profit-take, nor stop-loss are reached, you will be informed regarding the position in the following Day Trading Signal, with the exception being Friday's and other days that precede "long weekends". Longer breaks from trading are relatively likely to result in bigger price gaps, which is unfavorable in case of our very short-term positions.
There's a signal but the entry price is not touched that day...
The Signal that didn't result in opening a position is valid only for the day when it was provided (a.k.a. Day Orders).
What brokers can I use in order to trade on your Signals?
Particular attention must be devoted also to the choice of the broker that will execute your trades. This topic is broader than just commissions, spreads, rollovers, slippage, and margins. It also entails the trading hours and liquidity of the instrument of your choice. As a rule of thumb, it's advisable to go with an established, well-capitalized and experienced broker headquartered in a reputable jurisdiction that provides access to the most commonly traded vehicle(s). As always, do your own diligence first. In case of futures, we know that many people are happy with Interactive Brokers, so it might be a good idea to take a look at what they provide. In case of CFDs (if they are available in your jurisdiction that is), in our opinion, Admiral Markets might be a good place to consider.
What futures contracts do you feature in your Day Trading Signals?
To keep things simple, we are writing about futures contracts using the regular names (e.g. the euro futures), not referring to them by the full symbol (6E contract as listed on the Chicago Mercantile Exchange). Here's the full list of the contracts that we discuss along with their regular names:
the euro futures - the 6E futures contract as listed on the CME
the Japanese yen futures - the 6J futures contract as listed on the CME
the Swiss franc futures - the 6S futures contract as listed on the CME
the Canadian dollar futures - the 6C futures contract as listed on the CME
the British pound futures - the 6B futures contract as listed on the CME
the Australian dollar - the 6A futures contract as listed on the CME
the euro / British pound futures - the RP futures contract as listed on the CME
the euro / Japanese yen futures - the RY futures contract as listed on the CME
the brent futures - the BZ futures contract as listed on the NYMEX
the crude oil futures - the GCL futures contract as listed on the NYMEX
the Dow futures - the YM futures contract as listed on the CBOT
the S&P 500 futures - the ES futures contract as listed on the CME
the NASDAQ futures - the NQ futures contract as listed on the CME
the Dax futures - the FDXM futures contract as listed on the EUREX
the Nikkei futures - the NKD futures contract as listed on the CME
the gold futures - the GGC futures contract as listed on the COMEX
the silver futures - the GSI futures contract as listed on the COMEX
What if I have any more questions?
If you have any questions, we'll be happy to help. Please keep in mind that we may have already replied to your question in this FAQ section or in the general overview of our Signals and thus it may be available to you immediately. We encourage you to examine both before dropping us a note. Of course, we'll be happy to help anyway.
What instruments can I use in order to trade on the Signals?
We provide our Signals with the key trade parameters for:
futures contracts (including forex futures)
CFDs quoted by Admiral Markets
Should you wish to use any other instrument in order to act on our Signals, you must do your own calculations to translate our set of prices into those relevant for your particular vehicle. The CFD charts that we provide as a supplement to the entry, profit-take, and stop-loss levels should make the above adjustments much easier.
Whenever applicable and possible, we will provide information regarding details for opening and closing positions other than just the price. For instance, in most cases, we will aim to enter long positions on breakouts and short positions on breakdowns. The level of previous high (in case of long positions) or low (in case of the short position) or its immediate surrounding would likely be the entry price for the trade. In this case, we would feature the entry price level for futures and for CFDs (as quoted by Admiral Markets – please note that prices quoted by other brokers might be slightly different), a CFD chart where the entry price would be visible and a quick note that we are aiming to profit on a breakout (in case of a long positions) or breakout (in case of a short position) above (long) or below (short) a specific high (long) or low (short).
We would provide (whenever applicable and possible) the analogous information with regard to profit-take and stop-loss levels.
What is your refund and cancellation policy?
What trading instruments are your Signals applicable to?
We provide price levels for futures contracts and CFDs quoted by Admiral Markets, however, there are other proxies for a given market that could be used, for instance, some traders may use CFDs (contracts for difference) quoted by other brokers, and some may use ETFs or ETNs. In our opinion, futures seem to be the optimal choice for more advanced traders, while beginning traders might be more interested in ETFs and ETNs as they limit the leverage that one can use (and the top reason for losses among beginning investors is over-trading, too much leverage, and too big position sizes). Having a professional manage one's futures trades might also be a useful choice.
In case of non-Admiral-Markets-quoted CFDs, ETFs, ETNs or other trading vehicles, one would need to adjust the price levels that we provide for the futures contracts accordingly. In addition to providing the price levels for futures and CFDs, we will provide a CFD chart illustrating how they reflect the recent price movements, which should make the above adjustment easier. Please note that the more different the instrument is from what we provide Signals for, the more difficult it might be to achieve the similar level of profitability.
Please note that we do not provide entry / profit-take / stop-loss levels for multiple instruments in the Signals, as it would mean delaying the moment of publication, which would be counter-productive. In case of intraday price moves, timing is truly critical. Moreover, we cannot reply to questions with requests for providing such levels on an individual basis, because this might be viewed as investment advice, and we cannot provide such. We think that providing price levels for both: futures and CFDs of one broker is a good compromise, especially given the additional instructions, as outlined in the reply to the following questions.
Who are our intraday trading Signals particularly attractive for?
Our Signals are designed for traders and investors who want to make their trading easy and have some time to enter new trades each day. If you only want to receive a specific input without being bothered to understand the full reasoning and specifics of any given trade, then our Day-trading Signals are for you. Whether you are experienced, inexperienced or anything in between, you can find tremendous value and actionability that we share in the Signals.
Why are there no explanations for a given Signal?
Because time is a critical issue, and writing an explanation would delay the moment of delivering the Signal to you. The above-mentioned 10-15 minutes could easily become 30-45 minutes, which might mean that you miss a potentially significant part of the opportunity in question. This would be counter-productive.