GOLD ALERTS' UNBELIEVABLE (YET REAL) PERFORMANCE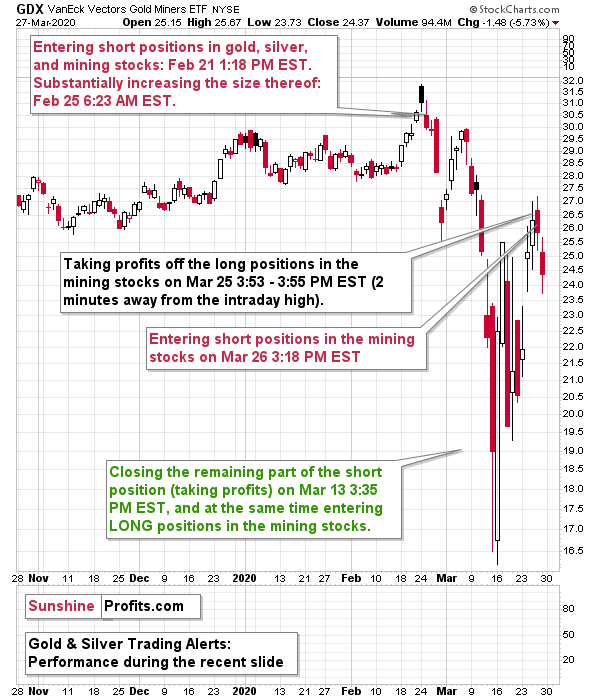 Yes, we really caught practically every huge move in the miners, and our subscribers made enormous gains during both: huge Feb-Mar decline, and on the mid-March rebound. We also entered short positions in the miners on March 26 - the day GDX topped. These positions are already profitable…
As a proof, we made all the above-listed Alerts free for everyone to review. We haven't made any other trades in our Gold & Silver Trading Alerts since late February. You can access these Alerts here:
Our Gold & Silver Trading Alerts include details regarding this trade - also clear profit-take levels (for GDXJ and JDST). The extensive March 30 Alert includes also our profit-take level for silver and explanation why miners (especially juniors) are our preferred proxy during this decline.
Our Gold and Silver Trading Alerts as well as free analyses based on them are just one click away - we invite you to read the latest issues right away.
Gold Market Overview

Gold & Silver Trading Alerts

Oil Trading Alerts

Stock Pick Updates
Gold Investment Tools

Gold Investment Updates
Stock Trading Alerts

Stock Investment Updates
See the video
Featured Video
Know Exactly When to Invest in Gold
"Sell in May and go away" - you've definitely heard this saying before... But did you know that the best month to sell gold is, in fact, February? In this video, it's going to show you how to confront buzz and dogmata with real world data.
Keywords: gold seasonality, gold sesonals,
seasonal charts, gold investment
free newsletter + 7 days trial
Gold Investment News
Delivered To Your Inbox
Free Of Charge
Bonus: A week of free access to premium Gold & Silver Trading Alerts.
No credit card required
Gold Alerts
More
Status

Status

Status
Loading tweets