To discover and share knowledge with people, so that they can improve their lives.
The WHY of Sunshine Profits and its Founder - Przemyslaw Radomski, CFA
About the company
Profits. In classic Adam Smith economics the market functions because entrepreneurs and investors seek gains exclusively for egoistic reasons. After a decade of working with investors from all over the world, we know this is a lie.
Profits are a tool thanks to which the investors make the people closest to them happy, make their dreams come true and provide them with safety. Investors often support churches and charities. A lot depends on whether they manage their portfolio effectively.
Unfortunately, even good people who diligently choose their information sources can fall prey to salespersons who only pretend to be professional analysts. Such persons produce rush texts, which only serve to sell their services. More often than not, their analyses only recommend buying or selling.
And all that without a thorough explanation and description of the situation in the specific parts of a given market and closely-related markets.
Without information how this fits in with the whole of the investment portfolio.
Without discussing position sizing.
Without taking diversification into account.
Without meticulously choosing the rebalancing method for the portfolio.
Without thorough research preceding the analysis; without creating in-house tools and indicators; without taking a code of ethics into account.
Salespeople who title themselves "analysts" ignore the dreams of investors. Sometimes investors are initially pleased with the services of such people. Unfortunately, usually choosing such services ends in a disaster. Sooner or later, careless analysis depletes the investors' capital and denies them a chance to realize their dreams of making their closest ones happy.
We care.
We have spent thousands of hours and worn down numerous keyboards to guarantee the highest quality of our analyses. We have researched little-known market phenomena and transformed this research into thorough reports and interactive tools. We have even created multimedia guides so that the tools were easier to use. Apart from that, we are the only ones to prepare investors for the upcoming price bottom in the precious metals market with a series of dedicated articles. Why have we gone to so much trouble if we could have simply written "buy" or "sell" without any additional explanation, like others do? Because we care.
Through a combination of passion, creativity and hard work, we help investors achieve their goals.
We help, because we believe profits are not egotism, evil and darkness.
Profits are opportunities, good and sunshine.
Welcome to Sunshine Profits.
How can we help you? If you're not sure, we invite you to sign up for our free mailing list, thanks to which you will be getting a selection of our analyses free. This will help you decide which of our services best suit your needs. Sign up now.
About the founder
Sunshine Profits was founded in 2008 by a financial scientist and successful investor, Przemysław Radomski, CFA (PR) as a response to the lack of quality guidance for precious metals investors, especially when it comes to timing volatile markets.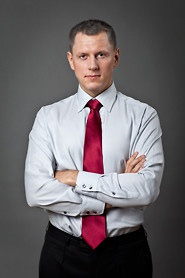 As a CFA charterholder, PR shares the highest standards of ethics, education, and professional excellence for the ultimate benefit of society. He also holds a master's degree in Finance and Banking, and is currently writing his thesis after having finished his PhD studies in Economics.
Being passionately curious about the market's behavior, PR uses his statistical and financial background to question the common views and profit on the misconceptions. His time is divided mainly between analyzing various markets with emphasis on the precious metals, managing his own portfolio, writing commentaries, and designing financial software.
PR invested his time and effort into building a world-class team of analysts for performing research, finding correlations and investigating historical patterns -- so that you, the customer, can focus on effectively growing your portfolio. PR is the author of Sunshine Profits' Gold & Silver Trading Alerts and many of company's investment tools. You can read PR's more personal bio using this link.
About Sunshine Profits' Authors
Arkadiusz Sieroń, PhD - Click for more personal bio

Arkadiusz Sieroń is a certified Investment Adviser. He is a long-time precious metals market enthusiast, currently a Ph.D. candidate, dissertation on the redistributive effects of monetary inflation (Cantillon effects). Arkadiusz is a free market advocate who believes in the power of peaceful and voluntary cooperation of people. He is an economist and board member at the Polish Mises Institute think tank. He is also a Laureate of the 6th International Vernon Smith Prize. Arkadiusz is the author of our bi-weekly Fundamental Gold Report and monthly Gold Market Overview.

Stock market strategist, who has been known for quality of his technical and fundamental analysis since the late nineties. He is interested in forecasting market behavior based on both traditional and innovative methods of technical analysis. Paul has made his name by developing mechanical trading systems. Paul is the author of  Daily Gold News.

Sebastien Bischeri, Trading Strategist - Click for more personal bio

Sebastien Bischeri is a former Reserve Officer in the French Armed Forces (Navy), and began his career in computer science and engineering, prior to move into banking, finance, and trading. He has worked as a contractor with top banks, firms, government departments, MNCs, SMEs and start-ups over the past decade, where he's gained extensive knowledge of commodities, economic intelligence, energy, financial markets, investments, risks, and strategy (both as a Trader and Analyst). In parallel, Mr. Bischeri never stopped learning: he holds an MSc in Oil & Gas Finance and Energy Economics from Dundee, Scotland, and a European Masters in Economic Intelligence (EI) from Versailles, France.
Try Sunshine Profits
it's all about you.
Enter a new era of trading and investing with our premium products free for 1 week. Newsletter is included.