Silver stock investors' favorite
 
Golden StockPicker's counterpart for Silver Stocks.
Helps you rebalance your silver stock portfolio
Our research shows that profits can be greatly increased thanks to this simple, repetitive action.
Shows you what stocks to use for a short-term bet on a given move in the sector
Using most appropriate stocks can boost profits from a given trade as compared to using the average of them (index, ETFs).
Quickly and precisely estimates the future fair value of a silver stock
The future fair value is the one that is neither overvalued, nor undervalued when gold moves up or down to a certain level.
Builds a ranking that is custom tailored to your trade
Silver StockPicker adjusts its ranking according to the settings you choose. It identifies silver shares that offer the highest exposure to the price of silver, and shows you all the important data regarding leverage.
Separates analysis from emotions by using trend lines
The trend in a particular stock is best reflected by a trend line. This line shows the price that the stock would have, setting any emotional factors aside.
A convenient way to check if your stocks are currently over- or undervalued
Silver StockPicker helps you make the most of your silver investments by purchasing stocks when they are undervalued, and selling them when they are overvalued.
 
Here's how it works: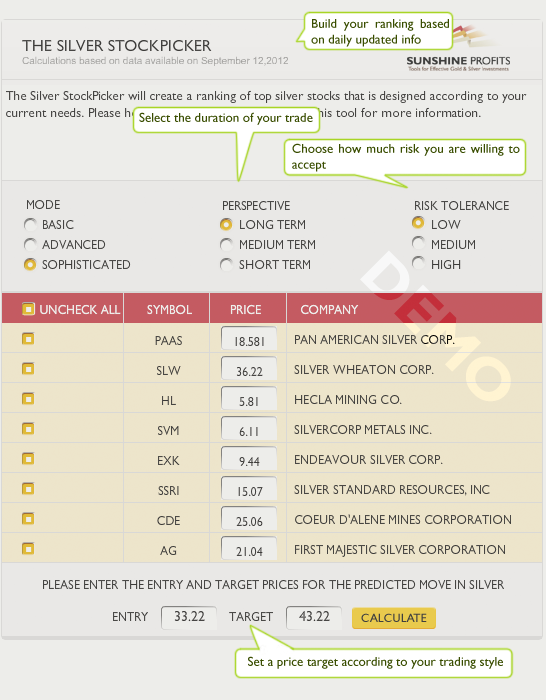 … And the output page provides ranking along with details and instant interpretations: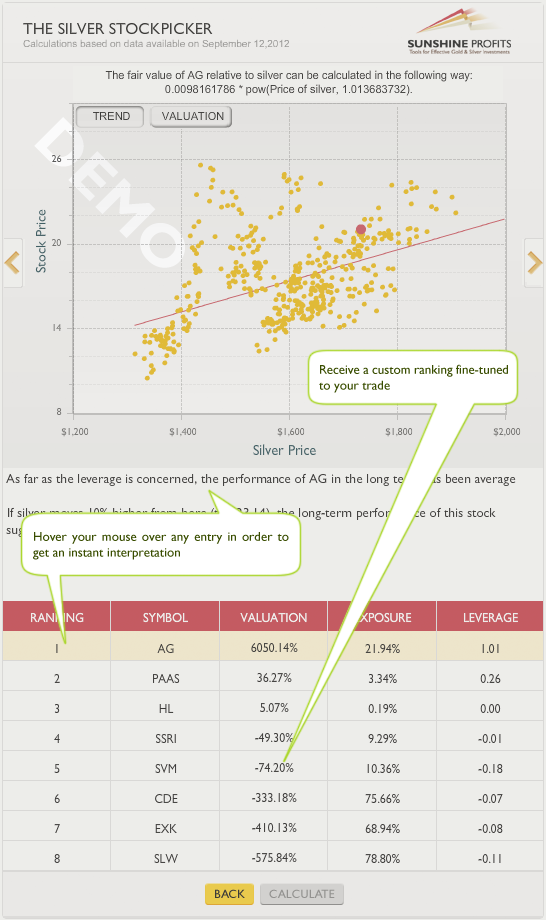 Silver mining stocks that the Silver StockPicker examines each day:
PAAS - Pan American Silver Corp.
WPM - Wheaton Precious Metals Corp.
HL - Hecla Mining Company
SVM - Silvercorp Metals Inc.
EXK - Endeavour Silver Corp.
SSRI - Silver Standard Resources Inc.
CDE - Coeur d'Alene Mines Corp.
AG - First Majestic Silver Corp.
We encourage you to profit from the best silver stocks.
If you're not ready to subscribe at this time, we invite you to join our free mailing list. You'll get 7 days of free access to our Gold & Silver Trading Alerts and you'll stay up-to-date regarding all free articles that we post. Sign up today - it's free and if you don't like it, you can easily unsubscribe. 
Free Silver Newsletter
with details not available
to 99% investors
+ 7 days of Silver Alerts
+ Silver Stock Ranking
Gold Alerts
More
Status

December 8, 2023, 7:03 AM

Status

December 7, 2023, 4:05 AM

Status

December 6, 2023, 9:34 AM