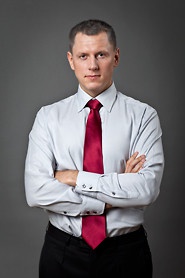 Przemysław Radomski, CFA
Hi, I'm Przemysław Radomski, but please feel free to call me PR. In the next few paragraphs I'll do my best to describe my personal story and let you know what I can do for you.
My adventure with investments began when I was 17 and I received an inheritance, which I then saw as sizable. I knew I couldn't waste it away, so I focused my educational efforts on gaining financial knowledge, even though I had previously been more inclined towards engineering. My choice in university, a major and minor –in investment banking –, served the goal I had set for myself.
It might have been overkill to almost always choose advanced volumes on financial markets from the library shelves, even when the original reason for me being there was theoretically different. It was simply hard for me to deny myself the pleasure of learning from the best and most well-known investors. One could also consider it overkill to devote most of my free time to reading online precious market analyses instead of watching TV series or checking sports news. It wasn't long before this resulted – actually, even before I graduated – in me getting the knowledge required to find errors in materials presented as "premium" precious metals market analyses and, in later years, getting the CFA charter and finishing my PhD studies in economics.
Practice was the key in getting other areas of investment knowledge. I had a choice on my hands: either work on my own and continue my earlier research or work for an investment bank. The latter wasn't really an option as it would require me to surrender my personal life without compromise. It was a natural consequence that I set up my own business,with which I share my knowledge about the precious metals market with investors. The workload was comparable to investment banking but I was able to work on my own terms. In the following years, the business flourished and its array of offerings was enriched by many products and services.
Sadly, each business has its lean years – the multi-year stagnation in the gold market resulted in a decline in interest in precious metals, and by extension, in the interest in the products of my company. The worsening business environment impacted revenues but not my motivation to work. Instead of complaining about the bad environment, I began preparing for the better times and to reap the fruits that stagnation offers – a great boost to returns thanks to starting with obtaining one's long-term investments at exceptionally low price levels. To make it as easy as possible for investors to seize the opportunity, I started working on my own investment fund. The process was long and complicated but, after many months of work, it all came together and the fund was formed.
Thanks for taking the time to get to know me a little better. If you have a specific request or question for me, please let me know using our contact form.
Przemyslaw Radomski, CFA
Would you like to check into how PR can help you make the most of your precious metals investments? A great way to start is to simply sign up for his gold newsletter. In this way, you'll stay up-to-date with his and his colleagues' analyses, and you'll see if and how his work can help you. Plus, it's free, so all it takes to sign up is just a few clicks. Sign up today.
PS. In case you've been wondering, you can check how to pronounce PR's first name on our FAQ page, more or less in the middle.
PS #2. PR's WHY (which is also Sunshine Profits' WHY as PR is its founder) is:
To discover and share knowledge with people, so that they can improve their lives.
PS. #3. PR's articles have been published on many very reputable places. Please feel free to verify the following:
Przemyslaw Radomski's archives on barchart
Recent articles written by Przemysław Radomski, CFA
Free :
Premium: