Please log in to read the entire text.
If you don't have a login yet, please select your access package.
Practically everything that I wrote yesterday either happened in tune with that or it remains up-to-date, so today's technical part will be rather brief.
In short, gold reversed yesterday's decline after almost touching its previous 2022 lows, and at the same time, it practically erased the entire war-tension-based rally – just like it was supposed to.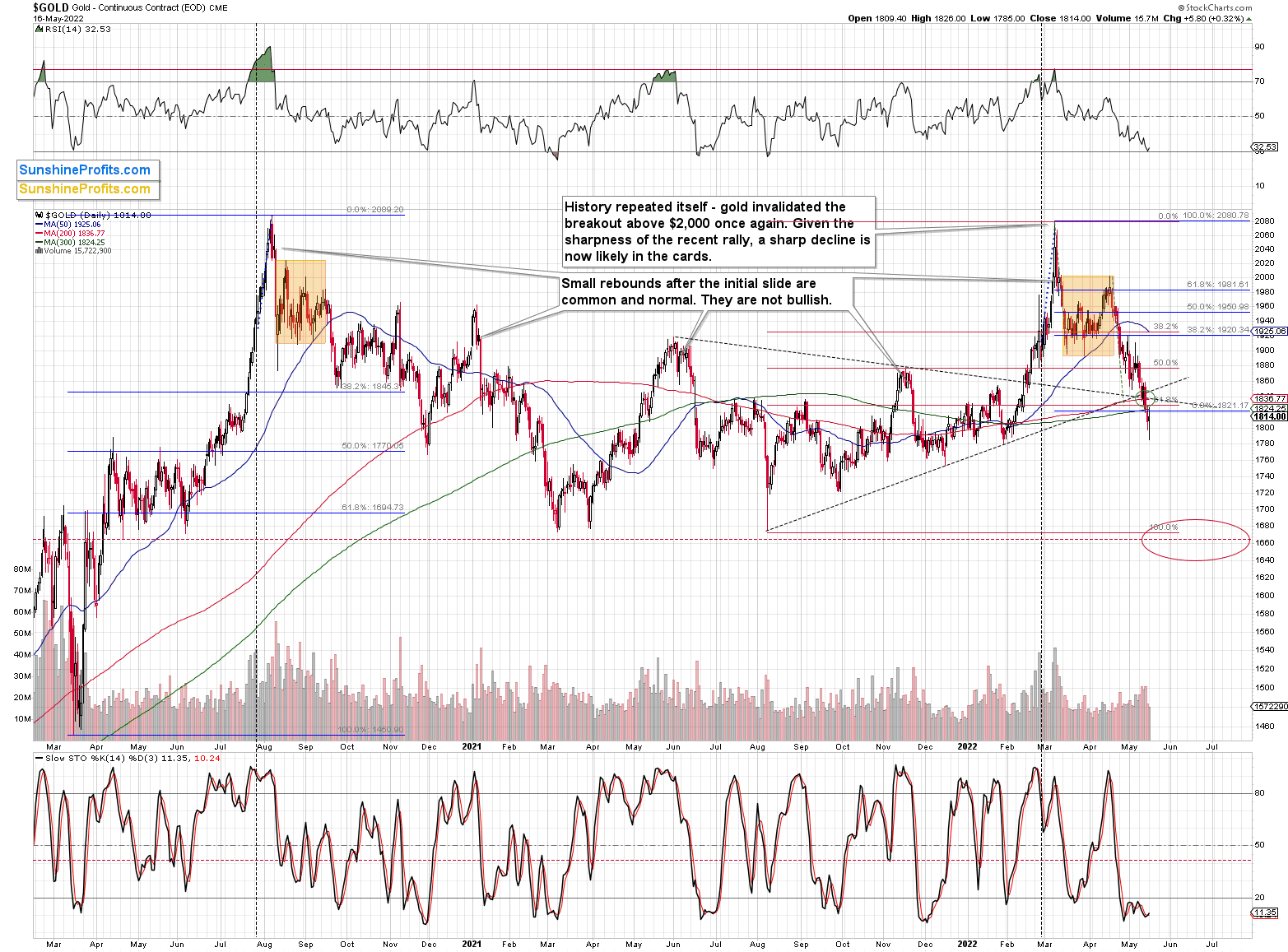 Gold ended the day only $5.80 higher, but the important thing is that it reversed at all. Gold's RSI also bounced off the 30 level, which can be viewed as a buy signal on its own.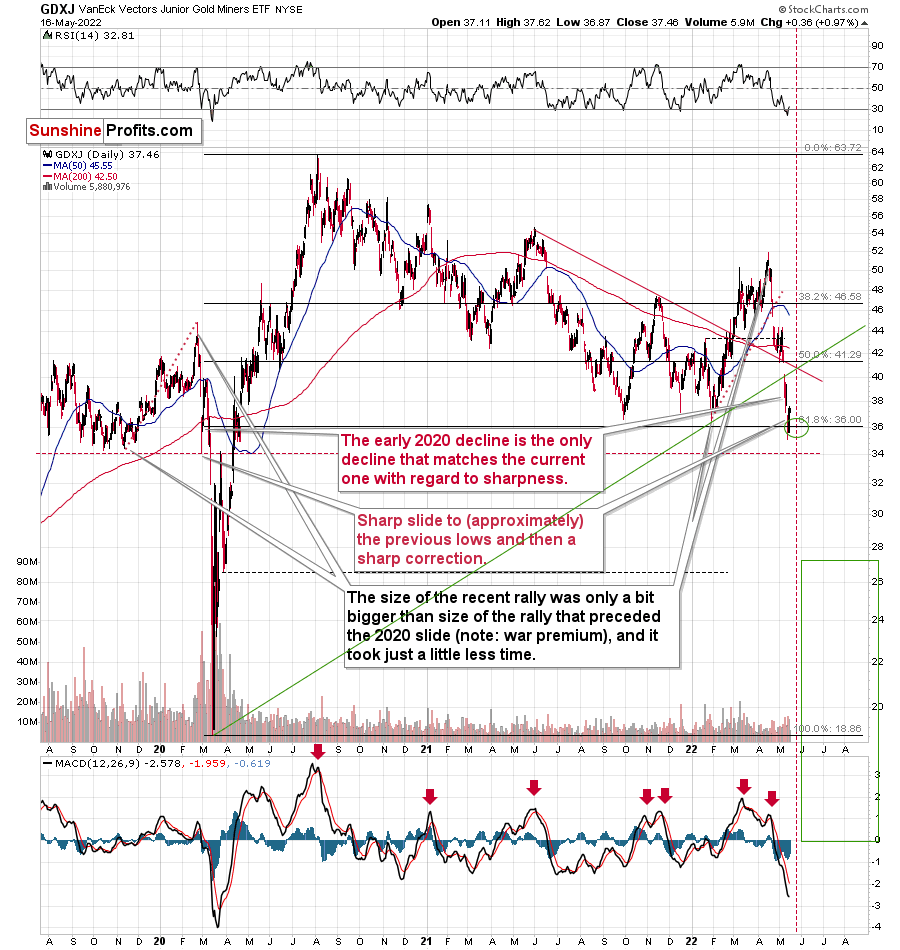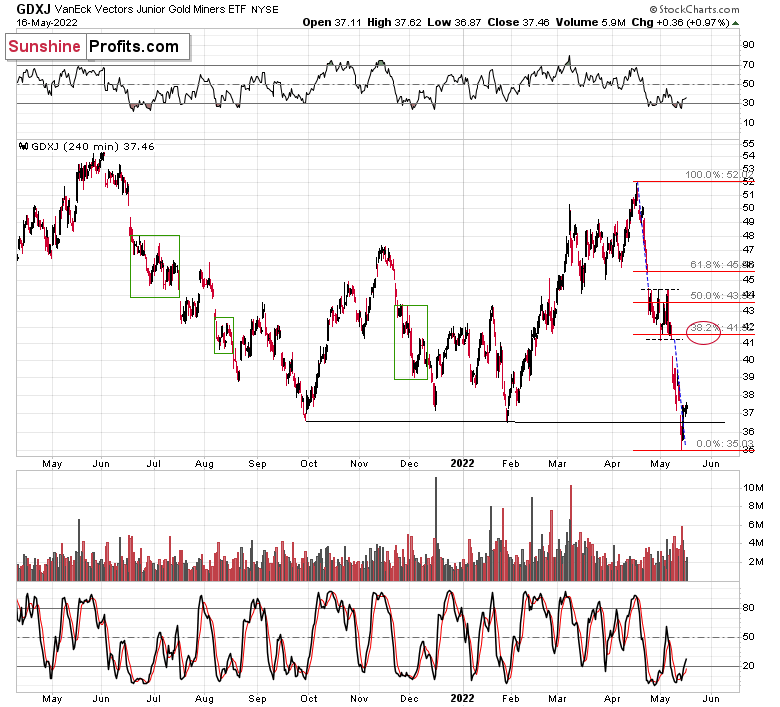 Junior miners were up by almost 1% yesterday, about 3 times more than gold. They continue to show strength, and our long positions (that became profitable almost immediately) are getting more profitable also in today's early trading as the GDXJ is up in London trading.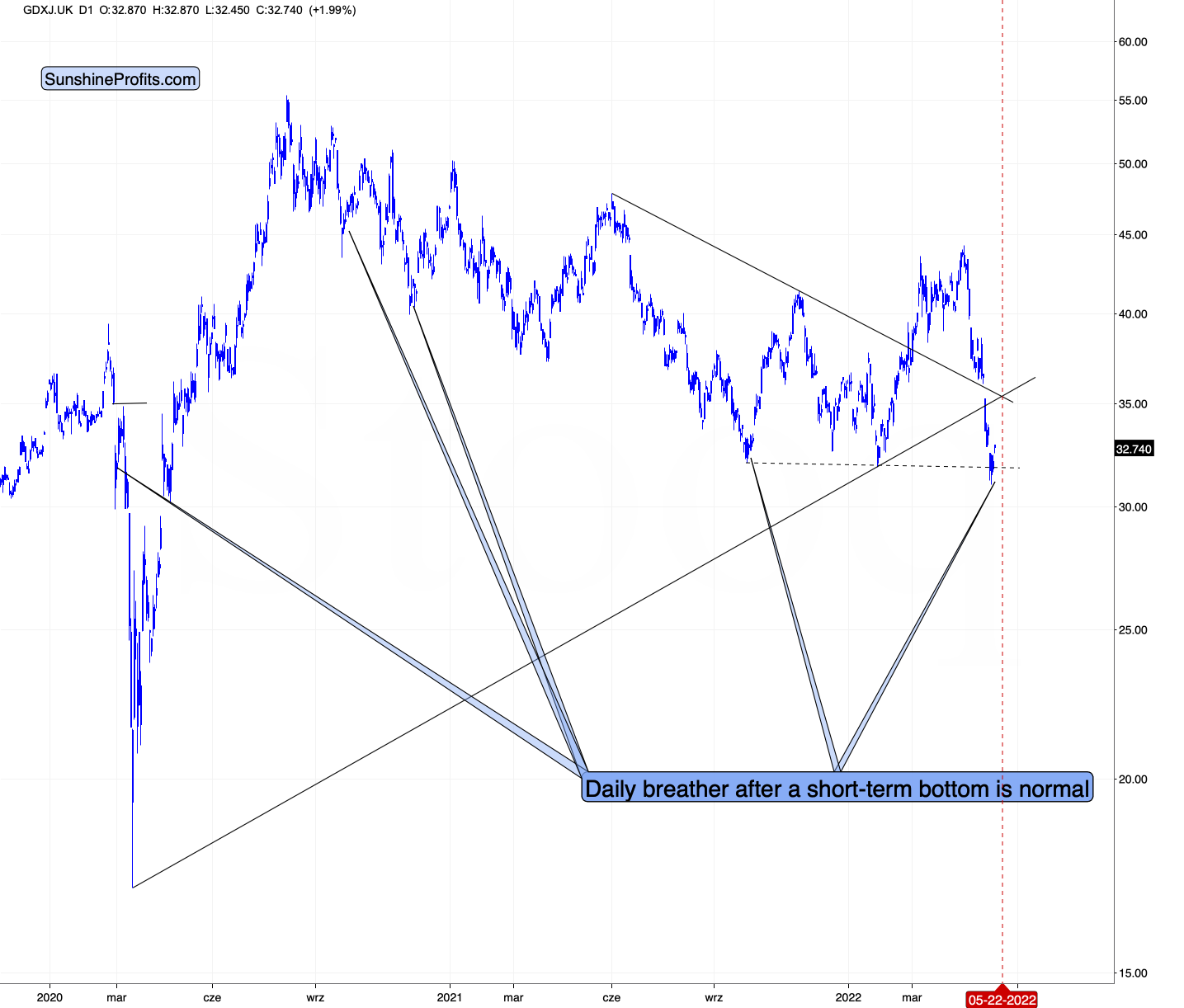 In yesterday's analysis, I wrote that the S&P 500 invalidated its head and shoulders pattern on an intraday basis, and even though it declined very modestly yesterday, it's up in a clear manner in today's pre-market trading.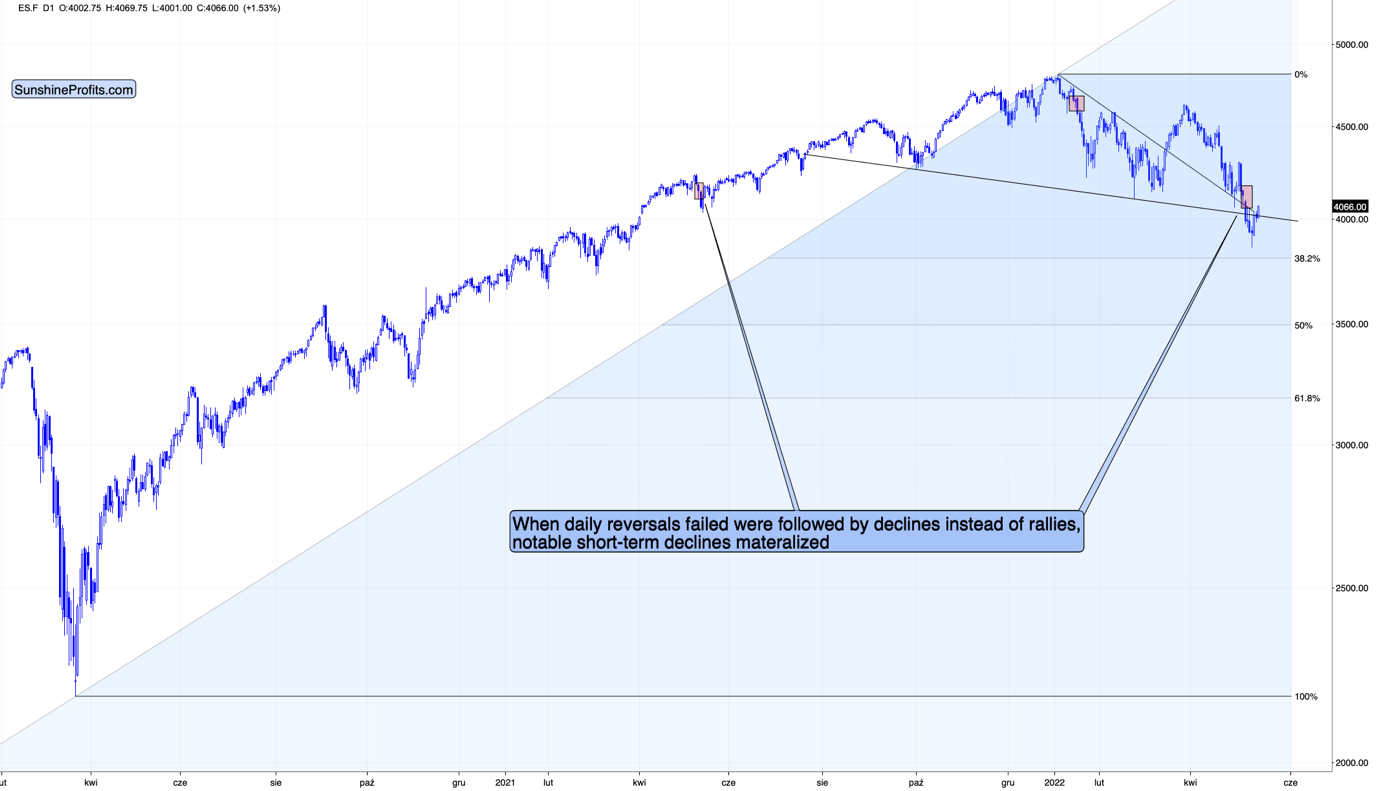 This means that the odds of a short-term rally in the following days have greatly increased. This makes the current long position in junior mining stocks even more justified.
Also, as far as the USD Index is concerned, I previously wrote the following:
The higher of the recent highs is at 103.96 right now, so if the analogy to 2014 is to remain intact, the USD Index could now top at close to 104.5 or even 105.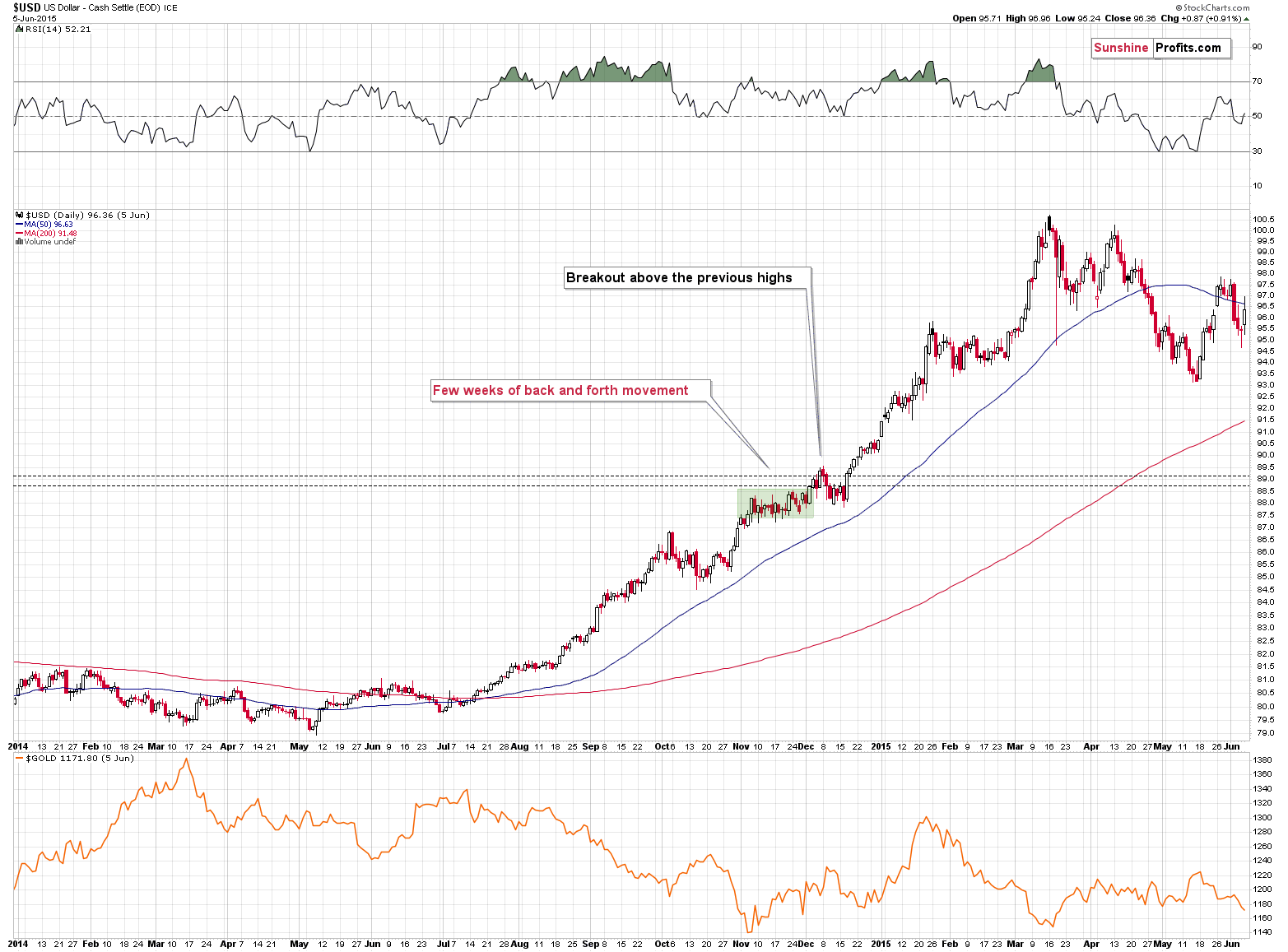 That's exactly what happened recently. On Thursday, the USD Index moved to 104.96, and in Friday's trading it rallied above 105 (to 105.065) and it invalidated the breakout above this level - which is in perfect tune with what I wrote above. Consequently, it seems that we could now see a move to about 103-103.5, after which USD's rally could continue.
The opposite is likely to take place in the precious metals sector. Gold, silver, and mining stocks are likely to rally in the near term, and then – after topping at higher levels – their decline would continue.
The USD Index futures moved to about 103.7 in today's pre-market trading (so far), so you might be wondering if the bottom is in or about to be, and therefore, will gold stop rallying.
Please note that it's possible that the USD Index bottoms shortly in the 103-103.5 range but then continues to trade sideways for a few days, while gold continues to rally. In fact, that's what happened in late 2014. Consequently, what we saw so far today doesn't imply that gold's, silver's, or miners' rallies are over.
Thank you for reading our free analysis today. Please note that the above is just a small fraction of the full analyses that our subscribers enjoy on a regular basis. They include multiple premium details such as the interim targets for gold and mining stocks that could be reached in the next few weeks. We invite you to subscribe now and read today's issue right away.
Sincerely,
Przemyslaw Radomski, CFA
Founder, Editor-in-chief
Back