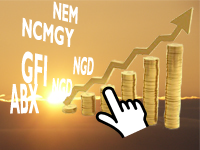 Mining Companies - Your Individual Ranking
If you are a gold trader, regardless of whether you participate on short term speculations, middle- or long term transactions, you will be interested in gold mining companies and their rankings. Of course there are a lot of mining lists/ rankings in the world wide web. Maybe you will know some successful investor who used a specific one. But will an universal mining stock list suits you? Would a ranking of "top 10 cars" wake you interest, or would you ask yourself what are these cars good for?
You will need an individual, for you tailored ranking, whether cars or mining companies… In the case of the latter we may have something interesting for you.
This essay will help you to understand why an individual stock ranking is an important matter and how to invest successful in gold & silver stocks.
buy-the-best-miners-revised2.pdf (2.2 MB)
Back