Gold Price Prediction for May 2022
The below gold price forecast article is based on one of our premium gold analyses. Enjoy:
=====
What has happened recently?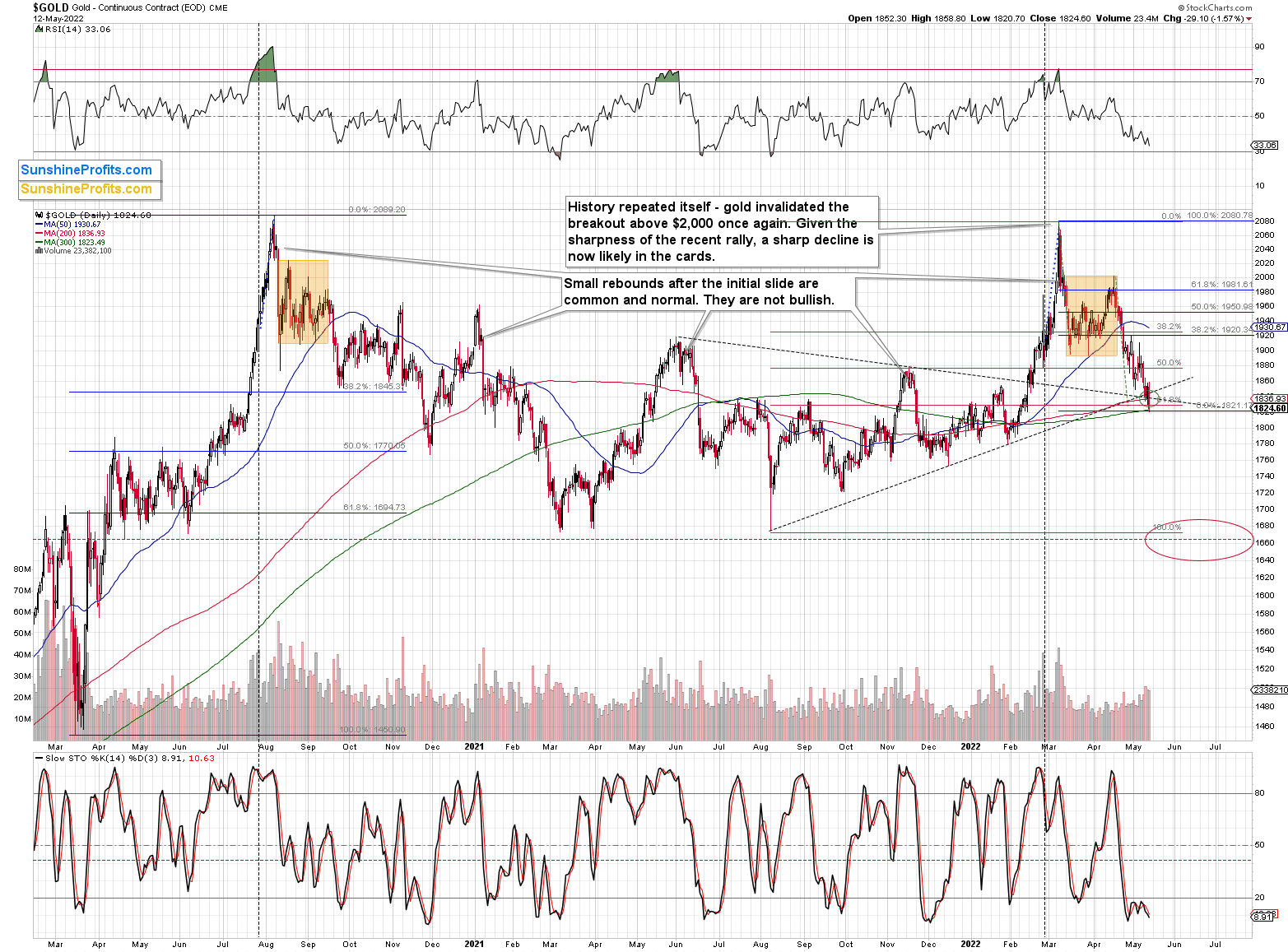 Gold declined below my target area, but only slightly so. The yellow metal closed just several dollars below its 61.8% Fibonacci retracement based on the 2021-2022 rally. It also moved low enough, for this short-term decline to be very similar to the decline that we saw in March.
Speaking of March, please note that back then, gold started correcting once it briefly moved below its 38.2% Fibonacci retracement. History tends to rhyme, so it could indeed be the case that it now rallies given its yesterday's small breakdown below another classic (61.8%) retracement.
What does it mean? It implies that the short-term (and only short-term) bottom is in or at hand. The breakdown below the rising and declining support lines and the above-mentioned Fibonacci retracement level was not confirmed, and unless the USD Index continues to soar, I don't expect it to be confirmed. It seems quite likely that the latter will verify today's breakout first, and soar only thereafter.
How high could gold correct? If gold bottomed on Thursday, then the 38.2% Fibonacci retracement level based on the March-May decline is at about $1,920, and this is also where we see one of the recent short-term highs. Consequently, I'd currently view this level as a short-term target. Of course, the situation might change and in that case, I'll keep you informed.
By the way, please note that the situation in the mining stocks developed in tune with the strategy that I outlined a week ago. Quoting:
The precious metals sector moved higher yesterday, just as I had indicated on the grounds of the triangle-vertex-based technique. The "direct" trigger was provided by the Fed during the press conference. Powell cooled down some of the most hawkish expectations by stating that 0.75% rate hikes are not on the table.
Well, the reality is that the Fed's comments are not that useful when estimating what's going to happen. Remember when we heard so many times that inflation was under control and transitory? Exactly.
Still, regardless of whether 0.75% rate hikes will follow or not, the reality is that we saw a rally, and the key question is whether this rally is:
the beginning of something much bigger,
nothing special that will be followed by another wave lower soon,
just a very brief pause within a decline to the previous target level (slightly above $37 in the GDXJ), and this target is going to be reached within the next few days.
Which one is most likely?
In my view, the first point is rather unlikely. The medium-term trend is down, just as the trends in the USD Index, and real interest rates are up.
You know what's better than knowing the reply to a question about the future? (After all, it's not possible to have a 100% certain answer to anything regarding the future.)
A strategy! A strategy is a plan for how to act in various future scenarios so that one knows what to do under all circumstances.
If scenario number 3 is going to happen and the target level is reached shortly (today or tomorrow), then the original expectation for PMs to start a counter-trend rally is likely to be realized. In this case, it makes sense to simply keep the current exit orders intact.
If scenario number 2 is going to happen and we're about to see a bigger decline soon (perhaps to the previous 2022 lows in the GDXJ), then it would be better to move our exit prices much lower – perhaps to the 2022 lows, or even lower.
Here's where it gets interesting. While it's not clear at the moment which of the above scenarios will prevail, it will naturally clarify on its own as time passes.
If we get a sharp decline today or tomorrow, it will mean that scenario 3 is being realized, and therefore, we'll get out of the short positions when the downside targets are reached, and we'll enter long positions. However, if we don't get a sharp decline today or tomorrow, it will likely mean that scenario 2 is being implemented and it will make sense to adjust our exit prices.
It's also possible that we will get a decline, but an indecisive one. In this case, I'll elaborate further in the following analyses, as my preferred action will likely depend on what happens in other markets.
The previous week didn't end with a decline that was sharp enough to trigger a rebound, so I moved the profit-take levels lower – and it turns out that it was a good decision, as junior miners declined to new 2022 lows. In fact, they moved to levels not seen since 2020.
Before looking at mining stocks, let's take a look at gold from a broader point of view.
Let's keep in mind that between 2020 and now, quite a lot happened, quite a lot of money was printed, and we saw a war breaking out in Europe. Yet, gold failed to rally to new highs.
In fact, it's trading very close to its 2011 high, which tells you something about the strength of this market. It's almost absent.
Truth be told, what we see in gold is quite in tune with what we saw after the 2011 top, and in particular, shortly after the 2012 top. The long-term gold price chart below provides details.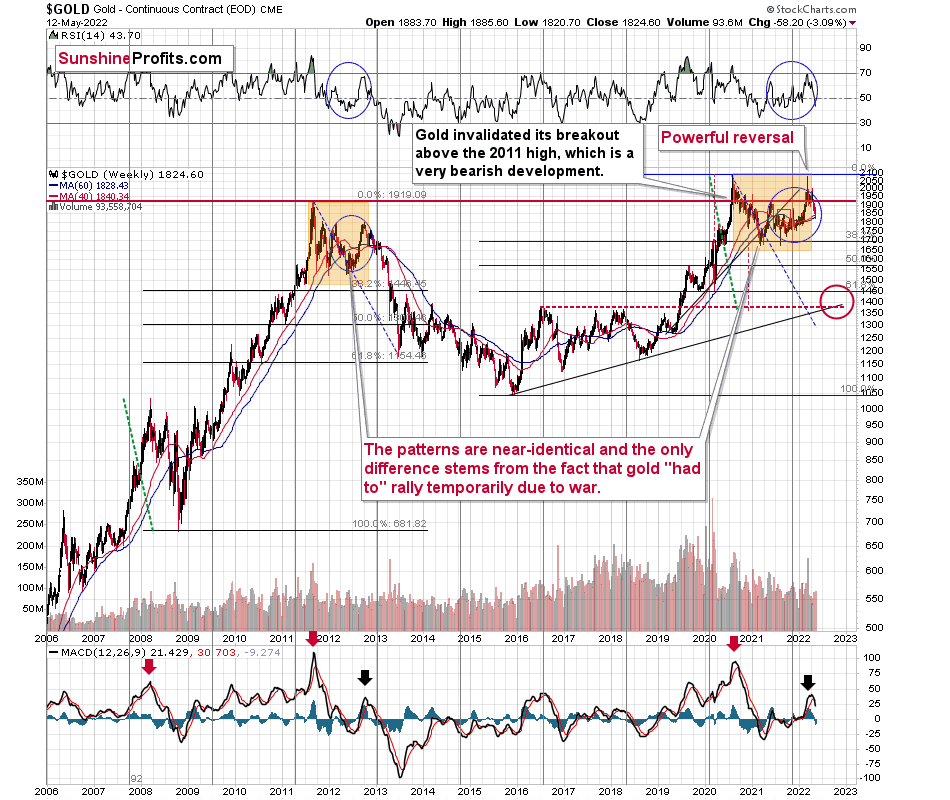 It seems that if it weren't for the war in Europe, gold wouldn't have been able to move above $2,000 and instead it would have topped close to its previous highs, which provided strong resistance.
The extraordinary thing about that is that that's exactly what happened in 2012. Gold moved higher but only until it reached its previous highs, which happened in the second half of 2012.
This time the RSI was a bit higher, but it was close to 70, just like what we saw in 2012.
The moves that we see in the long-term MACD indicator (lower part of the above chart) also confirm the analogy between now and 2012. The indicator is between 25 and 50, and it's above its previous local top (early 2012 and mid-2021), and this local top formed after a profound decline from the ultimate top.
Yes, this time gold moved back to the previous high, but:
This happened based on a geopolitical event (war in Europe) and geopolitically-driven rallies are generally unsustainable;
When gold reached its previous highs, it also formed a profound weekly reversal, which formed on huge volume, and that's very bearish.
So, the current outlook for gold is very bearish – the recent back and forth movement (the consolidation) appears analogous to the back-and-forth part of the decline that we saw right after the 2012 top. That was the beginning of a huge medium-term downswing.
There are also very interesting short-term takeaways from the above chart.
If the 2012-2013 is currently being replayed (at least to a significant extent), then let's not forget that this decline initially took the shape of a back-and-forth decline with lower lows and lower highs (but there were notable short-term rallies within the decline).
One of those counter-trend rallies took place when gold touched its 40- and 60-week moving averages (marked with blue and red) in late 2012. The RSI was trading at about 50 at that time, and that's more or less when we saw the clear sell signal from the MACD indicator (lower part of the above chart).
Let's see how this applies to the current situation.
The 40- and 60-week moving averages are currently trading at ~$1,827 and ~$1,839, respectively. Consequently, they are quite close to recent short-term lows.
The RSI is at 49.48, so just below 50.
We just saw a clear sell signal from the MACD indicator.
Consequently, seeing a brief rally here or after an additional small decline would not be bullish – it would be a perfectly bearish confirmation of the 2012-now analogy.
Please note that gold's closing at $1,824.60 yesterday was very much in tune with what happened in 2012 / 2013 with regard to gold's 60-week moving average. Consequently, the long-term gold chart tells us that seeing a correction here would be quite likely and something normal that wouldn't change the bearish implications for the medium term.
It seems that gold is right at or "almost" at its very short-term downside target, and we can see the same thing in the case of the silver market.
Thank you for reading the above free premium-Alert-based analysis. Please note that the above is just a small fraction of what the subscribers to Gold & Silver Trading Alert enjoy on a daily basis. The full version of the Alerts includes multiple premium details such as the downside target for gold that could be reached in the next few weeks.
If you'd like to read those premium details, we have good news for you. As soon as you sign up for our free gold newsletter, you'll get a free 7-day no-obligation trial access to our premium Gold & Silver Trading Alerts. It's really free - sign up today.
Przemyslaw Radomski, CFA
Editor-in-chief
Sunshine Profits: Profits through Diligence & Care
Free Gold Newsletter
with details not available
to 99% investors
+ 7 days of Gold Alerts
+ Mining Stock Rankings
No credit card required
Gold Alerts
More
Status

Status

Status
Gold Seasonality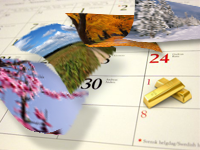 Our Clients