Gold Price Prediction for August 2022
The below gold price forecast article is based on one of our recent premium gold analyses. Enjoy:
=====
Let's start with context:
Between 2020 and now, quite a lot happened, quite a lot of money was printed, and we saw a war breaking out in Europe. Yet, gold failed to rally to new highs.
In fact, it's trading very close to its 2011 high, which tells you something about the strength of this market. It's almost absent.
Truth be told, what we see in gold is quite in tune with what we saw after the 2011 top, and in particular, shortly after the 2012 top. The long-term gold price chart below provides details.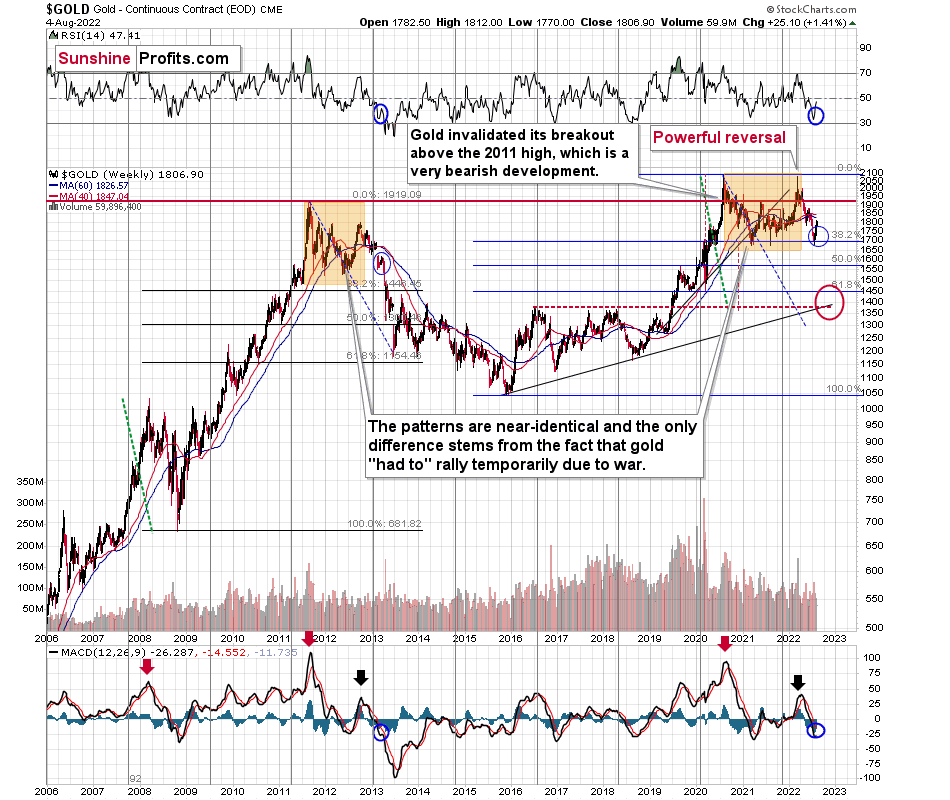 Please note that the 38.2% Fibonacci retracement based on the entire 2015-2020 rally is very close to $1,700, which made the above-mentioned support area even stronger.Indeed, that's when gold bottomed recently.
It seems that if it weren't for the war in Europe, gold wouldn't have been able to move above $2,000 and instead it would have topped close to its previous highs, which provided strong resistance.
The extraordinary thing about that is that that's exactly what happened in 2012. Gold moved higher but only until it reached its previous highs, which happened in the second half of 2012.
This time the RSI was a bit higher, but it was close to 70, just like in 2012.
Yes, this time gold moved back to the previous high, but:
This happened as a result of a geopolitical event (the war in Europe), and geopolitically-driven rallies are generally unsustainable;
When gold reached its previous highs, it also formed a profound weekly reversal, which formed on huge volume, and that's very bearish.
So, the current medium-term outlook for gold is very bearish.
There are also very interesting short-term takeaways from the above chart.
If the 2012-2013 is currently being replayed (at least to a significant extent), then let's not forget that this decline initially took the shape of a back-and-forth decline with lower lows and lower highs (but there were notable short-term rallies within the decline).
The final of the corrections that still took place within the back-and-forth decline started in early 2013 - when gold moved close to its previous medium-term lows, when RSI was a bit above 30, and when the MACD was close to -20, which was also slightly below its previous medium-term low.
We can see all three above-mentioned similarities on the above chart. I marked them with blue ellipses. They are not "somewhat similar" – they are remarkably similar in both cases!
Indeed – gold rallied recently just like it had rallied in 2013, right before the most volatile part of the slide.
What does it imply going forward?
Please note that, based on the above-mentioned similarity, the corrective upswing in gold has probably already been completed or is about to be completed. Even at first sight, the rallies within blue ellipses appear practically identical. The RSI moved similarly higher as well.
The rally is bigger this time, but the geopolitical factors also contributed (China/Taiwan), but as we know, geopolitical factors tend to have only a temporary effect on prices.
How low is gold likely to go during this upcoming decline? Perhaps as low as its 2020 low – to the $1,450-1,500 area.
I realize this is far from the current price, but nonetheless, this target area appears justified in my opinion. There are two important Fibonacci retracements based on the 2015-2020 rally that gold can bounce from (it recently bounced from the 38.2% retracement). These are: 50% and 61.8% retracements.
The support provided by the 61.8% retracement is strengthened by the 2020 low and the support provided by the 50% retracement is strengthened by the 2019 high.
However, based on gold's self-similarity to 2013, it seems that we're about to see a slide that's bigger than what we've been seeing so far this year. This time – based on the similarity – gold is likely to decline profoundly, but no longer in the back-and-forth mode. If gold formed its next local low at the 50% retracement (so at about $1,560), then it might do so still within the declining, short-term trend channel (sometime in September).
However, if gold is to stick to the link to 2013, then it should decline more rapidly. In this case, the technique that can help us estimate the short-term target is the one that says that after a breakdown from a trend channel, price is likely to move approximately by as much as the height of the previous trend channel. In this case, gold could break below the trend channel soon and then decline even more. Based on the height of the trend channel, the above means that a move to the 61.8% retracement as the next downside target is more likely than a move to the 50% retracement.
Besides, the decline in gold would likely be linked to a breakdown in the EUR/USD below 1, which – if confirmed – would likely trigger significant selling.
On the fundamental news front, this fits the current situation as well. The likelihood of real interest rates moving higher in the future didn't decrease at all, but at the same time, the market focused on something insignificant – Powell's speech. Yes, it was insignificant because of all the times Powell's suggestions didn't result in actual action. Also, wasn't it Powell who spoke many times about the benefits of higher interest rates, but then cut them (probably as he was pressured to do so by Trump)?
This time, the pressure is different – people are most concerned with inflation, and the latter has become political. So, while it remains clear that real interest rates are going up, the market's perception triggered this artificial short-term rally, which means that now the gold price has more room to fall.
However – just because something is likely to happen, doesn't mean that it's likely to happen right away. So, let's zoom in on what happened in 2013 after the analogous rebound.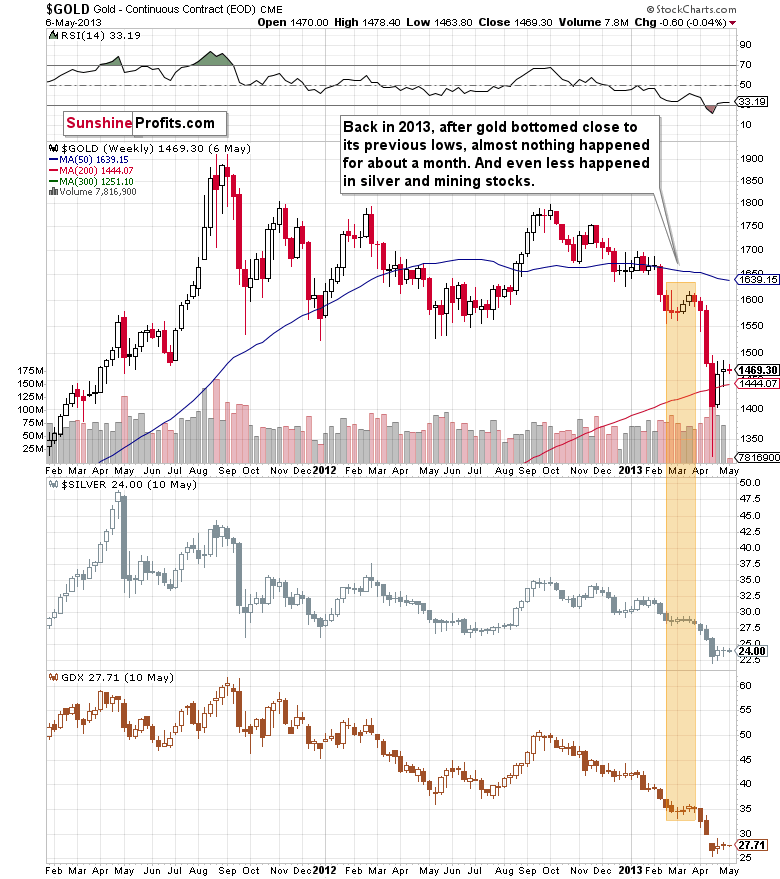 Well, gold consolidated for a few weeks and plunged only after that consolidation.
While it doesn't guarantee that we'll see a pause that's as long as the one that we saw before the April 2013 slide, it's a good indication that the huge decline might not start immediately, but rather we might see some "preparatory" action. 
For now, investors and traders might view the current prices as temporary, and they might expect gold to soar back up. In fact, I saw multiple analyses indicating exactly that. This means that a week or a few weeks of back and forth trading close to the current price levels or between the current price levels and the recent lows would help to convince them that this move lower was not accidental.
This would make them much more likely to sell (and panic) once gold breaks below its recent lows.
Also, while the above chart doesn't show it, because it's based on weekly and not daily prices, gold topped in March 2013 when its daily RSI was trading just a little above 50 and close to its previous highs – just like what we see right now.
Getting back to the possible back-and-forth movement that we might see now, please note that the price "action" was even more boring in the case of silver and mining stocks (middle and lower parts of the above chart). They did very little during the consolidation, but when they finally moved lower, they truly plunged. 
Oh, and don't let the sizes of the moves fool you – the scale is linear in the case of silver and GDX, while it's logarithmic in the case of gold. In reality, the mining stocks still declined the most, and silver's decline was still bigger than the one seen in gold.
So, like I wrote in the opening paragraphs of today's analysis, the fact that the precious metals sector is doing pretty much nothing right now is perfectly normal, and the bearish outlook for the following weeks/months remains fully intact.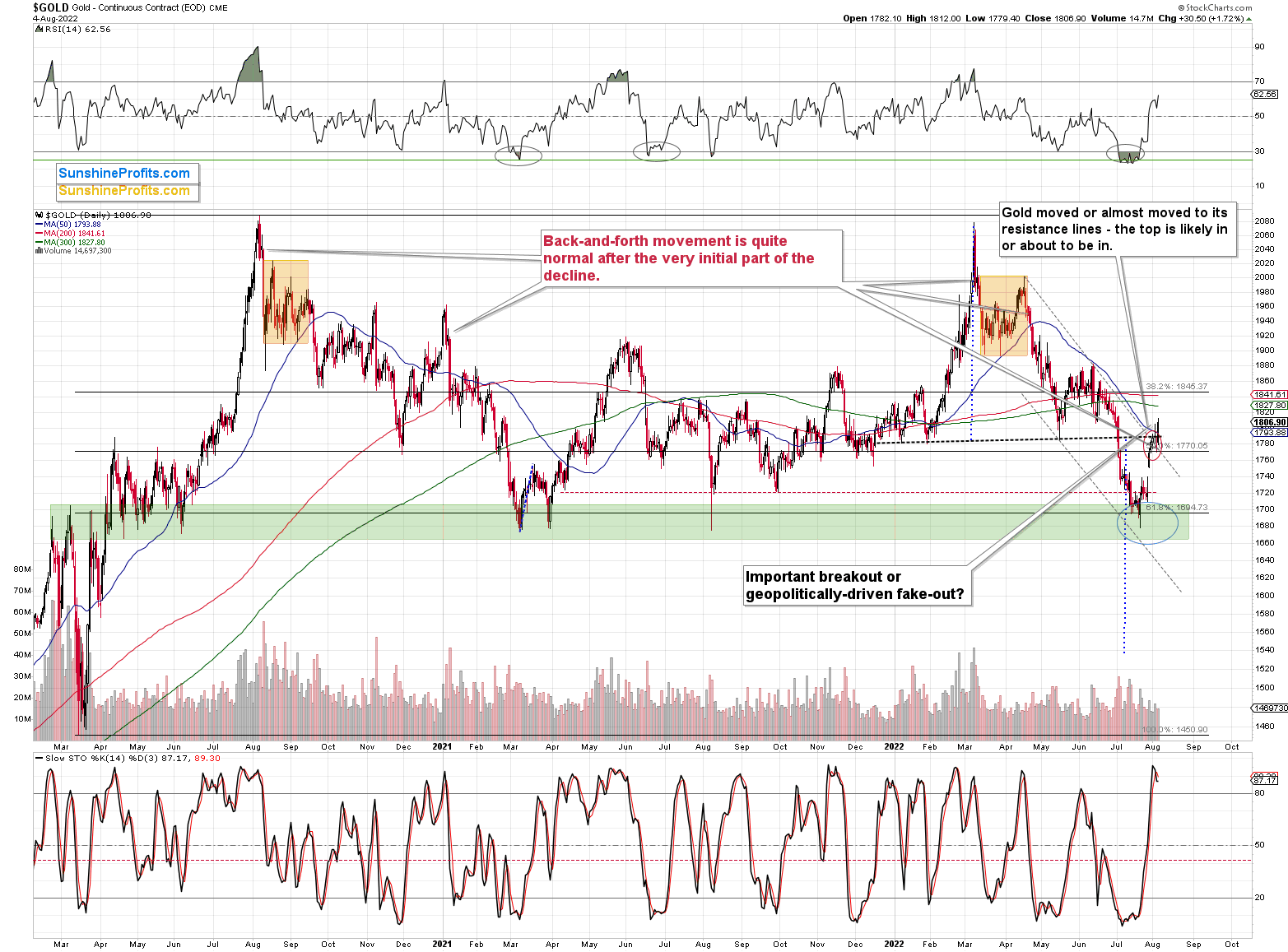 The $1,800 level – approximately – served as support in May and June, so it's a natural candidate for resistance right now. At the moment of writing these words, gold futures are trading at about $1,803, so the breakout above this level might be invalidated soon. This invalidation would serve as a sell signal and a good starting point for another decline.
Thank you for reading the above free premium-Alert-based analysis. Please note that the above is just a small fraction of what the subscribers to Gold & Silver Trading Alert enjoy on a daily basis. The full version of the Alerts includes multiple premium details such as the downside target for gold that could be reached in the next few weeks.
If you'd like to read those premium details, we have good news for you. As soon as you sign up for our free gold newsletter, you'll get a free 7-day no-obligation trial access to our premium Gold & Silver Trading Alerts. It's really free - sign up today.
Przemyslaw Radomski, CFA
Editor-in-chief
Sunshine Profits: Profits through Diligence & Care
Free Gold Newsletter
with details not available
to 99% investors
+ 7 days of Gold Alerts
+ Mining Stock Rankings
No credit card required
Gold Alerts
More
Status

Status

Status
Gold Seasonality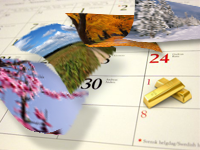 Our Clients