Silver Price Prediction for June 2022
The below silver price forecast article is based on one of the Gold & Silver Trading Alerts that we sent to our paid subscribers. Enjoy:
Let's take a look at the silver market.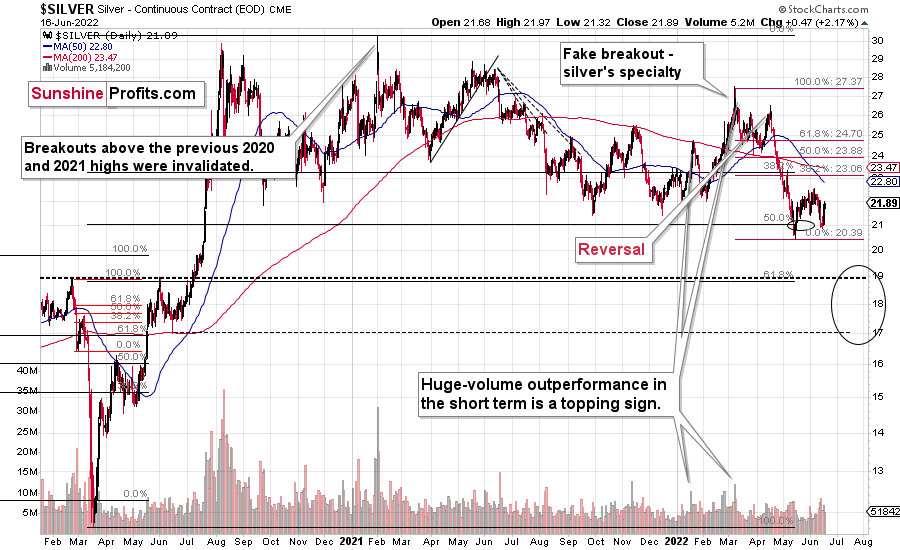 Just like gold, silver hit my target area and then moved slightly below it. Then it rallied, but it could be the case that the rally is already over. In fact, it seems quite likely.
Silver didn't correct significantly, somewhat in line with what we saw in early 2020. No wonder – the silver market is more correlated with the general stock market, and the latter hasn't been the top performer recently (except for the very recent run-up).
Why would silver be more aligned with stocks than gold is? Because it has more industrial applications than gold. Therefore, the demand for the white metal is more aligned with how the economy is performing.
How low will silver slide now? Ultimately, I wouldn't rule out a move to or below the 2020 low, but as far as the next short-term downswing is concerned, the $17-$19 area becomes the likely target. Yes, it's quite wide, but it really is unclear how silver will perform now.
The support provided by the 2020 highs and the 61.8% Fibonacci retracement based on the entire 2020-2021 rally is very strong. However, this support is not that much below the current price levels, and if gold and miners are about to more or less repeat their recent declines (and stocks do too), then silver could also repeat its previous decline. In this case, it would be likely to fall below the above-mentioned support.
The next support is provided by the mid-June 2020 low (~$17).
Please note that silver recently outperformed gold on a very short-term basis, which was an indication that the rally is over or about to be over. Lower silver prices are likely to follow.
Let's not forget that gold is not the only precious metal that is repeating its 2012 performance right now, and you can see more details on silver's long-term chart.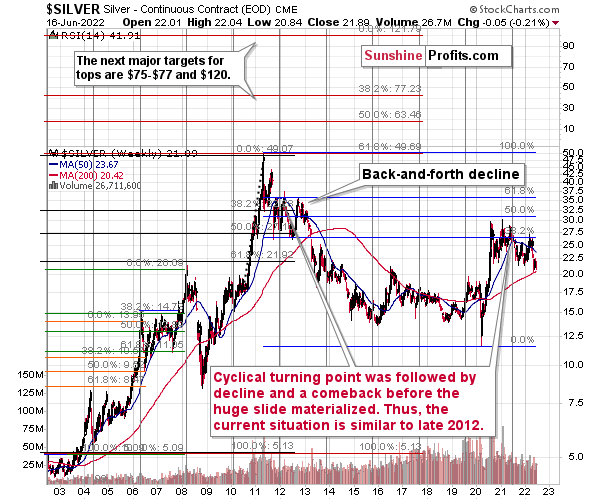 As you can see on the above chart, silver corrected about 50% of the previous downswing, and this correction ended at about $30, a long time ago. Ever since, silver has been declining, and even the outbreak of war in Europe didn't make silver rally above that level.
On the above chart, you can see how silver first topped in 2011, then declined and formed another top at the cyclical turning point. Next, it declined once again – to the previous lows. After that, silver rallied (in 2012 and 2022), and it topped between its 50-week moving average (marked in blue) and the previous top. Now silver is declining in a back-and-forth manner (you can see it more clearly on the previous short-term silver chart).
Back in 2012, these were just the early days of a gargantuan decline, and the same appears likely to be the case this time. Interest rates are going up after all, and the Fed is determined to quench inflation.
Let's not forget that rising interest rates are likely to negatively impact not just commodities, but practically all industries. This will likely cause silver's price to decline profoundly, as silver's industrial demand could be negatively impacted by lower economic growth (or a decline in economic activity).
Besides, please note that silver didn't even manage to rally as much as copper (which tried to move to new highs recently) or most other commodities, thus being rather weak.
Consequently, it seems that silver will need to decline profoundly before it rallies (to new all-time highs) once again.
Thank you for reading our free analysis today. Please note that the above is just a small fraction of what our subscribers enjoy on a daily basis. The latest issue of our Gold & Silver Trading Alerts includes multiple premium details such as the downside target for silver, gold, and mining stocks that could be reached in the next few weeks.
If you'd like to read those premium details, we have good news for you. As soon as you sign up for our free gold newsletter, you'll get a free 7-day no-obligation trial access to our premium Gold & Silver Trading Alerts. It's really free - sign up today.
Przemyslaw Radomski, CFA
Founder, Editor-in-chief
Free Gold &
Silver Newsletter
with details not available
to 99% investors
+ 7 days of Gold Alerts
No credit card required
Gold Alerts
More
Status

Status

Status
Gold Seasonality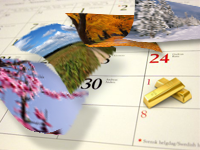 Our Clients