Silver Price Prediction for November 2020
The below silver price forecast article is a part of the November 19, 2020 Gold & Silver Trading Alert that we sent to our paid subscribers. Enjoy:
Remember the shortest movie theme ever created by John Williams and released in 1975? It was just a simple two-note motif. No? How about now: duunnn … dunn … duunnn … dunn … - that's right, it was the theme from Jaws. John Williams' genius was so great that he was able to create a rising tension with practically just that. Everyone knew that something was about to happen. Something major…something bad…and it was just beneath the surface.
This theme was the first thing that came to my mind when I saw where miners' closed yesterday along with today's pre-market action in gold, silver, and the U.S. Dollar Index.
Just like in the movie, when the theme first appeared without any shark attack, people could have viewed it as something suspicious, yet without a clear warning sign. After the first attack though, it was by then clear that this sound spells trouble. Similarly, what we see on the precious metals market right now is something we saw many times in the past and it meant big declines were just around the corner. The situation is also getting more similar to what we saw in the first quarter of the year, but in slow-motion.
Let's take a closer look at the charts.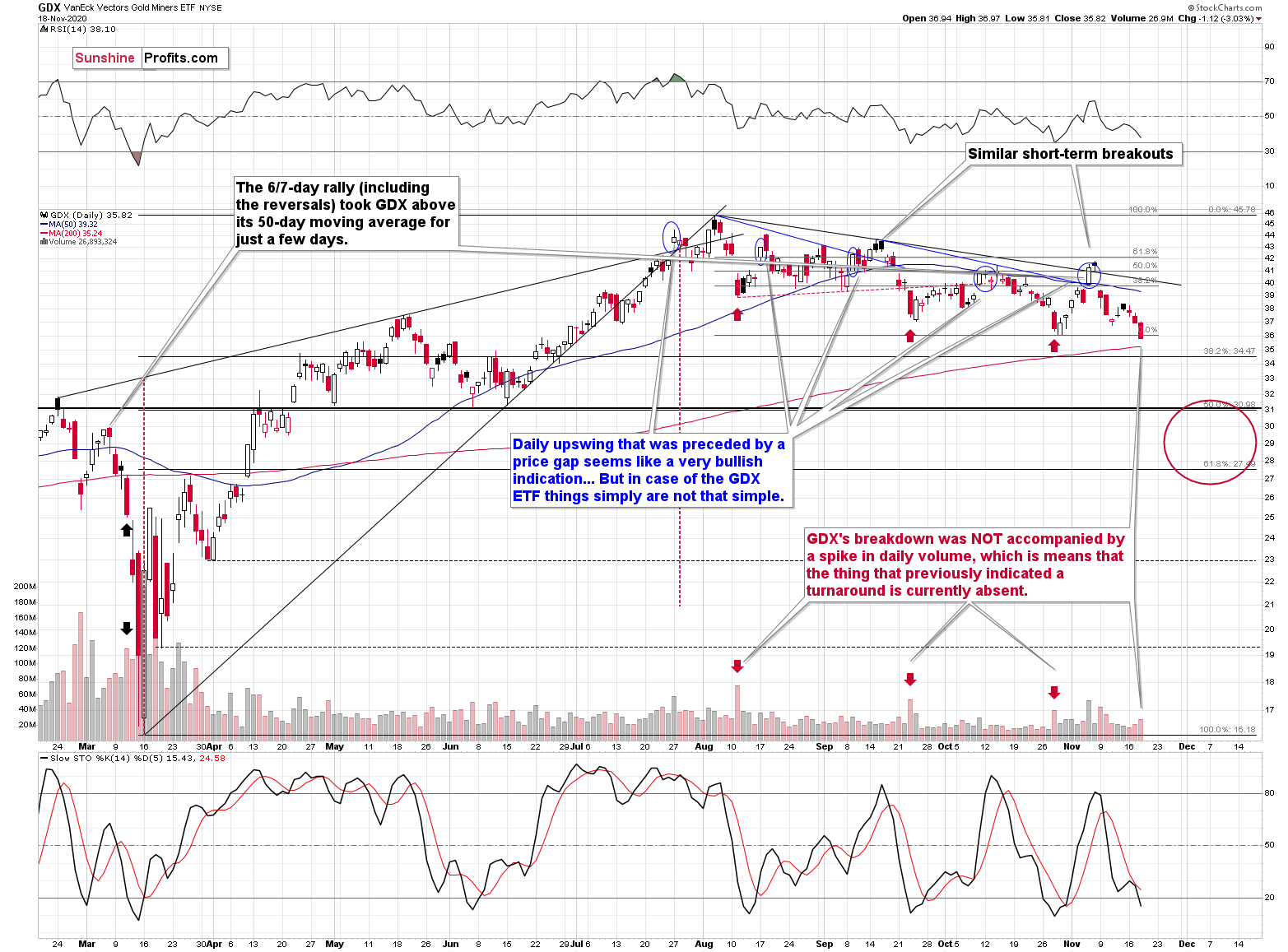 In yesterday's analysis, I wrote the following about the above GDX ETF chart:
Let's start today's analysis by saying that miners have just closed at the second lowest daily close since early July.
This fact alone should make one question the validity of any bullish argument for the short term. Sure, gold, silver, and mining stocks have explosive potential for the following years. The world is likely to try to attempt to inflate its trouble away and gold is likely to greatly benefit from it along with the rest of the precious metals sector. But in the short term, markets can get ahead of themselves, just like they did in August. Then, they have to correct before rallying once again.
And if during these times they get a powerful bearish boost, for instance from rallying USD Index, the corrective downswing could be profound.
One more thing about the miners – please note that it's the first time when the GDX ETF declined once again without a meaningful rally after bottoming near the $37 level. Both previous bottoms: the one that we saw in September and the one that we saw in late-October, were followed by rallies above $40. This time, the rally was tiny – and it was such even though the USD Index declined, and the general stock market moved higher in the last several days.
The short-term indications that I've been commenting on are pointing to the bigger decline having already started, but also being relatively far from being over. In fact, based on miners' weak performance it seems that they just can't wait to slide further.
Please note that yesterday was yet another day when miners moved higher initially only to decline during the day.
During yesterday's session, miners declined over 3% and closed the day at their lowest level since late June. This happened without an analogous breakdown in gold or silver and without a major rally in the USD Index. It also happened without a huge slide in the main stock indices. Sure, the latter moved over 1% lower yesterday, but it doesn't explain the breakdown in miners on its own. After all, stocks are very close to their all-time highs, while miners just moved to new lows.
And the volume? The volume was decent, but not particularly high. We didn't see the spike in volume that occured on October 28, making us think that miners were about to start a counter-trend rally. No, this time the bulls didn't put up a fight. It's no wonder since they just failed to trigger a decent rally last week; it was evident that their strength is limited.
This is all an extremely strong confirmation that miners just can't wait to move lower.
As I wrote earlier, gold is moving lower today, so the miners are likely to slide even more based on this move.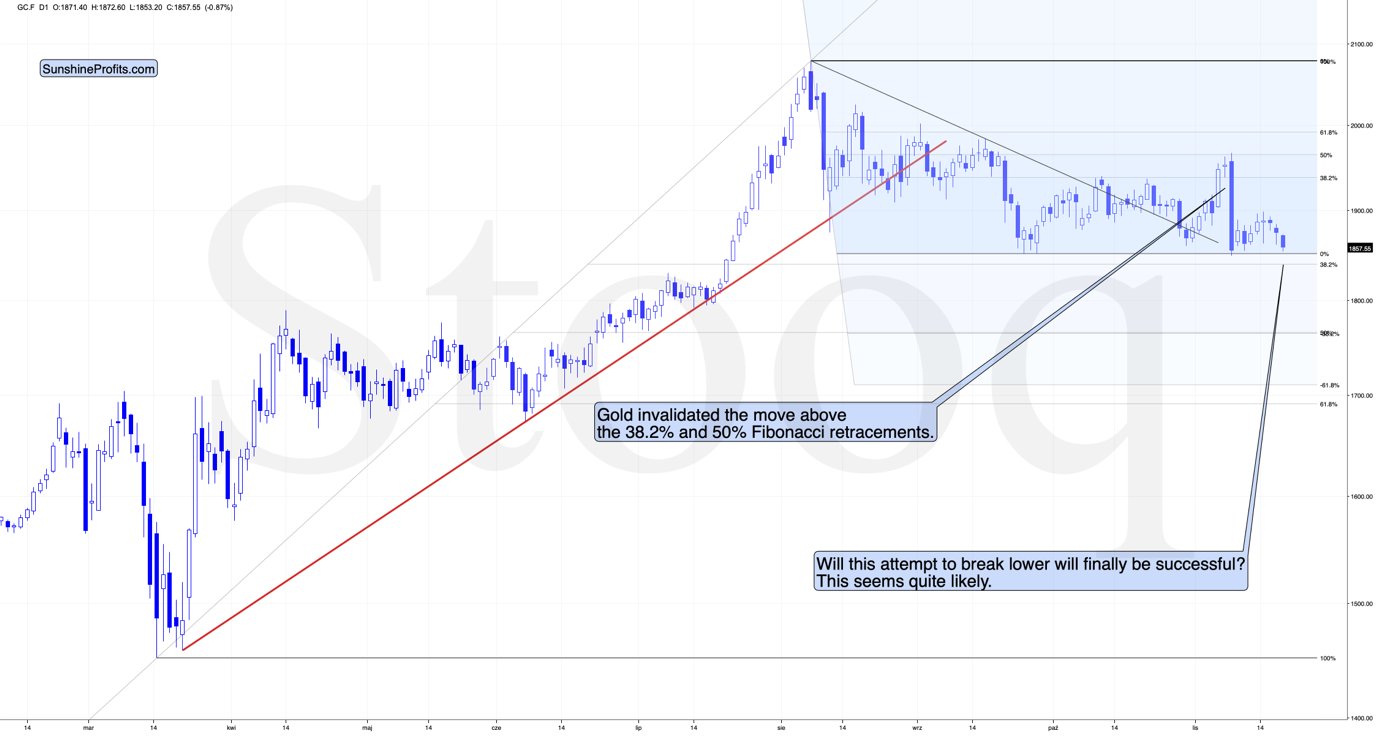 Gold didn't move to new lows just yet, and it's trying to catch up with miners today. Remember – yesterday's breakdown in miners corresponded to the relatively calm action in gold – with gold moving lower, but recovering before the end of the day. Miners didn't.
Back in 2013 and right before the big slide, miners were very weak relative to gold, and the same was the case in the first quarter of this year.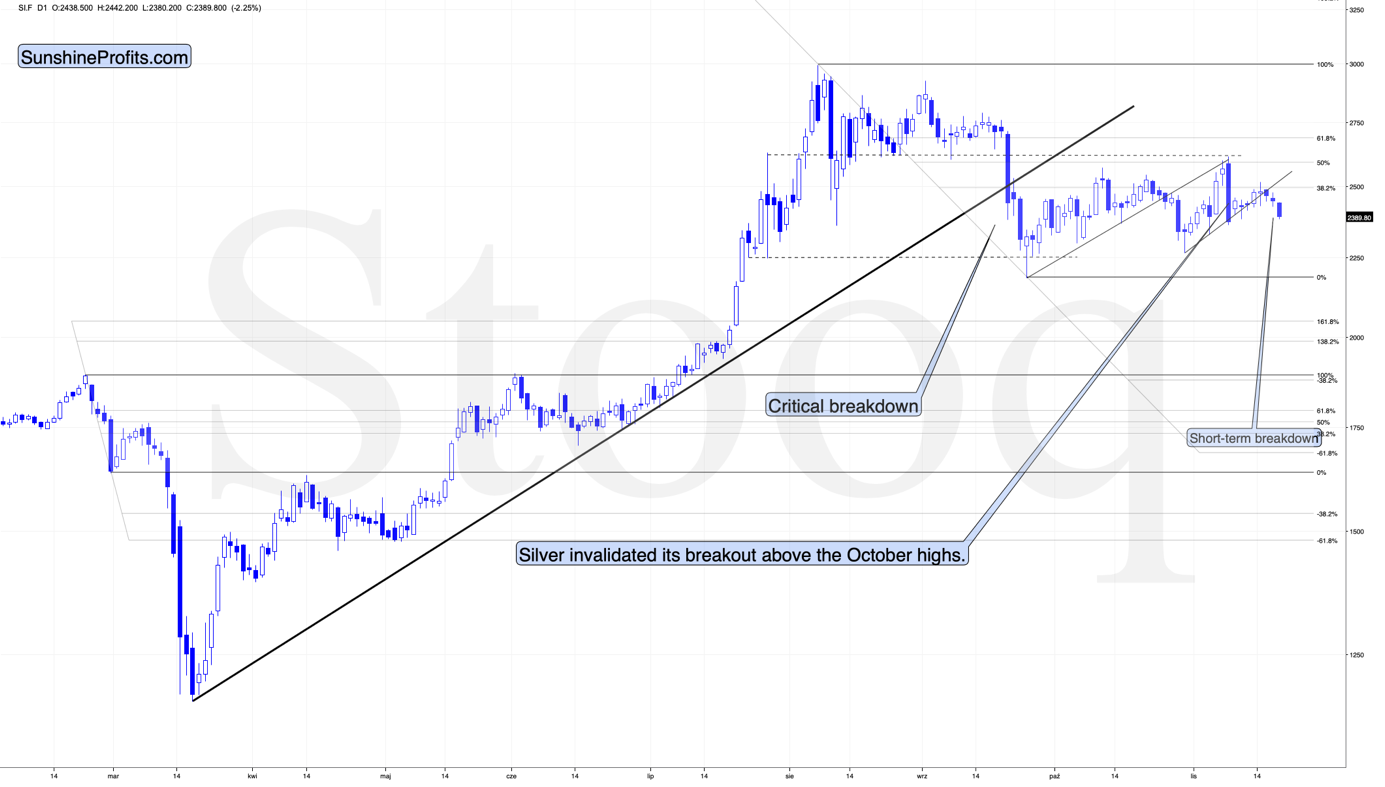 Silver broke below the rising short-term support line, but it's not yet close to its recent lows. Just as I wrote yesterday and many times before, silver usually outperforms while miners underperform gold right before bigger declines, so the implications are bearish.
Moreover, please note that back in March, silver corrected 50% of the initial decline before really plunging. The September – November upswing corrected about 50% of September's decline, which is quite similar to the previous pattern. Yes, this time the pattern took much more time to develop, but it's quite normal given that right now the pandemic's spread is more or less expected (at least it's viewed as something within the range of "expected"), and it was new and unknown in the first part of the year.
The price drop that we see this time is therefore likely to be more moderate in terms of duration. The slide might not take just a few days, but rather a few weeks.
Before summarizing, let's take a look at the USD Index.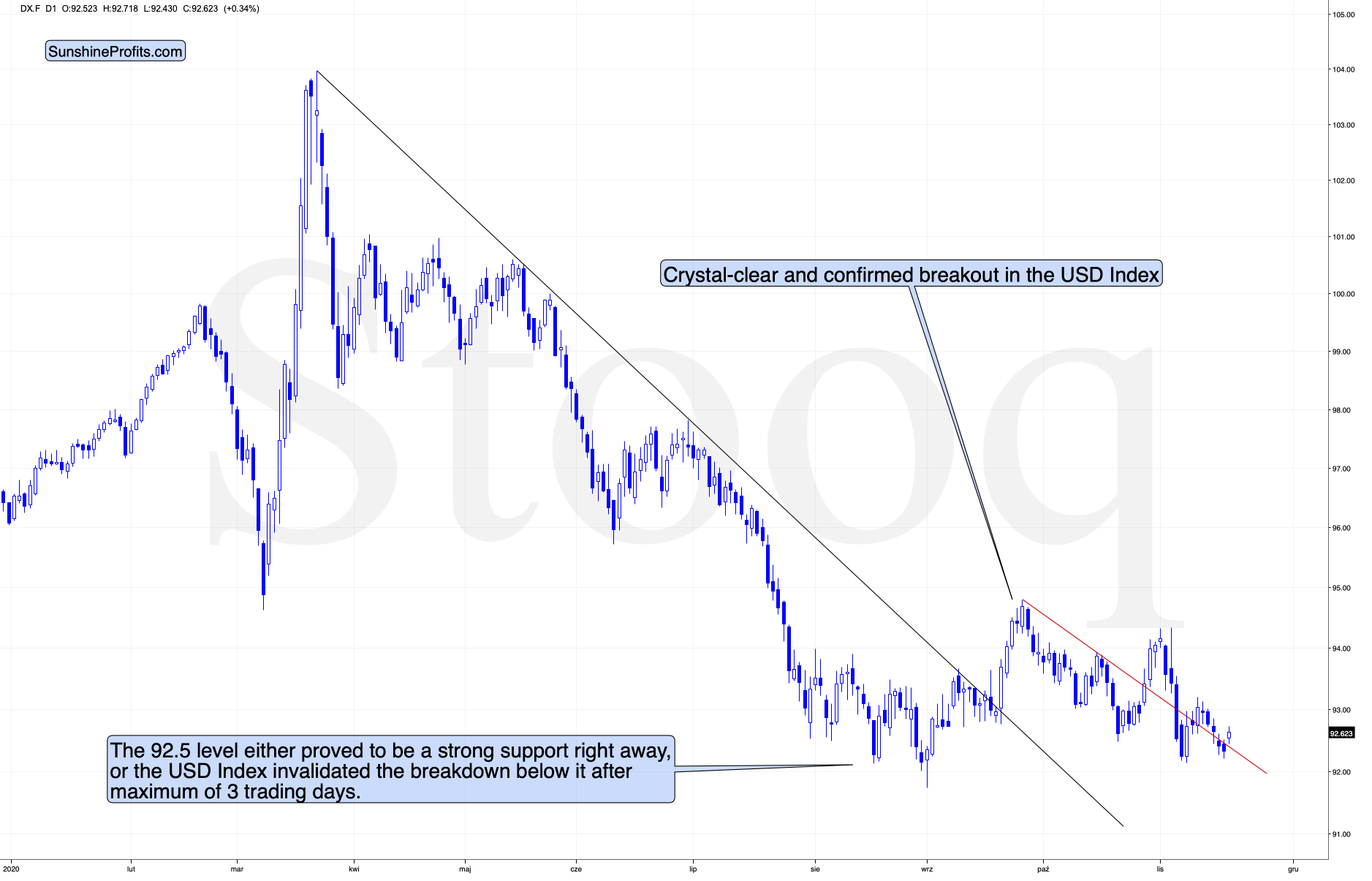 The USDX has moved just a little higher today, and gold is already testing its previous lows. This is a very bearish combination of factors:
The USDX is likely to soar as the sentiment is extremely bearish (everyone and their brother are expecting the USDX to move lower, so practically everyone who could have sold, has already done so), and the technical signs point to a major upswing (the broad bottom seems to be ending or it has already ended).
Gold is likely to (at least initially) magnify signs coming from the USD Index, but in the opposite direction. We're seeing this in today's pre-market trading. The USDX is up by just a little, while gold is down more noticeably.
Gold miners are likely to magnify gold's bearish moves, at least initially. We've seen this taking place for some time now.
This is a profoundly bearish combination. While it's not clear when exactly the breakdown in gold is going to take place, it's very likely that we'll see it shortly. Duunnn … dunn …
Thank you for reading our free analysis today. Please note that the following is just a small fraction of today's all-encompassing Gold & Silver Trading Alert. The latter includes multiple premium details such as the downside target for gold that could be reached in the next few weeks.
If you'd like to read those premium details, we have good news for you. As soon as you sign up for our free gold newsletter, you'll get a free 7-day no-obligation trial access to our premium Gold & Silver Trading Alerts. It's really free - sign up today.
Przemyslaw Radomski, CFA
Editor-in-chief, Gold & Silver Fund Manager
Sunshine Profits: Analysis. Care. Profits.
Free Gold &
Silver Newsletter
with details not available
to 99% investors
+ 7 days of Gold Alerts
No credit card required
Gold Alerts
More
Status

November 27, 2020, 4:18 AM

Status

November 26, 2020, 3:27 AM

Status

November 25, 2020, 8:24 AM
Gold Seasonality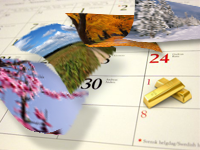 Our Clients