Please log in to read the entire text.
If you don't have a login yet, please select your access package.
Based on gold's recent behavior, mood swings cannot be ruled out, but hormone levels are going to level off after the end of the market holidays.
Gold rallied visibly yesterday (May. 3) as the USD Index gave away some of Friday's gains, sparking questions about whether this is actually bullish for gold. And rightfully so, after all, if a given market reacts to what it shouldn't react to, it often tells us that the market wants to move in a certain direction. Let's start with one of the questions I received:
Hi,
Thanks very much for your detailed reports. I just have a few observations and queries. On Friday we had the USD going up and Gold dropping a few dollars. Today we have again the USD continuing to go up, which is what you have been saying in your reports, but we also have Gold up $10. If you could help me understand why this is happening and how it fits into Gold going down as the USD goes up.
Thanks very much.
Let's imagine that you're about to go fishing with your friends, but you can't ignore the fact that one of your friend's behavior is odd, to say the least. While they're usually fine with your selection of the fishing spot and the time you arrived, today they are annoyed by both. They don't even like the road that your GPS system set for the drive, not to mention your driving skills. Whatever you say, it makes them complain. You might be tempted to think that this person is actually not that friendly at all and perhaps this friendship's status has changed.
But… What actually happened was they were up all night as their heater broke, spilling water on the entire apartment, and since it was this friend that insisted on mounting it themselves, they didn't want to brag about this result. They also didn't have time to eat anything before they met with you this morning.
What is obvious based on the context might have been very misleading without it.
It seems to me that we have the same kind of situation in gold right now. The context here is that it's the very final part of the consolidation – the right shoulder of a broad head-and-shoulders pattern, and, at such tops, markets can behave erratically.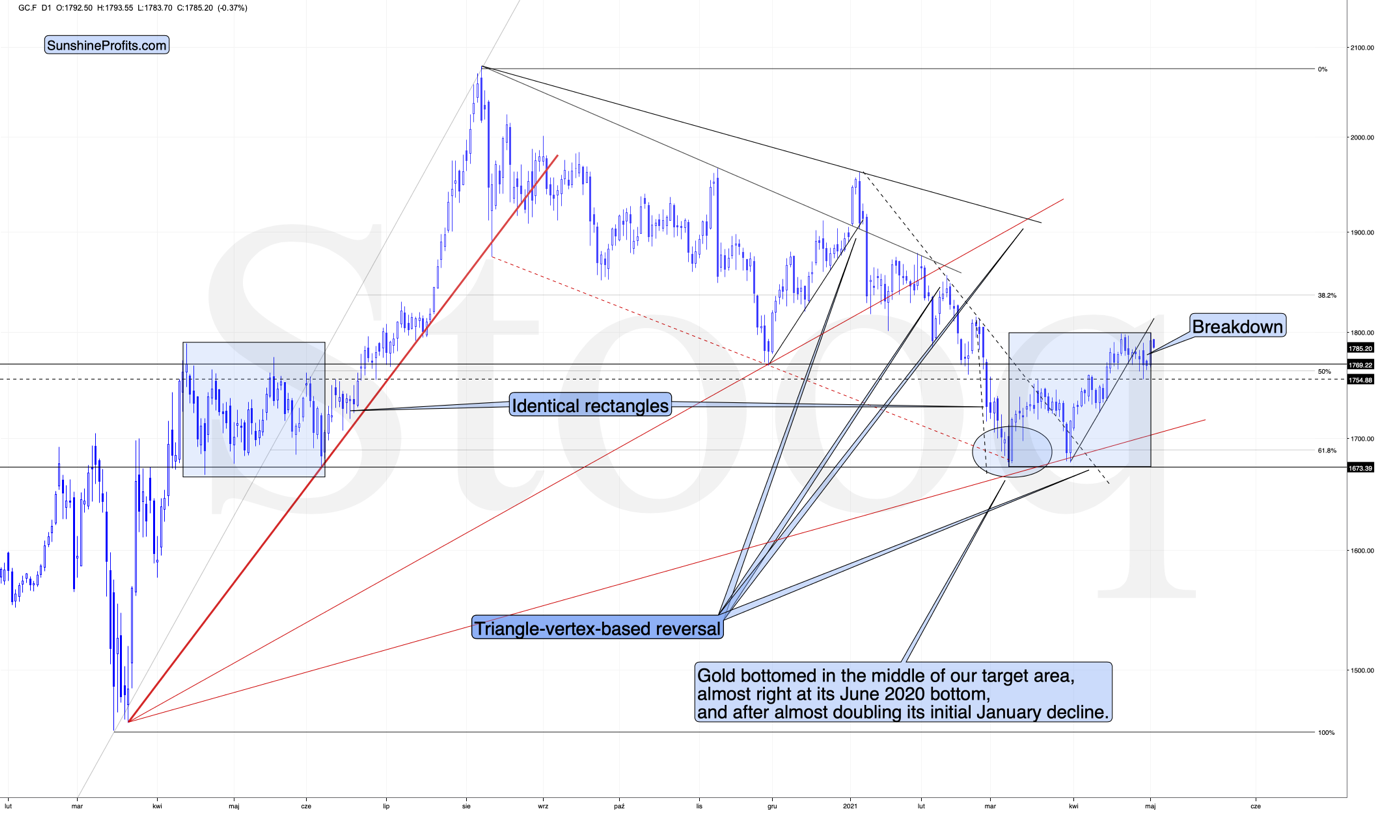 Based on the identical blue rectangles, it seems that we might have seen the end of the correction.
The breakdown below the short-term support line – along with its confirmation – provides us with bearish indications as well.
Did gold manage to break to new highs yesterday? No. So, did it change anything from the technical point of view? No, once again.
The only thing that might seem bullish here is gold's performance relative to the USD Index, but if it is indeed the very end of the correction, then this kind of performance might be understandable. After all, that's where the emotions are at the zenith.
Moreover, let's keep in mind that yesterday was a bank holiday in some parts of the world, including one of the world's financial centers – London. If there are any days during the year when the markets are much more likely to behave erratically than on other days, it's during market holidays and options' expiration days. We had the former yesterday.
The performance of some stock market indices seems to confirm that. For example, the Nasdaq (the previous strong leader) declined yesterday, while the broad market ended the day slightly higher (yesterday's session in the S&P 500 was another daily reversal, though).
And how could that fit the situation in the USD Index?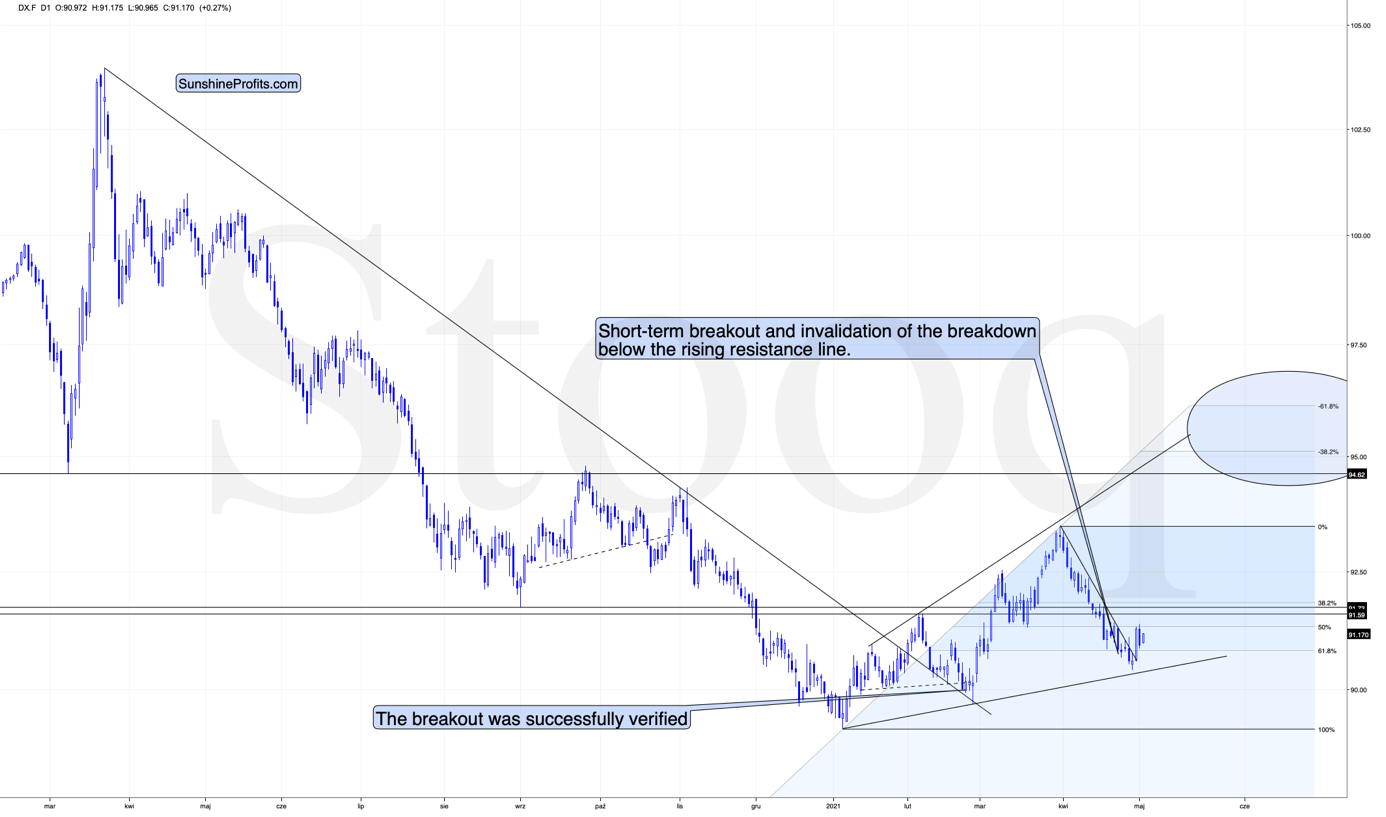 Well, the USDX is after a massive breakout, which means that it's no wonder it corrected the move yesterday. And as it did, it's also no wonder that gold traders assumed the USD's rally was over. But the interpretation of the situation is likely to change as the USDX is moving back up today, and it seems that it's about to confirm its breakout.
Now, if the USD Index keeps rallying for days and gold continues to show strength for days, we might be on to something bullish here. For now, it's too early to say that.
Moreover, the gold-USD dynamic is not the only one that matters. While the links between gold and the USD Index as well as between gold and gold stocks often require confirmations, silver's outperformance of gold is something that we usually see on a very short-term basis, and it's an important sell signal without additional confirmations.
And while gold moved close to the recent highs but didn't exceed them, silver moved visibly above them.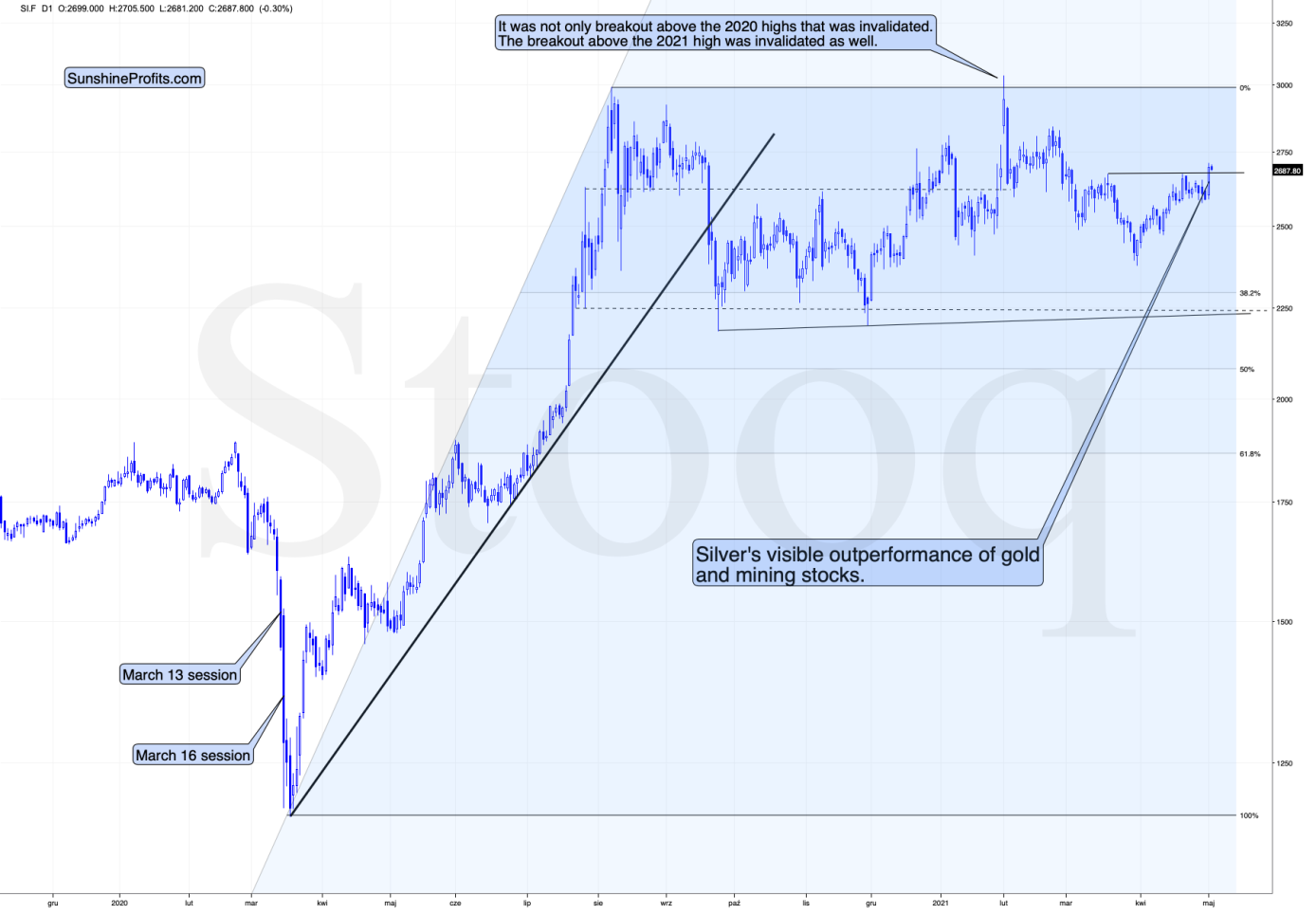 The silver price just outperformed gold on a very short-term basis, which is a great confirmation that yesterday's session could have been the emotional peak – or a session that's very close to such a peak.
While silver outperformed, miners underperformed.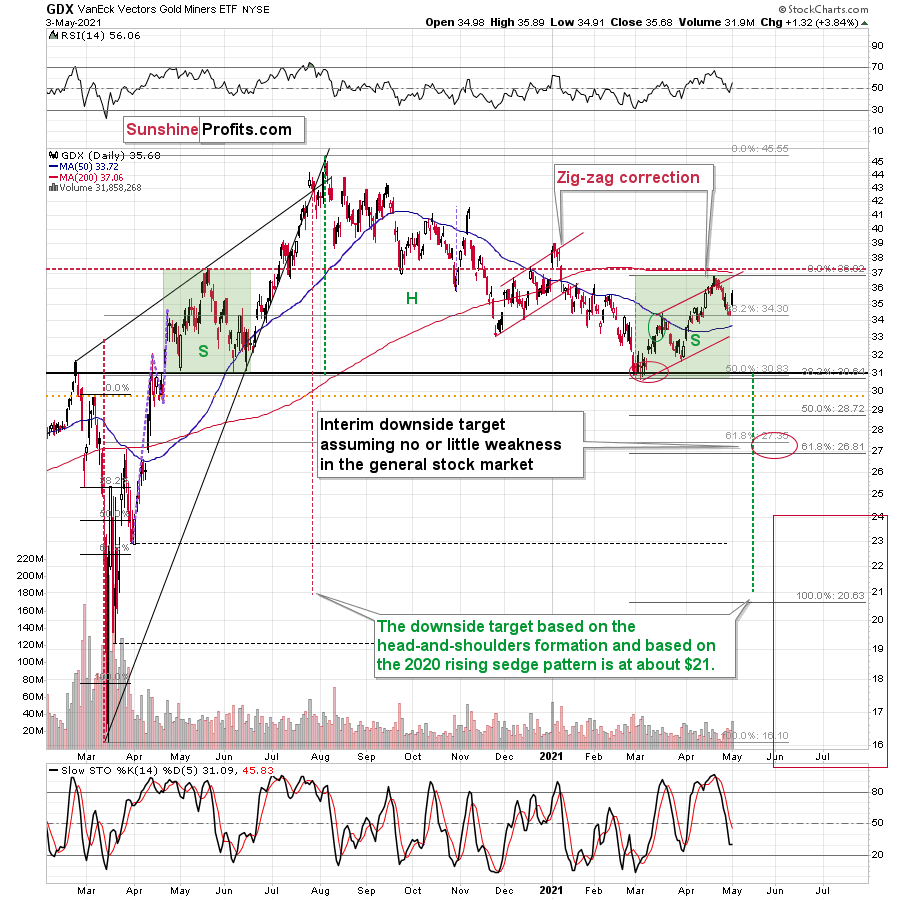 Silver moved above its recent high, gold moved very close to it without breaking higher, and mining stocks didn't move close back to the said highs. Consequently, gold stocks have underperformed gold.
Overall, the implications from the relative performance appear more bearish than bullish at this time, and they support other bearish factors that I've been discussing in my previous analyses.
Thank you for reading our free analysis today. Please note that the above is just a small fraction of the full analyses that our subscribers enjoy on a regular basis. They include multiple premium details such as the interim targets for gold and mining stocks that could be reached in the next few weeks. We invite you to subscribe now and read today's issue right away.
Sincerely,
Przemyslaw Radomski, CFA
Founder, Editor-in-chief
Back