The new fiscal package bill has been passed, but gold remains below $1,900.
I hope that you enjoyed the holidays, despite the COVID-19 related restrictions! On December 27, President Trump signed off on the fresh fiscal stimulus that the U.S. Congress agreed upon just before Christmas. The bill averts a government shutdown, funding its expenditures. Importantly, it includes $900 billion of economic aid allocated to small businesses and unemployed Americans. It will also transfer billions of dollars to schools and pay for further vaccine distribution. Moreover, the bill will fund automatic, direct payments of up to $600 per adult.
The announcement was positive for U.S. equities. After all, the relief bill marked the end of a months-long stalemate in Washington over the shape of the new aid package, and the signing of a long-awaited bill increased optimism for an economic recovery. Indeed, the stimulus package will increase the disposable income of Americans.
However, the bill does not include any new federal aid for state and local governments or liability protections for businesses. And, more generally, the government can't create a sustainable recovery simply by injecting more cash into the economy. Printing and borrowing money does not magically solve structural and underlying economic problems. In November, both consumer spending and personal income declined on waning fiscal support, thus showing that the government's fiscal support just covers the big holes in the economy.
Another important issue is that the pandemic is still out of control in the U.S. Although we could already be past the peak in the daily number of new cases, there are still more than 150,000 new infections each day, as the chart below shows. Some epidemiologists even warn against a 'dark winter' and believe that the human toll will reach a record high in January.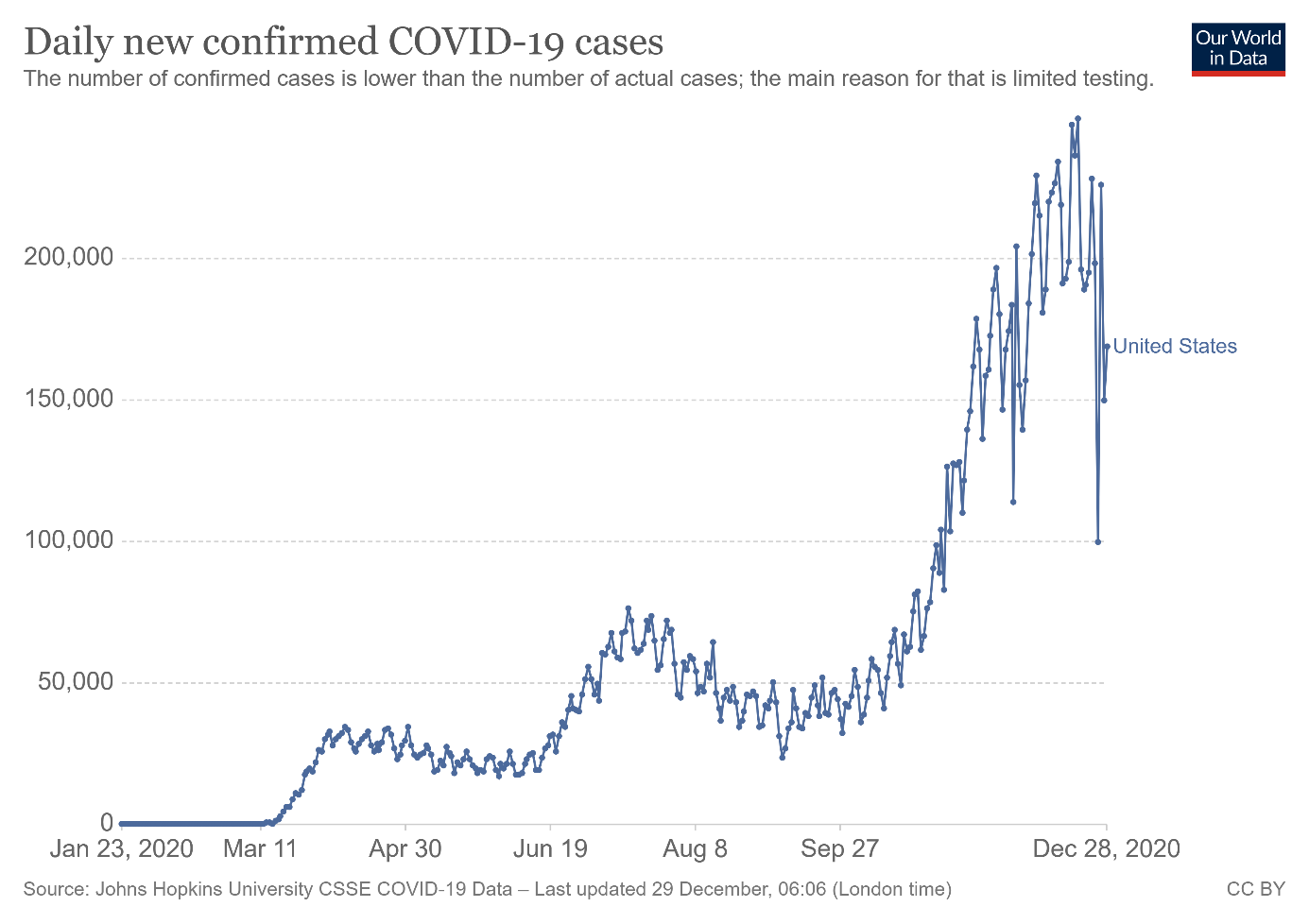 However, later can only get better. After all, vaccinations have begun and they're progressing. As one can see in the chart below, about 2.13 million doses have already been administered in the U.S. thus far, but that number should significantly accelerate in 2021.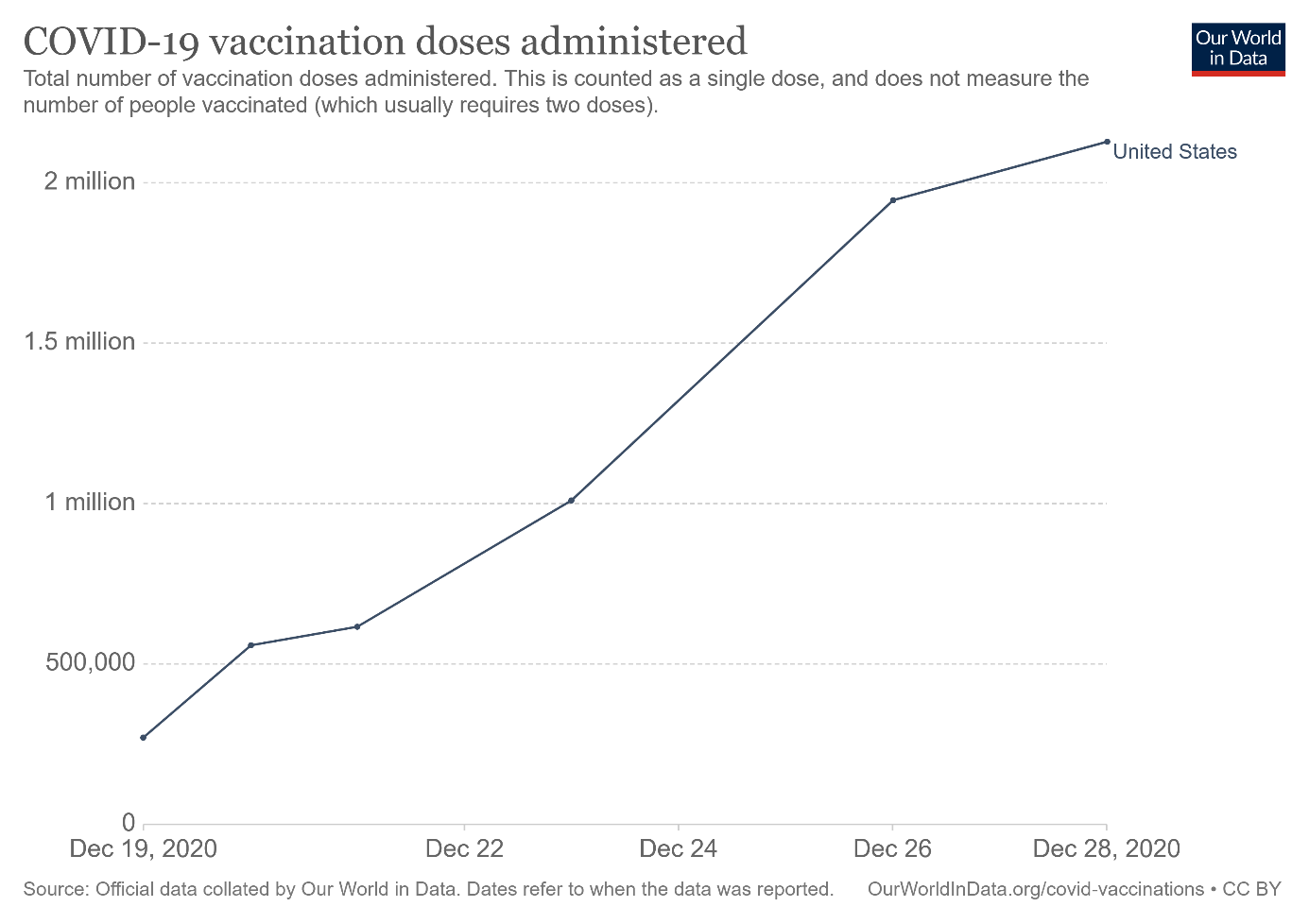 Implications for Gold
What does this all imply for the price of gold? Well, the signing of the fresh economic relief bill was positive for the yellow metal. The price of gold even touched $1,900, but it failed again at this level, declining to $1,870-1,880 on Monday (Dec. 28).
According to some economists, the bill came too late. So, although the bill could have stimulative effect, the U.S. economy will not escape the slowdown in the first quarter of 2021. And this positive effect could be only temporary and at the expense of much higher fiscal deficits and public debt. Moreover, the Biden administration and Democrats in Congress would call for another fiscal package next year! The continuation of loose fiscal policy (and monetary policy as well) should support the price of gold in 2021, just as it did this year. As a reminder, due to the pandemic, the U.S. debt has ballooned this year to around $27.5 trillion, while the global debt spiralled to around $277 trillion.
To be clear, I don't see a reversal either in the Fed's stance, or Congress's approach. However, in December the Fed showed reluctance to expand its quantitative easing, while Republicans – if they remain control over the Senate – will block expansionary fiscal policies. So, gold could get less support from this side. Moreover, the risk appetite should be stronger next year, as compared to 2020.
Luckily, a weaker greenback, soaring indebtedness with concerns about the debt crisis, and risk of higher inflation could be important tailwinds in 2021. I will write more about my view on the gold market in 2021 in the next issue of the Fundamental Gold Report and Gold Market Overview. Stay tuned!
If you enjoyed today's free gold report, we invite you to check out our premium services. We provide much more detailed fundamental analyses of the gold market in our monthly Gold Market Overview reports, and we provide daily Gold & Silver Trading Alerts with clear buy and sell signals. To enjoy our gold analyses in their full scope, we invite you to subscribe today. If you're not ready to subscribe yet, and you are not on our gold mailing list yet, we urge you to sign up there as well for daily yellow metal updates. Sign up now!
Arkadiusz Sieron, PhD
Sunshine Profits: Analysis. Care. Profits.
-----
Disclaimer: Please note that the aim of the above analysis is to discuss the likely long-term impact of the featured phenomenon on the price of gold and this analysis does not indicate (nor does it aim to do so) whether gold is likely to move higher or lower in the short- or medium term. In order to determine the latter, many additional factors need to be considered (i.e. sentiment, chart patterns, cycles, indicators, ratios, self-similar patterns and more) and we are taking them into account (and discussing the short- and medium-term outlook) in our Gold & Silver Trading Alerts.
Back