Please log in to read the entire text.
If you don't have a login yet, please select your access package.
The medium-term outlook for the precious metals is profoundly bearish – and it's about time to abandon the short-term bullish ship.
To find out why, let's take a look at what happened in junior mining stocks.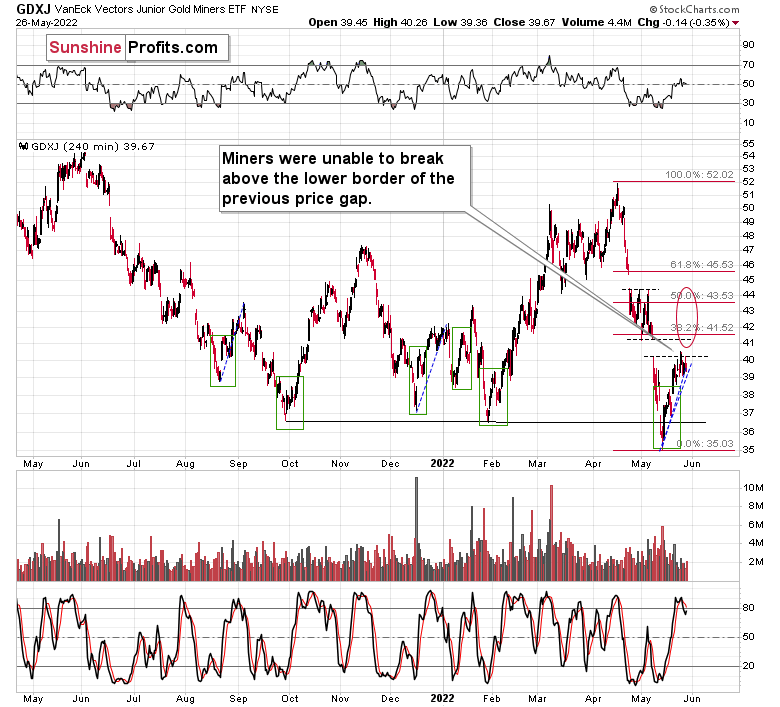 The miners were unable to break above the lower border of the previous price gap despite the rally in the general stock market that continued yesterday. In fact, junior miners ended yesterday's session lower.
Yes, gold is still the main driver of the juniors' prices, but given that the S&P 500 moved up by about 2%, at least some strength in the juniors was expected. And we didn't see it.
If it all didn't happen so close to GDXJ's upside target, and if stocks weren't so close to their own upside target, it wouldn't matter much. However, the above was the case, and thus it did matter.
Perhaps junior miners will rally more and even manage to "close the gap" by rallying to its upper border, but… so what? That's only about $1 – $1.5 higher in the GDXJ, and its already after a ~$4 rally, which means that we've caught the majority of the move with our previous long position. In fact, we've actually caught the "easy part" of the move.
Congratulations to everyone who managed to profit on this rebound!
I called the recent rally "easy" because when sentiment becomes too extreme, it's very likely that a correction will follow. Thus, trading it was rather easy. After all, no market moves up or down in a straight line.
Anyway, the "easy" part of the rally is definitely over, and now the rally has either ended or we entered the "difficult" part thereof. "Difficult" because it's no longer very likely that we'll see further move higher. Yesterday's lack of positive reaction to stocks' rally emphasized that. This is why I was quick to take profits here.
Remember, the strong medium-term downtrend remains intact.
While aiming to gain from a rebound (against a powerful medium-term downtrend) when it's very likely to take place (based on the sentiment being too extreme) is something justified from the risk to reward point of view (risk is relatively low), the situation changes dramatically in the "difficult" part of the rally. In this case, the risk is big (the reversal could take place at higher prices or it could be already after the reversal…) while the profit potential is limited.
Also, in today's pre-market trading we might be seeing a sell indication. So far it's not strong, but still…
Silver futures are up by 1.49%, the GDXJ is up by 0.96% in London trading, the GDX is up by only 0.38% in London trading, and gold futures are up by 0.53%.
Silver has just moved to new monthly high, while gold, the GDX and the GDXJ haven't (the latter is quite close, though). This means that we're in a situation where silver is outperforming on an immediate-term basis, while miners are underperforming (the GDX in this case) gold. This is often what we see right before declines.
This doesn't guarantee that the decline will start today or tomorrow, but it does indicate that it's likely to take place within the next several days.
Thank you for reading our free analysis today. Please note that the above is just a small fraction of the full analyses that our subscribers enjoy on a regular basis. They include multiple premium details such as the interim target for gold that could be reached in the next few weeks. We invite you to subscribe now and read today's issue right away.
Sincerely,
Przemyslaw Radomski, CFA
Founder, Editor-in-chief
Back