Bremain
So, so you think you can tell Heaven from Hell, Blue skies from pain, Brexit from Bremain?
On 23 June 2016, Britons voted in a nationwide referendum to leave the European Union. This decision, called a Brexit vote, led to shorta brief financial shockturmoil with a plunging pound and equities. However, the markets soon recovered, and the shock was not as bad as many had feared. Similarly, there was a knee-jerk reaction in gold, which boostedtook its price up to the $1,350 level immediately after the vote's results were announced. As the chart below shows, the gold prices spiked in the U.S. dollar, in the euro, and in the British pound.
Chart 1: The price of gold in the U.S. dollars (blue line), Euros (yellow line) and British pounds (red line) after a Brexit vote.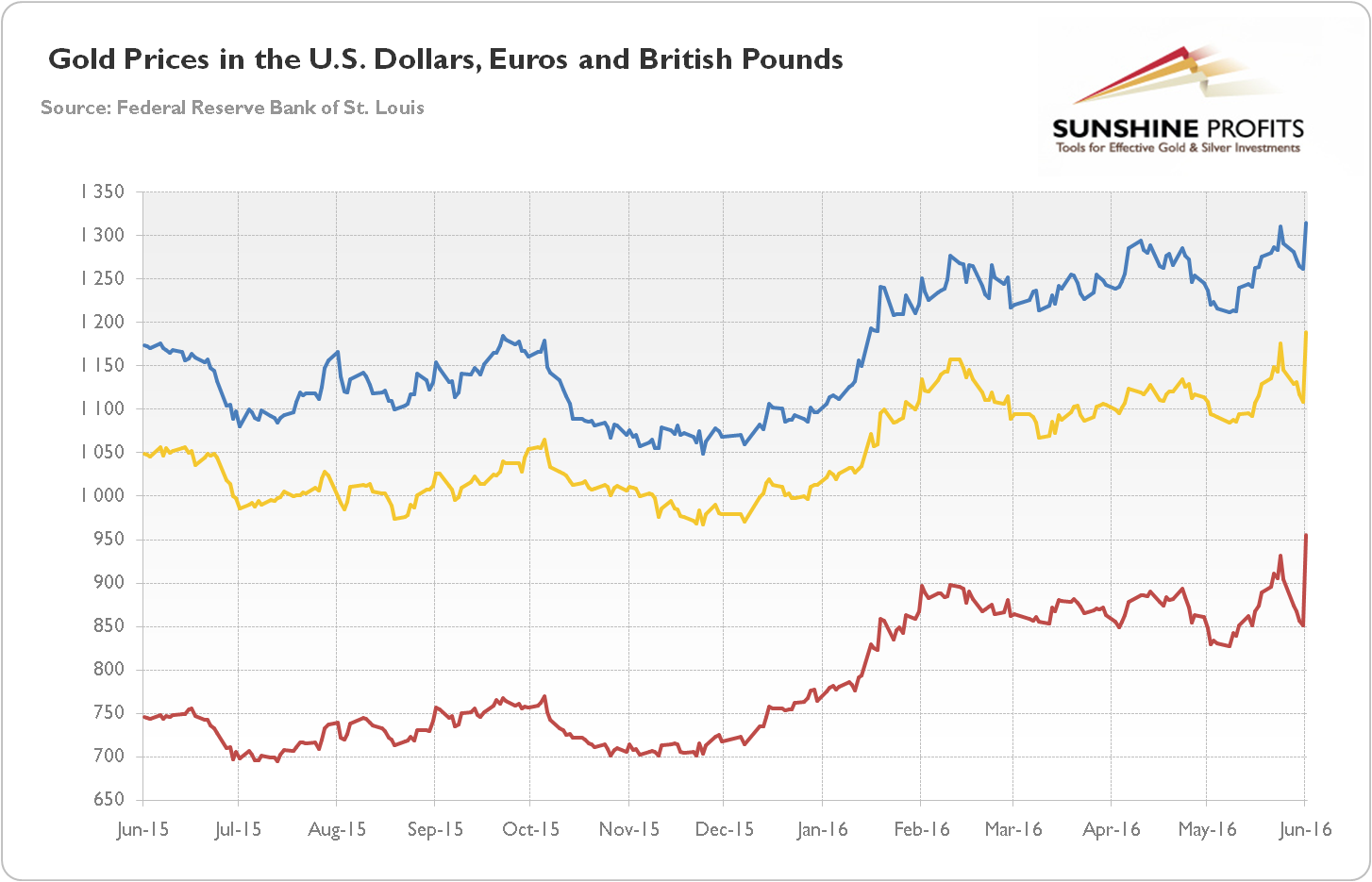 The funny thing is that, as of September 13, 2019, or more than three years after the referendum, the UK is still within the EU. Of course, leaving the EU is unprecedented, and it is not a piece of cake. There are many issues to take a regulatory stance onhat have to be regulated and the fact that the Britons do not know how exactly their new relationship with the EU should look like is not helping here. The British establishment behaves like a person who wants to have a cake and eat it too. Or, rather like a cat who wants to go out, but when the door is open, it stays put.
But there is another possibility. All you see is just a theatre and there will be no Brexit at all. Instead, there will be Bremain, or the UK will remain in the EU. The politicians just cannot admit it openly, so they play for time.
Bremain and Gold
What would the Bremain mean for the gold market? Well, the potential exit process of Great Britain from the EU would be long, complex and costly, and it would harm the global economy and generate a significant uncertainty and risk-aversion, which should support the price of gold. Conversely, the Bremain would remove all these risks and uncertainties, weakening the safe-haven demand for gold. However, it could also support the British pound against the US dollar, which could be positive for the gold market. But based on the history of the Brexit saga and its impact on the gold market, we expect that the safe-haven channeleffect would be larger than the dominate the currency channeltraction in case of Bremain.
We encourage you to learn more about the gold market – not only about not only about the link between Bremain and gold, but also how to successfully use gold as an investment and how to profitably trade it. Great way to start is to sign up for our gold newsletter today. It's free and if you don't like it, you can easily unsubscribe.
Back