Please log in to read the entire text.
If you don't have a login yet, please select your access package.
Stimulus optimism is reaching a fever pitch, and I decided to take long profits off the table late yesterday. That's 155-points in the black and all it took, were 8 trading sessions. Just as I confided in my yesterday's take on the trader-analyst's role, it oftentimes requires making sense of conflicting information such as distrust towards last week's reversal on Tuesday.
Stocks are after one heck of a short-term run, which was accompanied by a sizable bullish gap. The optimism over Mnuchin's counteroffer to Pelosi reigned supreme, and the S&P 500 made it known it got what it wanted. The question is whether the index can maintain the short-term momentum, or not. In other words, when and how would it digest its gains?
Let's check the charts for answers – for odds thereof, to be precise.
S&P 500 in the Short-Run
I'll start with the daily chart perspective (charts courtesy of http://stockcharts.com ):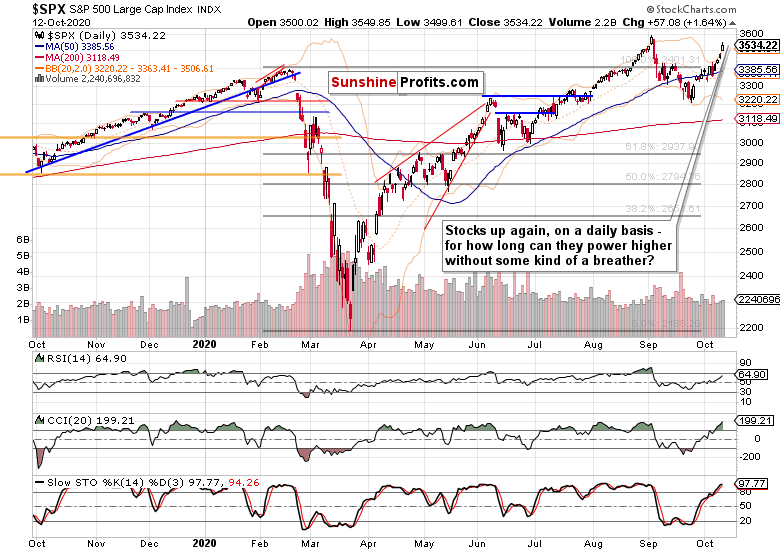 With yesterday's session, the price upswing has clearly accelerated, leaving both CCI and Stochastics very stretched. While that isn't reason enough for me to call for a reversal, some deceleration (fancy word for a breather, isn't it?) wouldn't surprise me – sideways trading next would be actually healthy.
As I wrote within yesterday's medium-term analysis section, this week will likely be leaner in terms of S&P 500 price moves – and that could coincide with a very short-term patch of stocks treading water, relatively speaking. Simply put, I am sticking to my yesterday's call of not looking for much downside really.
Credit Markets' Point of View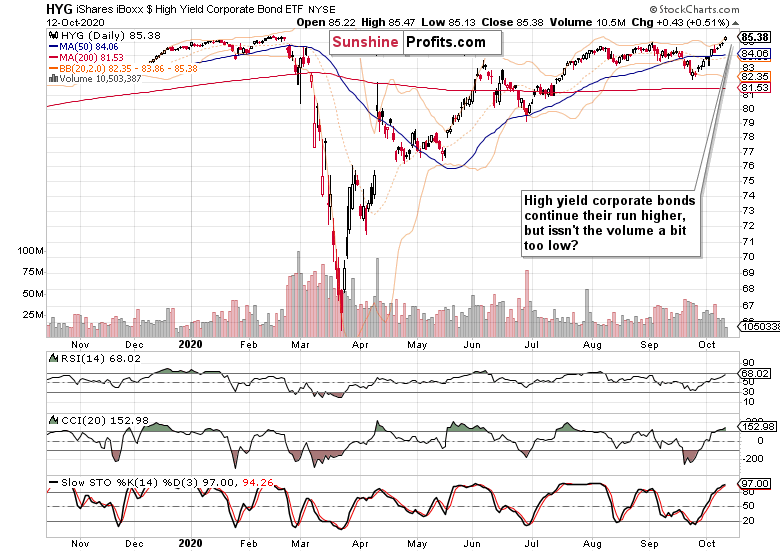 High yield corporate bonds have likewise risen yesterday, the bullish gap was there too – but volume conspicuously wasn't. That's a short-term red flag to me, a reason why some consolidation next is my go-to scenario for stocks.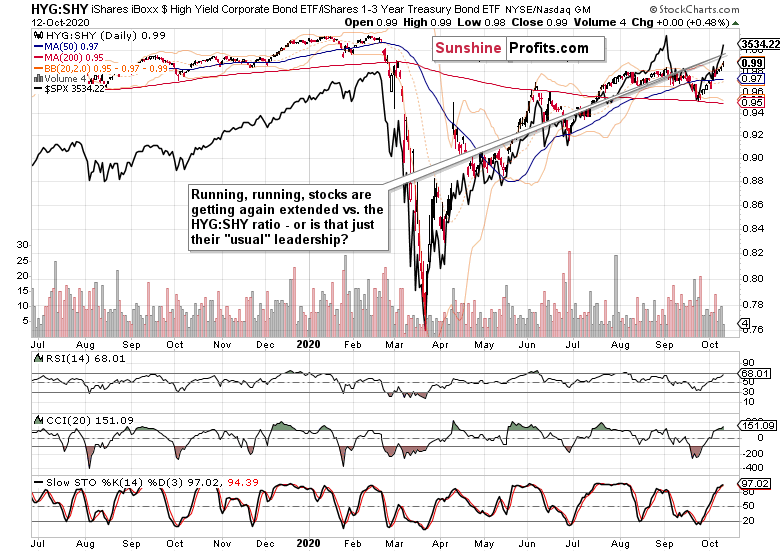 S&P 500 is again assuming leadership, and its extension vs. the high yield corporate bonds to short-term Treasuries (HYG:SHY) ratio is apparent. The $64,000 question is whether the stock upswing is just starting and the junk corporate bonds ratio would go on to catch up to a degree, or whether a local top is about to be made.
Out of these two options, I lean towards the former. While the odds of a short-term consolidation (this week) have gone up, I don't think we would see a very sharp, or high stretching local top. Some sideways trading followed by a measured push higher, looks most likely – but watch out for election headline surprises!
Treasuries, USD and Technology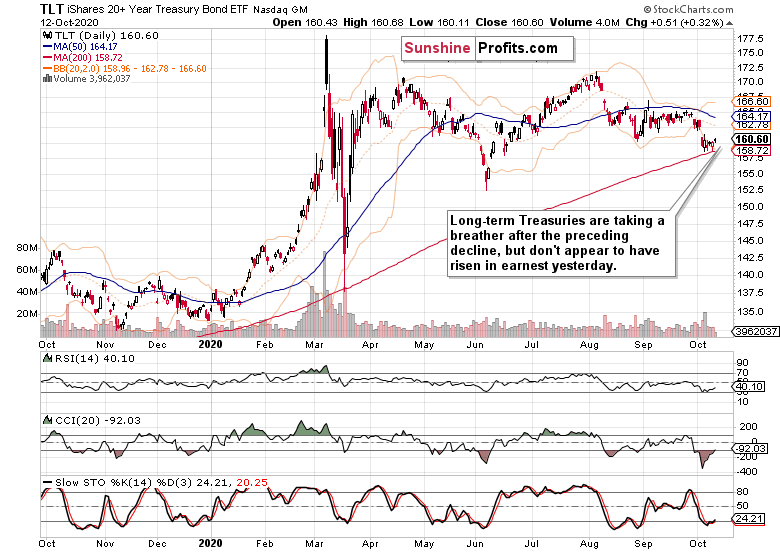 Long-term Treasuries (TLT ETF) have come under pressure recently, and their rebound is still looking corrective in nature. Especially since yesterday's upswing lacked volume.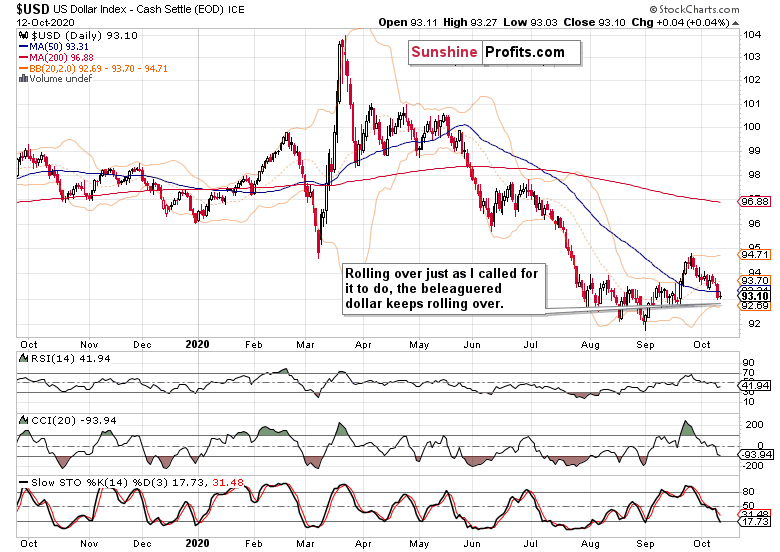 Let's recall my Oct 09 dollar analysis:
(…) The bulls overcame that (50-day moving average) barrier, yet promptly ran out of steam, and the sideways-to-down trading is working hard to reassert itself once again now. The dollar clearly isn't standing in the way of further stock or commodities rally. The reflationary efforts are working, and the markets are once again salivating at the fiscal stimulus prospects – the saga of generally higher S&P 500 goes on, and the world reserve currency is likely to remain on the defensive.
So far so good. Unless uncertainties flare up – think botched stimulus deal pre-elections, or post-election drama (recounts, mail-in ballots, no concession of defeat) that might not be in too short a supply – the dollar won't really have a chance to spike higher in my opinion.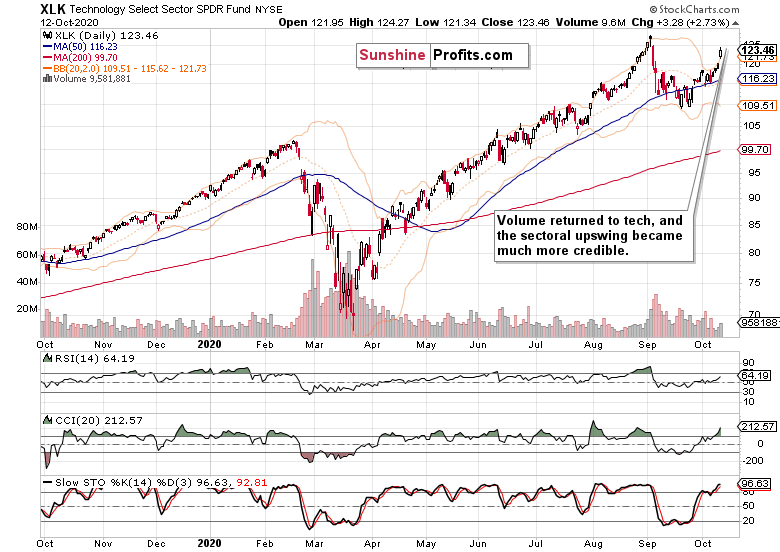 Technology (XLK ETF) is turning more positive here – volume is returning, which bodes well for the medium-term – and for the short-term too. The sector is waking up, and ready to lead S&P 500 to further gains – and crucially in my view, with the financials (XLF ETF) supporting that move finally (just as I wrote on Wednesday and Friday).
Summary
Summing up, I look for stocks to continue in their breakout mode, but after the prior week and yesterday, a brief pause would be healthy. Would be, and it depends what kind of one we would get (if any). The credit markets are though favoring one to arrive relatively shortly – but don't hold your breath, it won't be a deep(ly lasting) one likely.
Stimulus negotiations are still a wildcard, and I see much of the positive effect (the hopes) already priced into the market. With both sides unlikely to be perceived / blamed for failure of talks, the odds are favoring more some sort of compromise than a break-up. Will the market sell off a little on that news?
Thank you for reading today's free analysis. If you would like to receive daily premium follow-ups, I encourage you to sign up for my Stock Trading Alerts to also benefit from the trading action described - the moment it happens. The full analysis includes more details about current positions and levels to watch before deciding to open any new ones or where to close existing ones.
Thank you.
Monica Kingsley
Stock Trading Strategist
Sunshine Profits: Analysis. Care. Profits.
Back