Please log in to read the entire text.
If you don't have a login yet, please select your access package.
Another day, another gain in stocks – in spite of the almost textbook Tuesday's reversal that I didn't trust one bit. The slow grind higher in stocks goes on, and my previously profitable long position has become even more so today.
Such was the entry to my yesterday's analysis, and it can stay the same also today. While yesterday I talked the mid-September highs, let's start shifting attention to the early September climactic highs slowly but surely again. Yes, S&P 500 is breaking higher.
On Wednesday, I gave you several reasons why the bull run will succeed, and they came from the bond markets. On Thursday, I brought you the currency markets' confirmation. And today, I'll present the case from the commodities arena.
Let's see first yesterday's happenings in stocks.
S&P 500 in the Short-Run
I'll start with the daily chart perspective (charts courtesy of http://stockcharts.com ):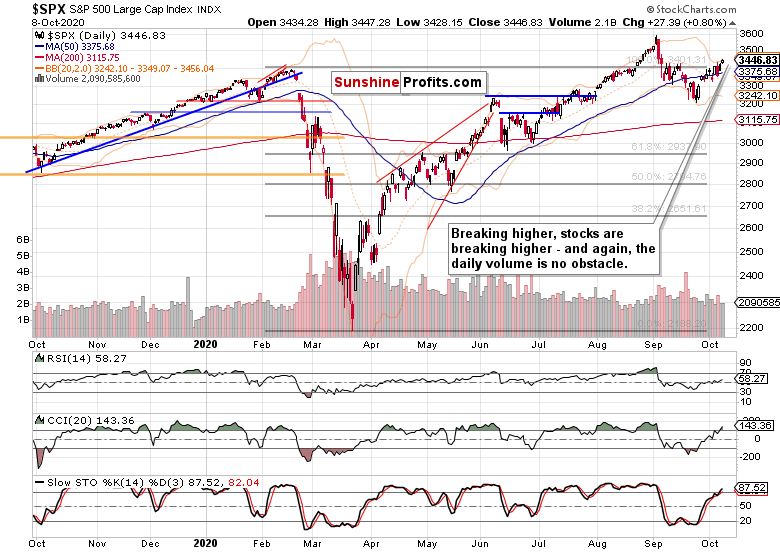 My yesterday's words remain valid also today:
(…) I told you it wasn't a breakout rejection in earnest, and prices closed back above the Feb highs yesterday. And again, the session's lower volume doesn't concern me – as the worst case scenario, I see a protracted sideways consolidation before the Feb highs are decidedly overcome.
But that's not the most likely possibility – I think that these highs would be beaten in a few days. After the stormy September, the month of October is shaping up to be calmer thus far – but I look for the approaching elections to bring turbulence still, as in later this month.
Credit Markets' Point of View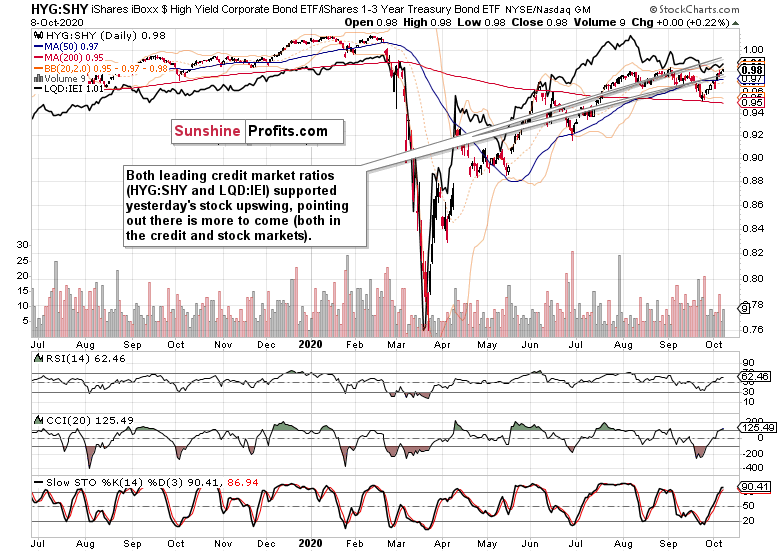 Both leading credit market ratios – high yield corporate bonds to short-term Treasuries (HYG:SHY) and investment grade corporate bonds to longer-dated Treasuries (LQD:IEI) – are done pausing – they have moved higher yesterday. Mirroring each other's moves, they're on an upswing – and that bodes well for the stock upswing's healthy footing.
Technology and Financials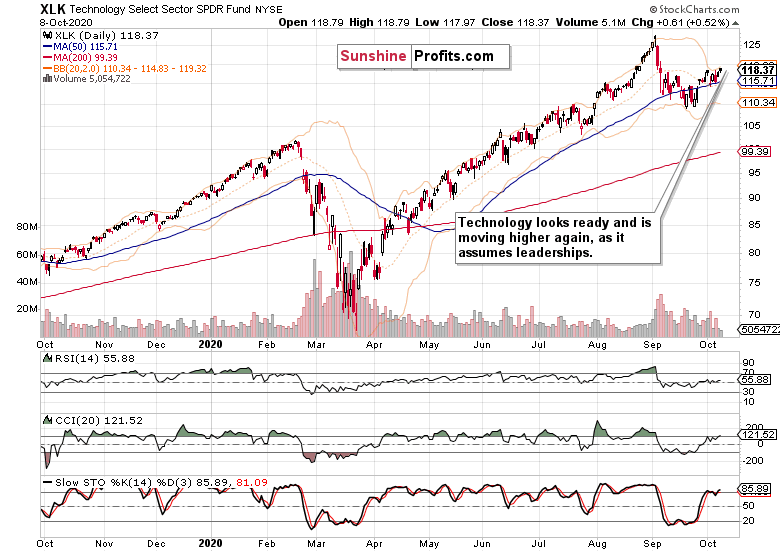 Technology (XLK ETF) is continuing its rebound, yet on decreasing volume. Unless the bears step in, that's not too concerning. Instead, a muddle through with an upward bias remains the more likely scenario.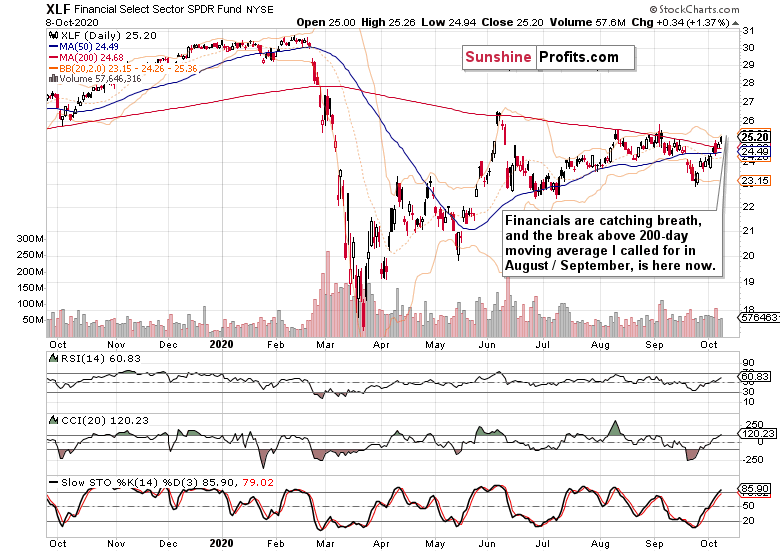 Financials (XLF ETF) are starting to see better days, now that the 200-day moving average is finally conquered. I do think that this breakout will stick.
Commodities and Economic Recovery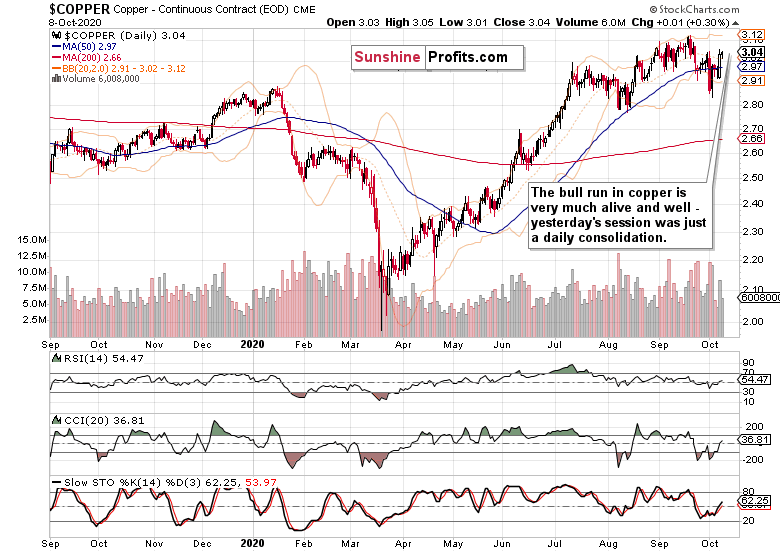 The red metal didn't disappoint me – just recall my Friday's observations:
(…) The red metal truly plunged yesterday, and on heavy volume. Sure, it was vulnerable to a takedown following the rebound off its 50-day moving average, but the slide looks a bit overdone. Certainly, it doesn't invalidate the bullish chart posture as copper stands to capitalize on the electric cars fever and the like it or not rush into green economy in general. The setback suffered will thus be reversed relatively shortly in my opinion.
The price is primed to go higher, and all we've seen in my opinion, is a breakdown attempt that will be proven to have failed.
What loooked like a breakdown 7 days ago to some, I called to be invalidated – and here we are, solidly trending higher again. The verdict is clear – the recovery goes on, and higher copper prices are in our future.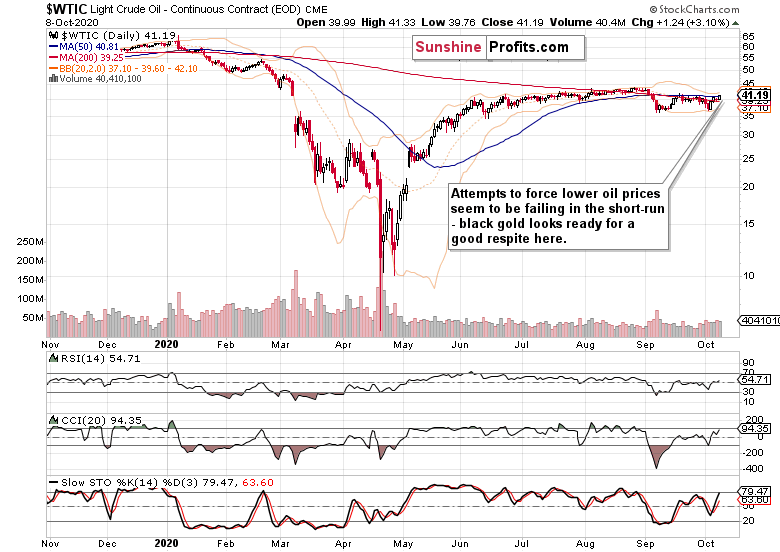 Oil remains under pressure but is holding up nicely – and actually the volume examination hints at slightly better days ahead. Given the demand destruction and new lockdowns popping up here and here overseas, that's still a relatively good interim outcome for black gold, regardless of its underperformance of other commodities.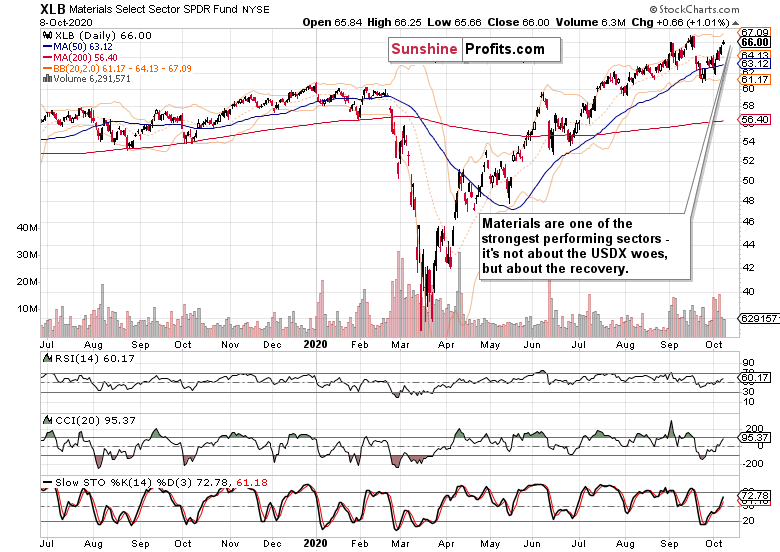 Materials (XLB ETF) and all the metals in general, that's another cup of tea – and they aren't reacting to dollar weakness only. Part of the broad advance in this ETF is the result of the ongoing economic recovery, which is naturally quite uneven given the real world circumstances.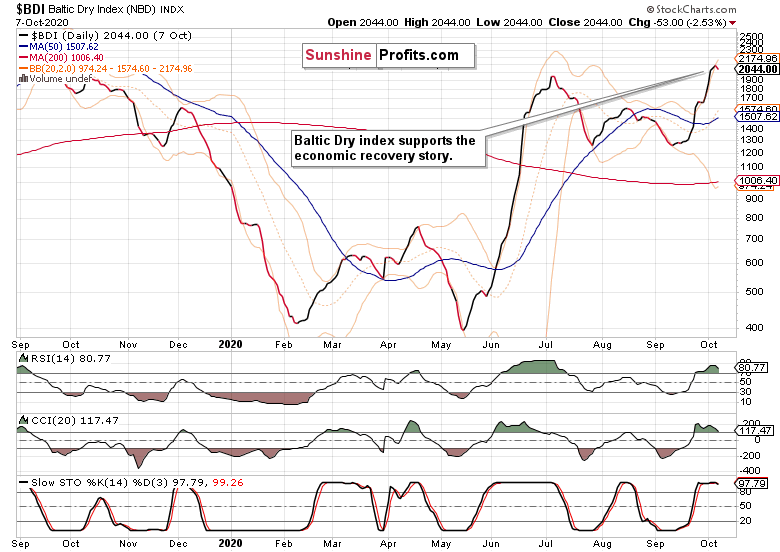 Baltic Dry Index ($BDI), this general bellwether of the shipping industry, paints an encouraging picture of a pickup in economic activity, and that's good both for the real economy and for the stock market.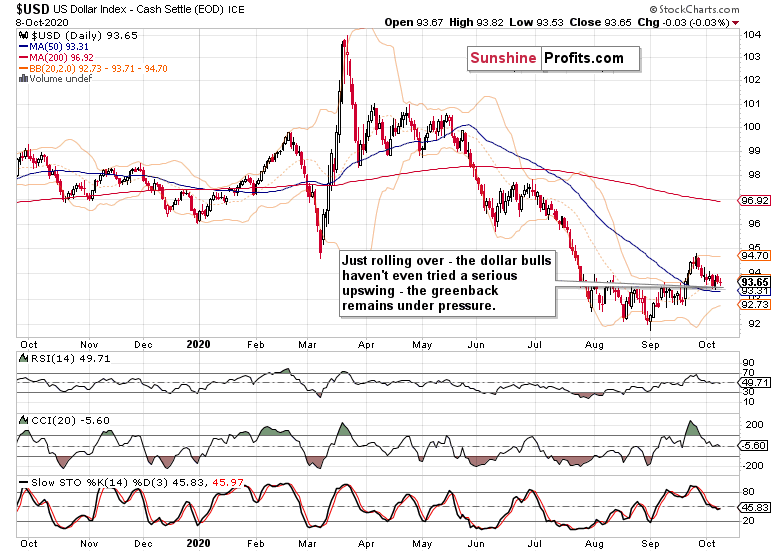 Checking upon the dollar, the world reserve currency remains under pressure. Not only that I called late in spring for it to roll over, but on September 11, I noted that:
(…) Barely recovering from yesterday's downswing attempt, they're wasting precious time to reach up beyond the 50-day moving average. The advantage of bullish divergences in the daily indicators, is slowly but surely being lost.
The bulls overcame that barrier, yet promptly ran out of steam, and the sideways-to-down trading is working hard to reassert itself once again now. The dollar clearly isn't standing in the way of further stock or commodities rally. The reflationary efforts are working, and the markets are once again salivating at the fiscal stimulus prospects – the saga of generally higher S&P 500 goes on, and the world reserve currency is likely to remain on the defensive.
Summary
Summing up, I look for stocks to continue in their breakout mode, and taking on the early September highs is merely a question of time in my view. On Wednesday, I laid down a strong case why the debt markets support further S&P 500 gains, yesterday I discussed several currency pairs, which also favor such conclusion overwhelmingly. And today's analysis of commodities that are far from overheated, speaks in favor of the stock bull run having quite further to go. And yes, the broad repertoire, the myriad of my tools ranging from market breadth, sectoral analysis, other stock indices, narratives, headlines and macroeconomic data analysis, concurs.
Thank you for reading today's free analysis. If you would like to receive daily premium follow-ups, I encourage you to sign up for my Stock Trading Alerts to also benefit from the trading action described - the moment it happens. The full analysis includes more details about current positions and levels to watch before deciding to open any new ones or where to close existing ones.
Thank you.
Monica Kingsley
Stock Trading Strategist
Sunshine Profits: Analysis. Care. Profits.
Back