Please log in to read the entire text.
If you don't have a login yet, please select your access package.
Yes, the soft patch I talked about earlier yesterday, is here – and it's still meek and tame. Will it turn into a 10%+ correction, or worse? I highly doubt that. Can the digestion of sharp gains have a zigzag form (two waves down with one wave up in between)? It's possible, but it's still unlikely it would reach too far on the downside.
Yes, I look for a correction in time rather than in price. The Fed is slowly but surely stepping up to the plate, and the stimulus game of chicken is closer to its end than to its beginning. There is just simply too much going on in the rally's favor to derail it. Regardless of the declining put/call ratio, we're not in extreme greed – just your usual and not too elevated garden variety of it.
Having said so, let me show you some of the key pieces of evidence. The great bull run is on, and will survive the elections easily – I don't see October storms as spirit-trying as September was.
S&P 500 in the Short-Run
I'll start with the daily chart perspective (charts courtesy of http://stockcharts.com ):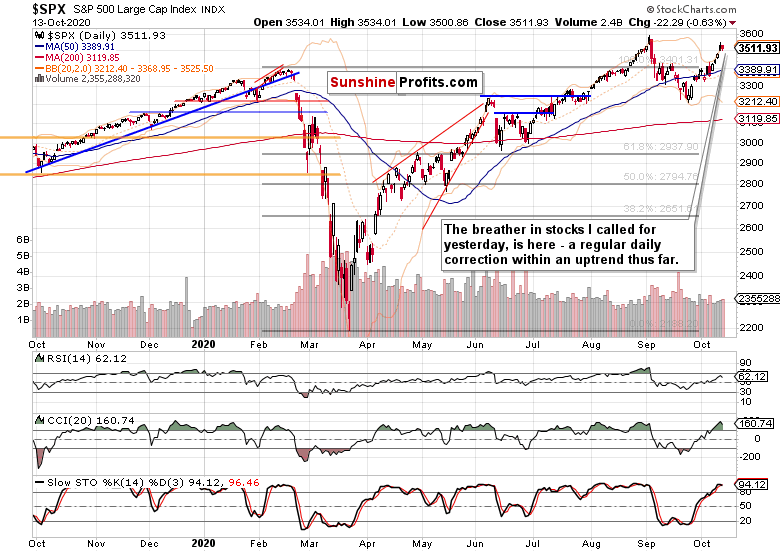 No tree grows to the sky – no matter the factors in its favor or the aura of invincibility, every trend has to pause from time to time. And yesterday's session was the first swallow of the soft patch I announced as likely to happen this week. Volume hasn't picked up, so the market concurs there is no reversal here.
Then, prices have retraced a portion of yesterday's tepid decline, which is what you would expect to see when the bears are timidly looking around in search of company. As in will you sell too?
Unless they start acting courageously, the correction won't get far. Seeing the opening shot in the charts, I am not looking for the consolidation to reach out really far to the downside.
Credit Markets' Point of View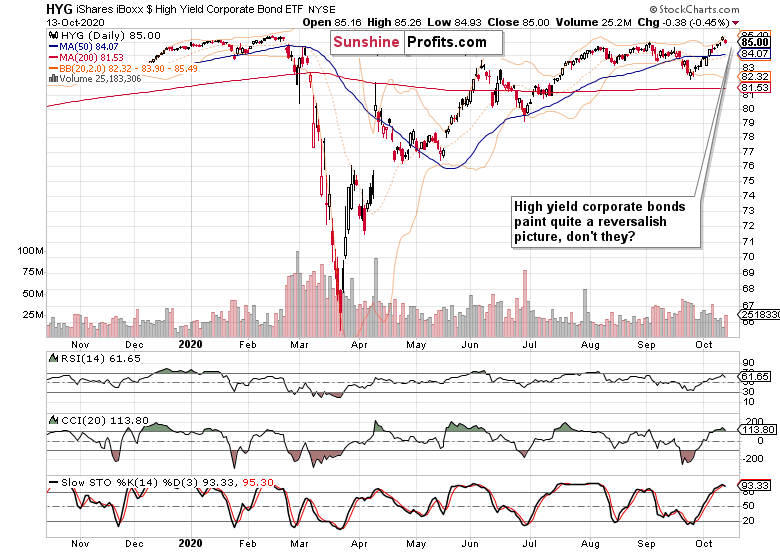 High yield corporate bonds (HYG ETF) are striking a more cautious tone – they have declined more profoundly than stocks did. Shall I take this sign at face value, i.e. stocks are in danger here?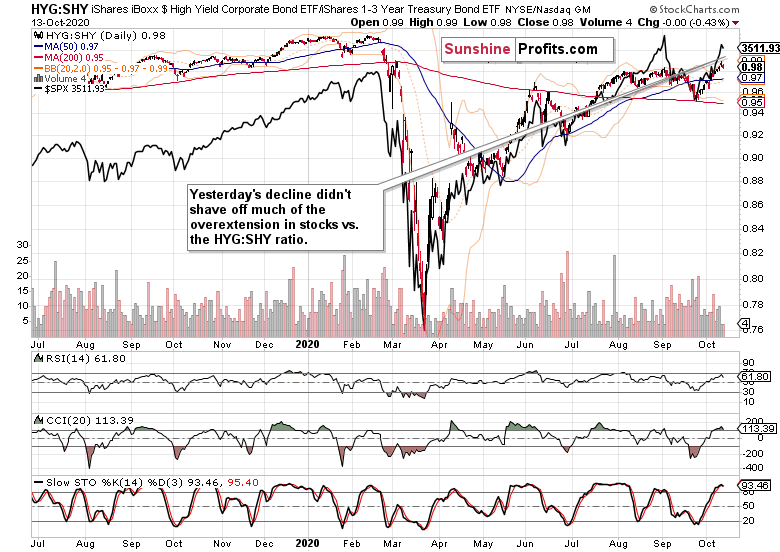 The ratio of high yield corporate bonds to short-term Treasuries (HYG:SHY) is still as extended as after Monday's session. S&P 500 is refusing to budge – no panic, no trigger, no collapsing under its own weight.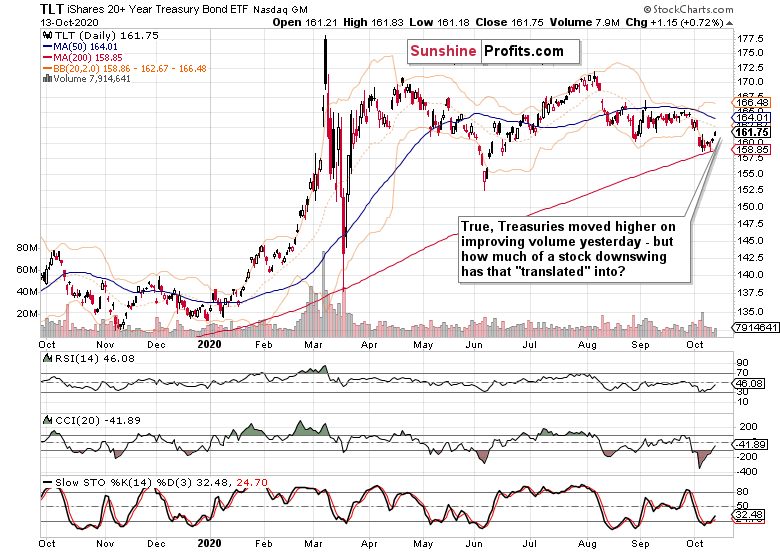 Long-term Treasuries (TLT ETF) are recovering, putting some pressure but does it have enough fuel in the tank according to this chart? I don't think so.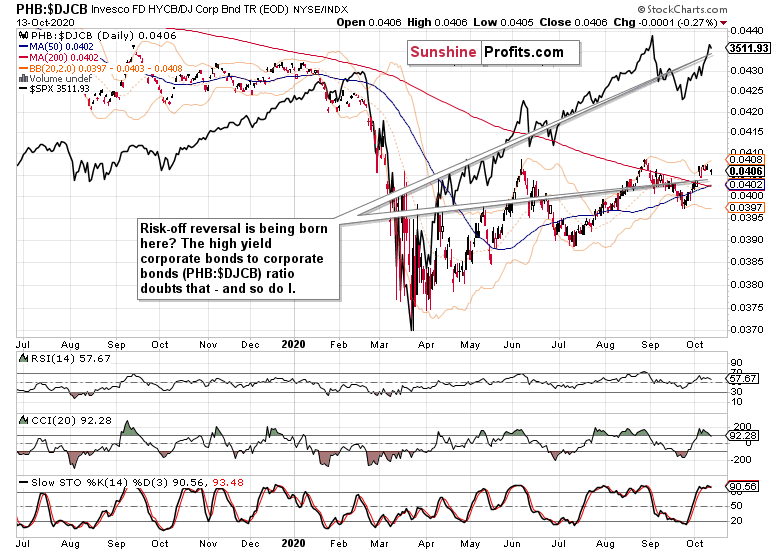 High yield corporate bonds to all corporate bonds (PHB:$DJCB) ratio isn't collapsing either – who in their right mind would call for it to reverse sharply to the downside this minute? The swing structure is still positive, and look for how high the ratio would go to trade once the elections dust settles down.
Volatility, USD and One More Currency Pair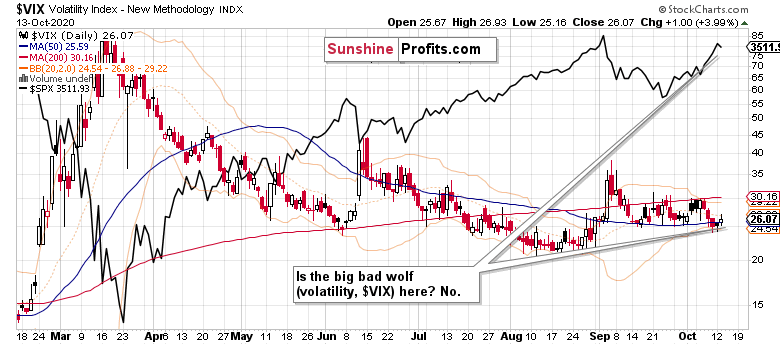 Who is afraid of the big bad volatility wolf? VIX hasn't really risen much yet – on the other hand, the bears are not yet out of their caves celebrating either. Still, this view doesn't favor the sellers really much.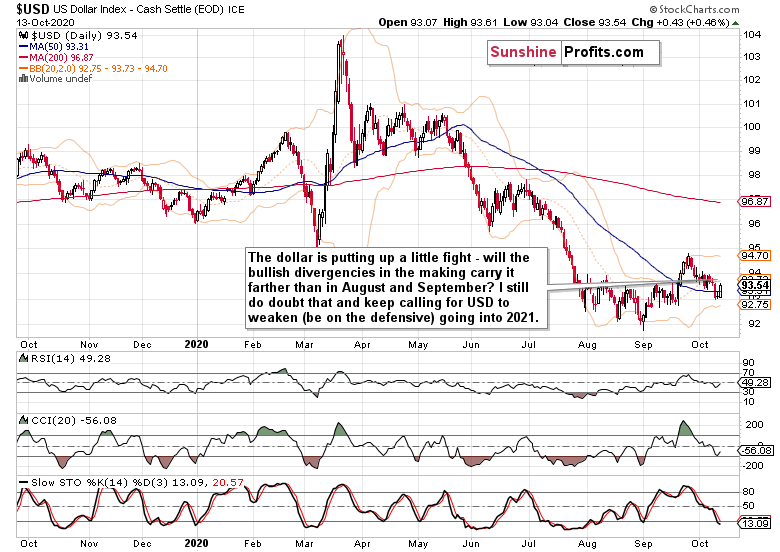 The dollar has jumped yesterday, but can it sustain the momentum for days on end? I doubt that, yet I am not underestimating the bullish divergencies in the making. They are still more likely though to get resolved with the greenback wasting its time and not rallying too hard – similarly to the way it traded in August and September. So, no bullish outlook for the greenback in the months to come – not from me.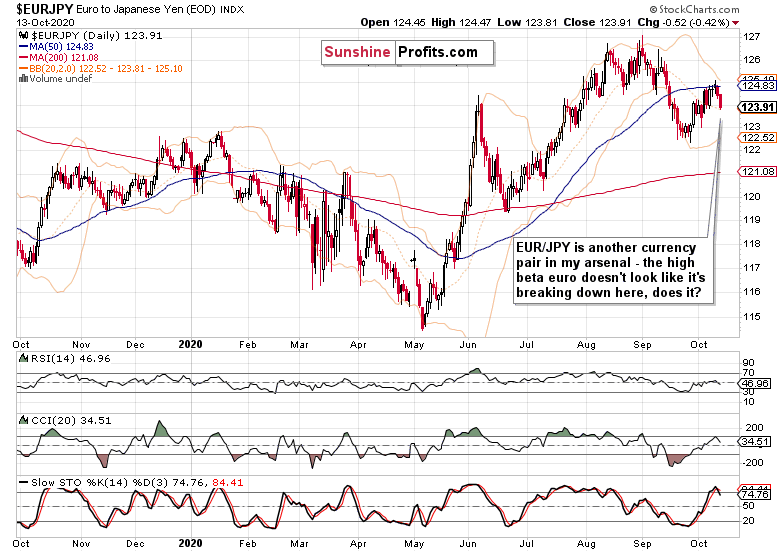 On Thursday, I discussed currencies at length – why I am not looking for the reversal of fortunes in the risk-on trade, time lag or not in my many tools including those outside of the forex arena.
Today's currency chart features another good proxy for risk-on sentiment, the EUR/JPY currency pair. Does it look to you to have reversed to the downside for good, or to muddle through with a general upward bias? It's the latter option to me that is the frontrunner here.
Summary
Summing up, stocks are taking a breather, and signs are that it would be a wear you out, not a scare you out one. Credit markets aren't leading profoundly to the downside, the shift in S&P 500 sentiment isn't there yet to drive stock prices lower and fast. The current pause has the characteristics of a healthy one.
Could it be that we're looking at a bullish flag in stocks in the making? That's very likely in my view – and both the Russell 2000 and emerging markets concur.
Thank you for reading today's free analysis. If you would like to receive daily premium follow-ups, I encourage you to sign up for my Stock Trading Alerts to also benefit from the trading action described - the moment it happens. The full analysis includes more details about current positions and levels to watch before deciding to open any new ones or where to close existing ones.
Thank you.
Monica Kingsley
Stock Trading Strategist
Sunshine Profits: Analysis. Care. Profits.
Back