Seasonality. Done Better. 
The first True Seasonal charts in history.
Gold seasonality, silver seasonality, and other seasonal patterns enriched with the influence of derivatives

True Seasonals is the first chart to mix seasonal influence with derivative influence of futures, options, and stock options into a powerful tool for analyzing recurring price changes. It's built around our proprietary quantitative method that makes all important seasonal data accessible in one place.
Provides the broad perspective on seasonal price fluctuations

The interactive chart predicts the price of a given asset for every day of the year. It helps you identify assets that may be particularly profitable for you, as well as which periods of the year are more favorable for trading one asset versus the others.
Estimates future performance of a given asset with a known accuracy

The chart displays the quality of each of its price predictions. It also lets you compare the quality of its predictions for different assets, thus letting you decide which prediction to use, and how that prediction will influence your investment decision.
Confronts the buzz with real data

This tool provides substantial evidence whether or not the expiration of derivatives influences the prices of gold, silver and mining stocks. This matter has been the topic of a long-lasting public debate among precious metals investors... True Seasonals puts the debate to rest.
Here's how it works (we also invite you to watch the video about the True Seasonals):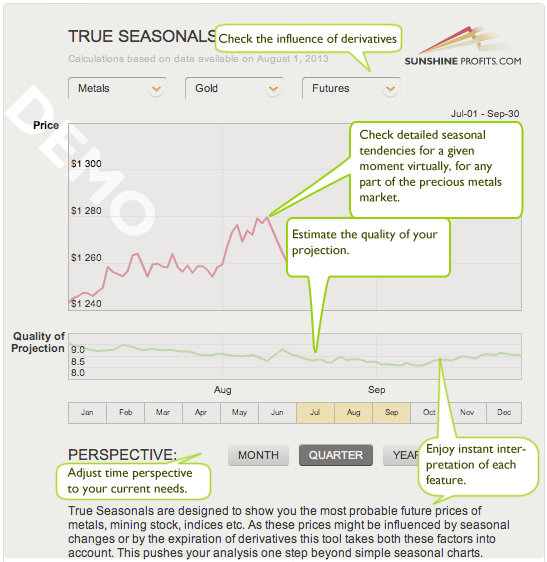 True Seasonals cover the following:
Precious metals seasonality:
Indices and currencies seasonality:
Dow Jones Industrial Average seasonality

S&P 500 seasonality (a.k.a. Stock seasonality)

XAU Index seasonality

TSX Venture Index (proxy for juniors) seasonality 

CADUSD exchange rate seasonality
Individual gold stocks seasonality:
AUY - Yamana Gold Inc. seasonality

IAG - IAMGOLD Corp. seasonality

EGO - Eldorado Gold Corp. seasonality

RGLD - Royal Gold, Inc. seasonality

KGC - Kinross Gold Corp. seasonality

NGD - New Gold Inc. seasonality

GSS - Golden Star Resources Ltd. seasonality

HMY - Harmony Gold Mining Company Ltd. seasonality

AU - Anglogold Ashanti Ltd. seasonality

NEM - Newmont Mining Corp. seasonality

ABX - Barrick Gold Corp. seasonality

BVN - Compania de Minas Buenaventura seasonality

GFI - Gold Fields Ltd. seasonality

GOLD - Randgold Resources Ltd. seasonality

AEM - Agnico-Eagle Mines Ltd. seasonality

GG - Goldcorp Inc. seasonality

FCX - Freeport - McMoRan Copper & Gold Inc. seasonality
Individual silver stock seasonality:
PAAS - Pan American Silver Corp. seasonality

SLW - Silver Wheaton Corp. seasonality

HL - Hecla Mining Company seasonality

SVM - Silvercorp Metals Inc. seasonality

EXK - Endeavour Silver Corp. seasonality

SSRI - Silver Standard Resources Inc. seasonality

CDE - Coeur d'Alene Mines Corp. seasonality

AG - First Majestic Silver Corp. seasonality
Would you like to join our subscribers, who have access to the above tool? You are free to subscribe right away, but if you need some extra time to consider it, signing up for our free gold newsletter is a great choice. You'll stay updated on the latest developments on the precious metals market and you'll also get 7-day trial of our Gold & Silver Trading Alerts. Sign me up!
Free Gold Newsletter
with details not available
to 99% investors
+ 7 days of Gold Alerts
+ Gold Stock Ranking
No credit card required
Gold Alerts
More
Status

December 17, 2018, 9:27 AM

Status

December 14, 2018, 8:15 AM

Status

December 13, 2018, 9:35 AM