Please log in to read the entire text.
If you don't have a login yet, please select your access package.
Gold moved a few dollars above the January record-volume high, just like we had indicated previously. But does this mean that the top is already in? Not necessarily, because the USD Index has not yet corrected, and mining stocks are still showing strength.
Miners should be lagging gold before the top and silver should be outperforming gold. Silver should be outperforming mining stocks as well, and we didn't see that yet.
Let's get back to the USD Index.
USDX Examination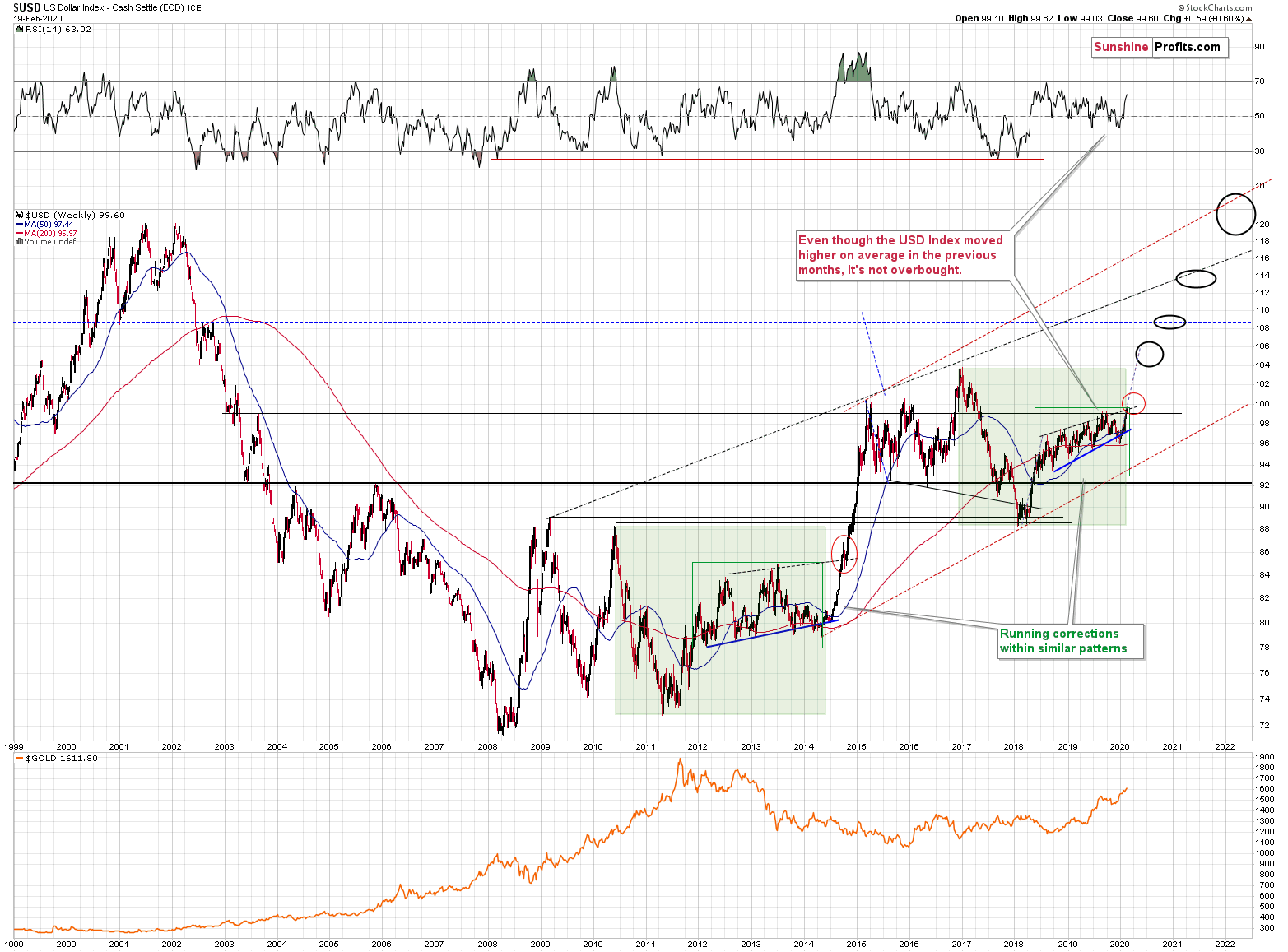 In yesterday's analysis, we wrote the following:
If the USD Index is most likely repeating its 2010-2015 performance since 2017, which means that it's likely to perform relatively similarly right now to how it performed in 2014 when it had broken above its previous highs. We marked those cases with red ellipses. Back in 2014, the USDX just pulled back sharply and then continued its massive upswing.
If that happens also shortly, the precious metals market will be likely to jump up quickly, but to plunge shortly thereafter.
This means that what we're looking at right now (gold's test of its January high), is very far from being an obvious buying opportunity. Conversely, it looks like the red light for gold's decline is turning yellow and it will become green very soon.
On a short-term basis, this doesn't tell us if the USDX is going to top immediately or after another index-point-or-so rally. But, the short-term, the 4-hour chart is providing us with some very interesting details.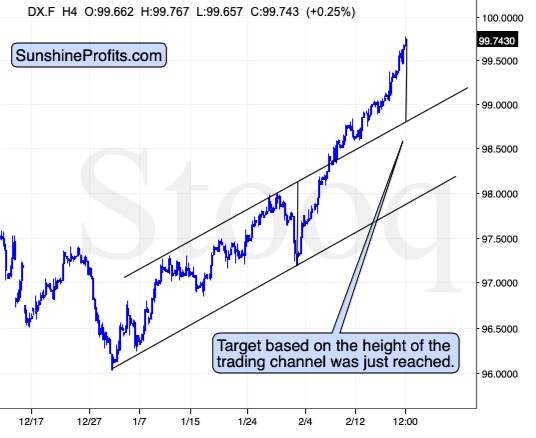 The USDX rally accelerated once US currency broke above the rising trend channel. Once a breakout above a trend channel takes place, one can expect the market to rally by as much as the height of the channel. If we applied the height of the channel to the moment of breakout, the target would be already surpassed. But, if we apply it to the channel at any given time, we see that the distance between the USDX and its previous trend channel only now (!) equals the height of the latter. This might mean that the top was just reached.
If not, then the proximity of the 100 level used to stop short-term rallies many times in the past - also in 2003.
So, while the USD Index is likely to top either right now or shortly, the precious metals market might still move higher on a very short-term basis.
Thank you for reading today's free analysis. If you'd like to also read its full version with info regarding likely upside targets for gold, silver, and mining stocks, we encourage you to subscribe to our Gold & Silver Trading Alerts today.
Thank you.
Sincerely,
Przemyslaw Radomski, CFA
Editor-in-chief, Gold & Silver Fund Manager
Back