Briefly: We are re-opening short positions in gold, silver, and mining stocks.
In Today's regular Gold & Silver Trading Alert, we wrote that it's best to be prepared for another move higher that would allow us to re-enter our short positions in gold, silver and mining stocks at better (higher) prices than the prices at which we had closed our positions. As the downside targets remain unchanged, this increases the profitability of the overall trade.
We wrote that the trigger for the rally and for the breakout might be the employment report. We wrote that the target for the USD Index is between 96.25 and 96.50. And we wrote that we ideally want to see silver's daily outperformance while miners underperform. We are seeing all of the above today.
Plus, the situation on the USD Index chart is much better than it appears at the first sight. The most bullish situation for a given market is when everything bad that could happen... Has indeed happened. The USD Index has been bombarded by bearish news in the past 5 trading days, starting last Friday. And yet, the US currency is far from its yearly lows. In fact, it's more or less at its January highs, at its rising short-term support line. The USD index is holding up very well relative to everything that happened recently and this strength is a bullish sign.
Consequently, we are re-opening our full speculative short positions in gold, silver and mining stocks.
To summarize: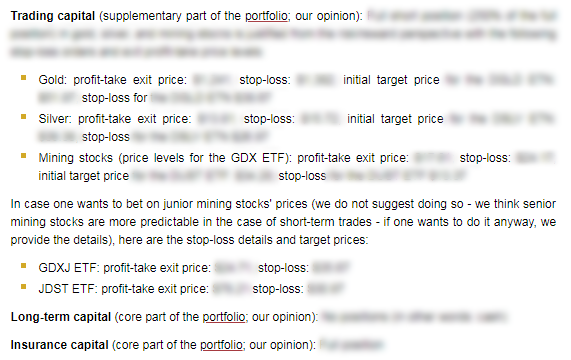 Thank you.
Sincerely,
Przemyslaw Radomski, CFA
Editor-in-chief, Gold & Silver Fund Manager
Back