Please log in to read the entire text.
If you don't have a login yet, please select your access package.
The daily consolidation after a fleeting S&P 500 reversal on Monday, goes on. Fleeting reversal, because it marks a local top only, and not a bull market top. Daily consolidation, because much of the downside move has been rejected yesterday, giving stocks appearance of wanting to go higher.
Yes, higher – such is the power of the corona vaccine news on risk-on repricing, which will be visible from today's sectoral analysis. The post-elections calm is also quite remarkable, and the mainstream media keeps concentrating on Biden White House preparations.
What would be the legal fate of irregularities such as almost 10,000 dead people voting in Michigan alone, or of voter turnout well over 100% across more than a handful of states: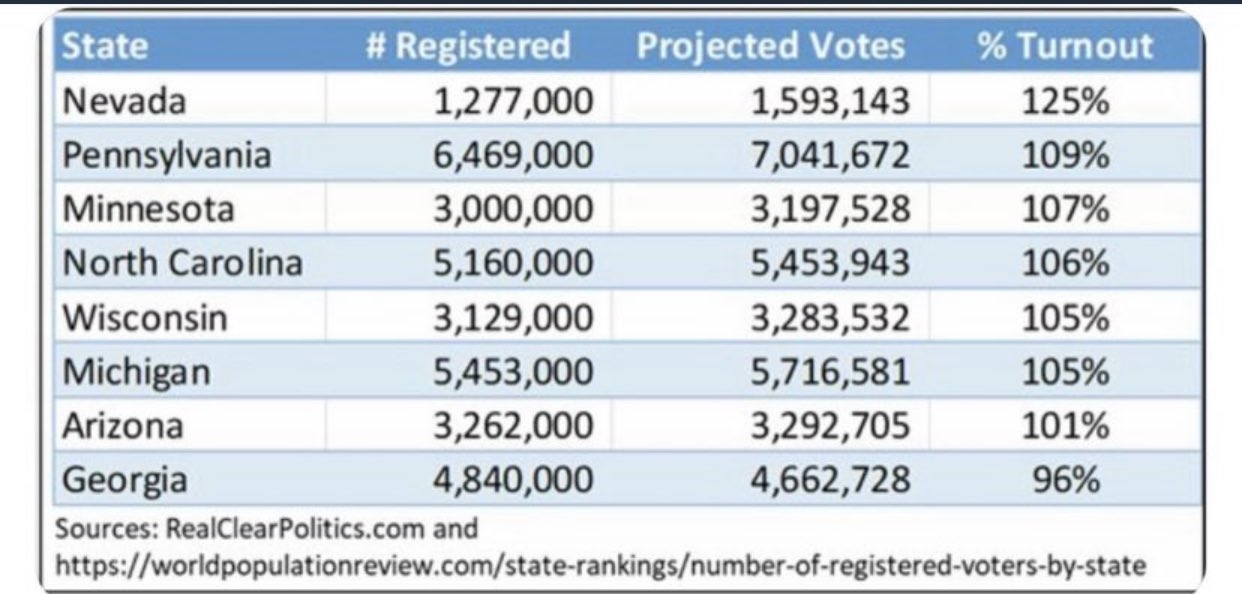 Societal polarization is present, Stop the Steal caravan is heading to DC, and Trump legal team is working hard and against the clock. That's the view of some Republican senators as well. Stocks aren't thus far giving Trump much real-time chance as the footprint shows. If you look at the words of Jason Miller (Trump senior adviser) – to concede is not even in our vocabulary – the markets still have quite something to look forward for in my view.
An inspirational quote that I wholeheartedly agree and am inspired with, comes from Thomas Paine: "…the harder the conflict, the more glorious the triumph. What we obtain too cheap, we esteem too lightly: it is dearness only that gives every thing its value. Heaven knows how to put a proper price upon its goods; and it would be strange indeed if so celestial an article as FREEDOM should not be highly rated."
I hope to have lifted your spirits with this evergreen as to what matters the most in life.
Let's leave aside for a moment the question of markets recalibrating to a Trump win, not a Biden one, and look at the rally's technicals.
S&P 500 in the Short-Run
I'll start with the daily chart perspective (charts courtesy of http://stockcharts.com ):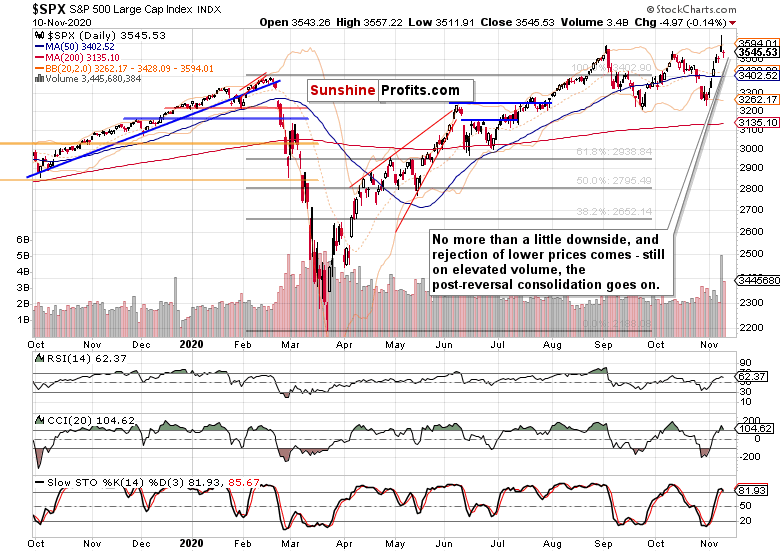 The consolidation has thus far been shallow, and the selling pressure didn't reach far yesterday. Elevated volume is a sign of accumulation, meaning that the markets aren't looking for an upset currently. The general outlook remains of a bullish bias that hasn't been punctured.
Credit Markets' Point of View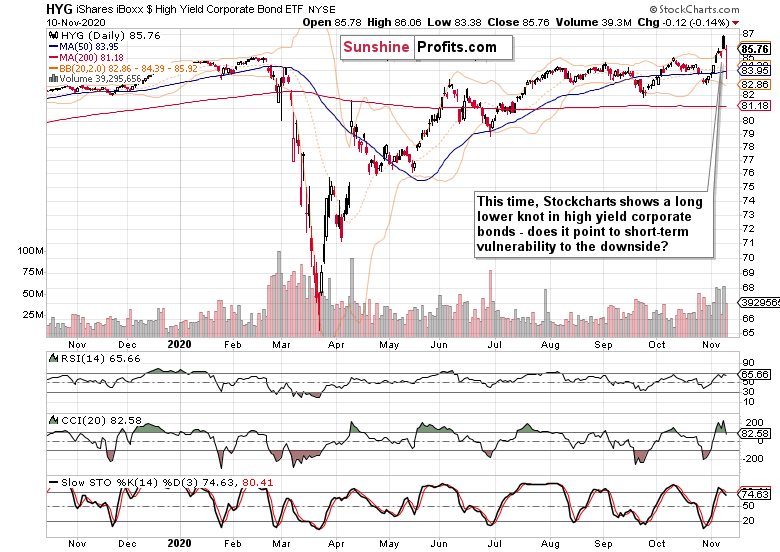 Yesterday's lower knot in high yield corporate bonds (HYG ETF) reveals the downside risk. But if you remember, Stockcharts showed a prominent upper knot a few days ago (and investing.com has yesterday's lower one on their daily chart too), but it disappeared later on. This means it's best to read into yesterday's candle as highlighting the possibility of a move lower, as some risk of it only. Nothing to bank on.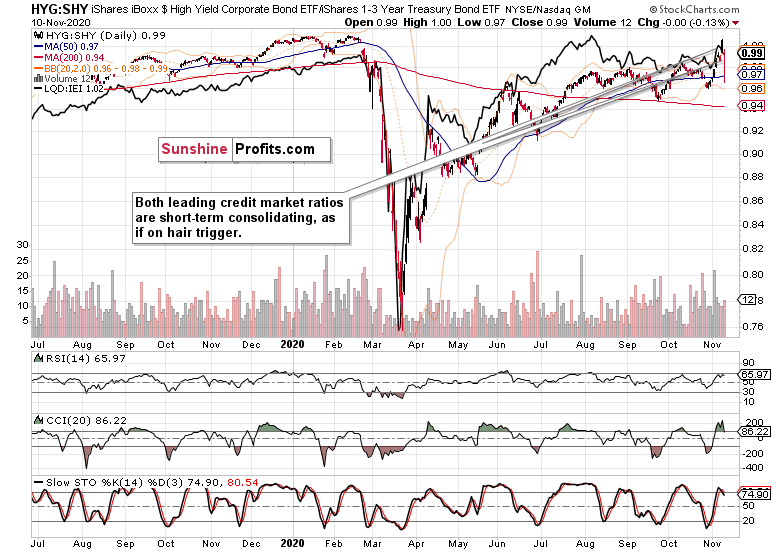 Both leading credit market ratios – high yield corporate bonds to short-term Treasuries (HYG:SHY) and investment grade corporate bonds to longer-dated Treasuries (LQD:IEI) – moved down. That's risk-off but the interpretation as long-dated Treasuries (TLT ETF) aren't on fire (thanks to Pfizer), is that the risk-off effect is muted.
S&P 500 Market Internals and Volatility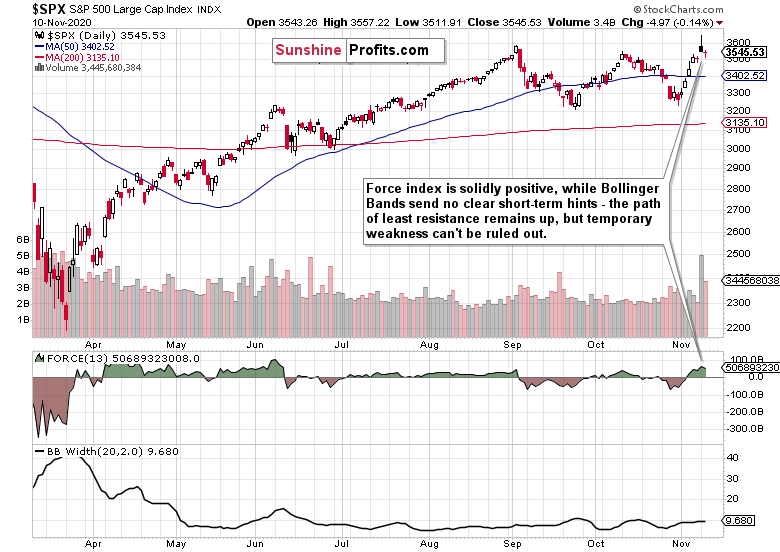 The positive Force index shows the strength of the bullish push, and a plateau appears to have been reached. While the indicator ticked lower, it doesn't mean much on a standalone basis. To see more of a temporary weakness in stocks, would require it to turn lower much more, or progressively lose altitude as it approaches zero again. No sign of that willingness in the charts right now.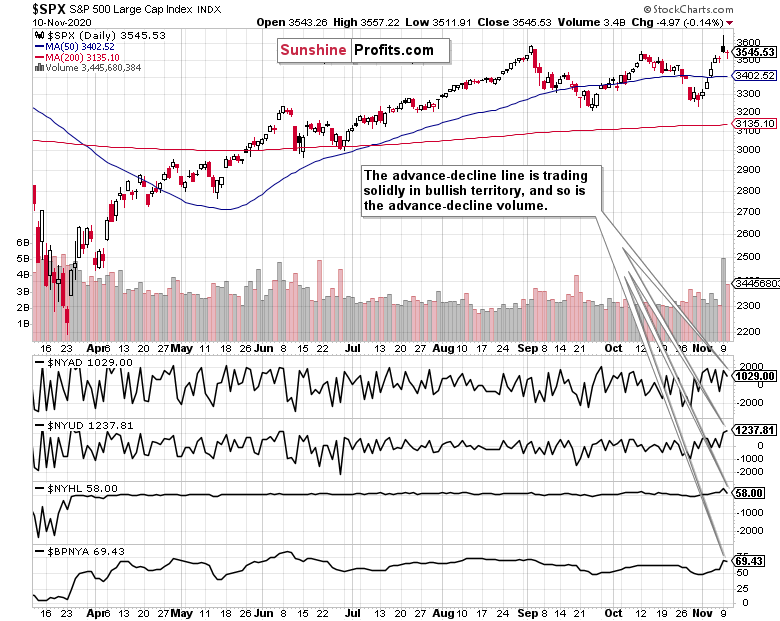 The advance-decline line keeps favoring the bulls in the very short run, and so does the advance-decline volume. Monday's spike in new-highs-new-lows just underscores that the stock bull market is alive and well.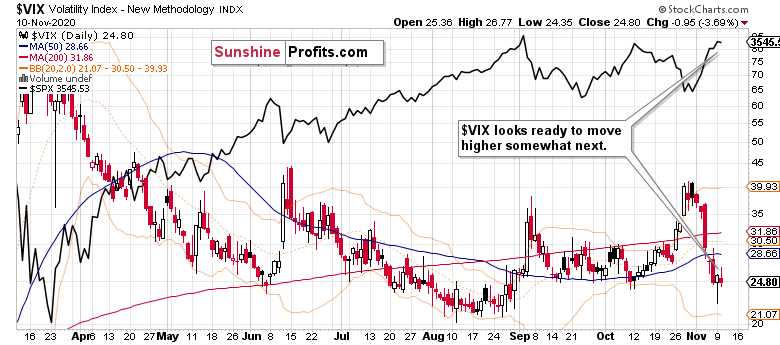 Yesterday's rejected downswing shows in the $VIX upper knot, and doesn't rule out the return of the bears in a few days. Not immediately right now (given the market's take on the fundamental backdrop), but it's my view that we're trading near volatility's lower band currently.
S&P 500 Sectoral Analysis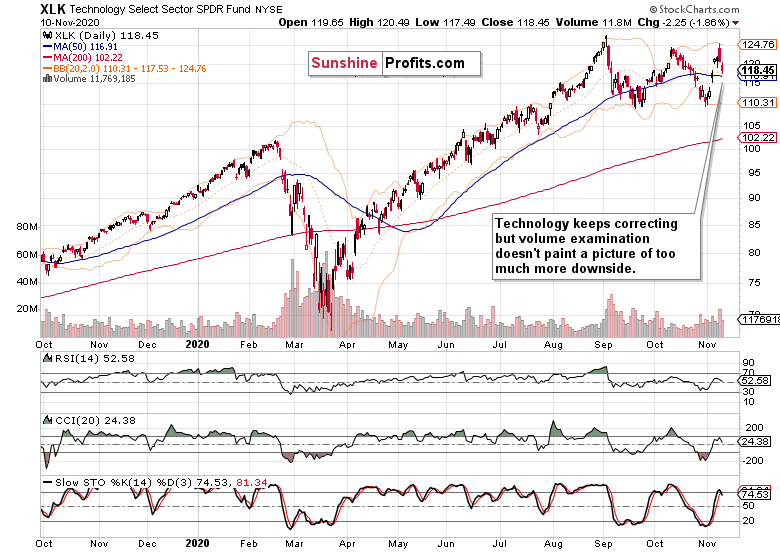 Technology (XLK ETF) is the major sector getting hurt here – yet the pressure seems abating, and that's positive for the full index as well.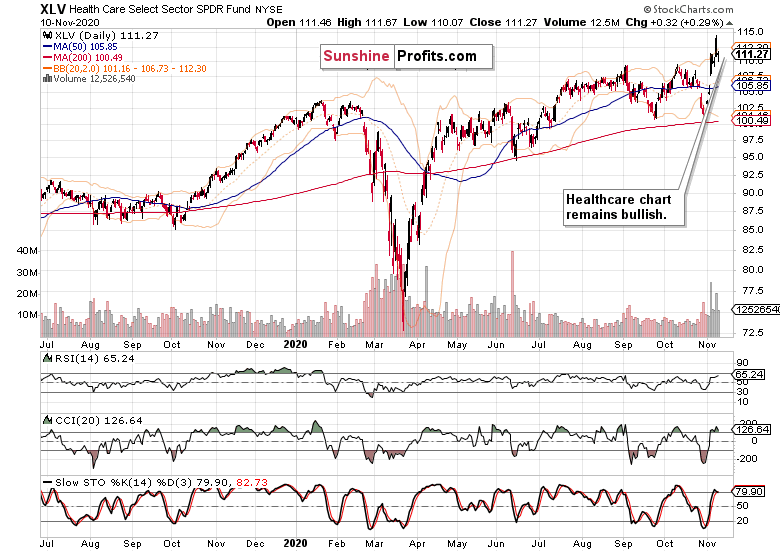 Healthcare (XLV ETF) is currently riding on the euphoria wave, unwilling to decline much intraday. Its bullish chart will bring sectoral investors even more gains shortly in my view.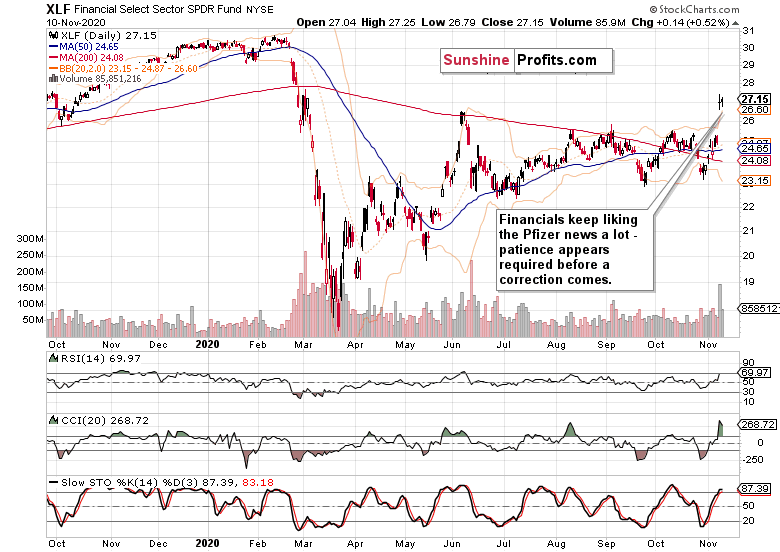 Financials (XLF ETF) are willing to decline even less than healthcare, and this speaks volumes about the vaccine expectations, about its effect on the economy. Unless this story deflates to a degree, don't look for too much downside in the sector.
Summary
Summing up, the correction to manic Monday's trading is thus far a shallow one, and looking at gold turning south and oil sharply north, is likely to keep being so. Both of these facts mean limited potential for S&P 500 prices to decline today as the dollar isn't standing in the way much either.
Regardless of the overly discounted post-elections challenges, the Russell 2000 and emerging markets keep leading the S&P 500 higher. AUD/USD hasn't sold off much either, giving credibility to the short-term upswing in stocks. Once the consolidation in S&P 500 is over, and even more uncertainties are removed (which might take time all the way till Dec 08 (the deadline for choosing electors), stocks are likely to rally even more.
Thank you for reading today's free analysis. If you would like to receive daily premium follow-ups, I encourage you to sign up for my Stock Trading Alerts to also benefit from the trading action described - the moment it happens. The full analysis includes more details about current positions and levels to watch before deciding to open any new ones or where to close existing ones.
Thank you.
Monica Kingsley
Stock Trading Strategist
Sunshine Profits: Analysis. Care. Profits.
Back