Please log in to read the entire text.
If you don't have a login yet, please select your access package.
Monday's overnight rally powered mightily by the Pfizer corona vaccine news, fizzled out to validate my point on its precarious short-term nature. Reality check as regards how long the antibodies actually last? Just a news-driven buying climax that doesn't mean an S&P 500 reversal but signals short-term need for consolidation – that's my opinion.
As for elections, nothing groundbreaking on a daily basis – the outrage over irregularities (as I called it politely on Friday) goes on, new sworn affidavit landing Nevada elections integrity in hot water filed, and finally a leading Republican throwing his weight behind the many Trump lawsuits. Thank you, Mitch McConnell.
For inquisitive minds, I offer these charts revealing the mail-in ballot preferences. Eye catching to any statistician, really – what's the level of confidence that such a distribution pattern can really happen? This reminds me of the work of auditors – going through the data, they look for irregularities, and while a few outliers might be natural occurences, when the patterns start cropping up, you end up looking at serious wrongdoing with ever increasing probability. It's not like this only in elections or accounting, by the way…
This isn't yet though what stocks care about. They're not after such worthwhile reads on the legal paths of solving the elections math. As I wrote yesterday, they care about the short-term, which is the stimulus deal prospects. When the GOP Senate Majority Leader starts supporting the mantra "every legal vote counts", the prospects of a deal with Democrats start to wobble even before Biden loses the media-awarded Pennsylvania win first.
What's more on the S&P 500 radar screen though, are the vaccine news implications. The effect on cyclicals such as financials (XLF ETF) has been positive, but real estate (XLRE) isn't buying it. Both technology (XLK ETF) and healthcare (XLV ETF) reversed profoundly on the day – the short-term red flags are still there.
I am not giving in to the appearance of declining volatility just yet. Or to the Baltic Dry index finally turning higher a bit.
Remember, that's the short-term. Market breadth indicators are clearly showing the returning strength of the bull market. The rally would come well before the almost carved in stone Santa Claus one – the Fed won't spoil the party by tightening as it did back in 2018.
It's just about stocks recalibrating to a Trump win, not a Biden one. And the more opportune entry point from the risk-reward ratio such a move would bring.
S&P 500 in the Short-Run
I'll start with the daily chart perspective (charts courtesy of http://stockcharts.com ):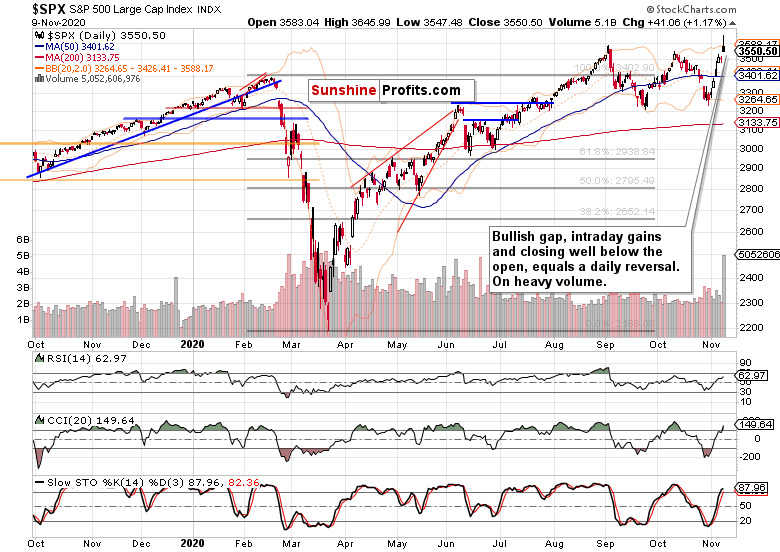 The daily reversal looks ominous, but isn't really in my view. Nothing to count on to have more than short-term significance. The daily indicators are supportive of the stock bull run – after all, such a sharp reversal from the pre-election panic lows, is unprecedented in stock market history.
Credit Markets' Point of View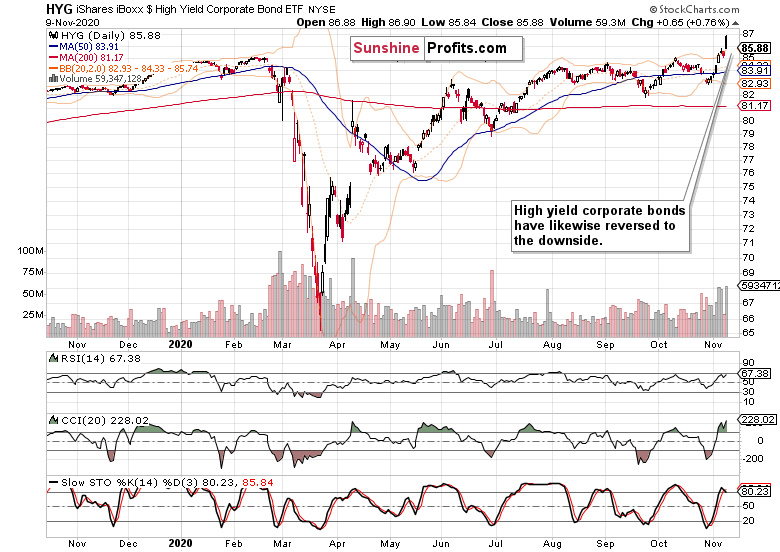 High yield corporate bonds (HYG ETF) reversed on the day as well, closing much nearer to their Friday's values than stocks did. That's a gentle sign that the bullish bets are being pared a little here.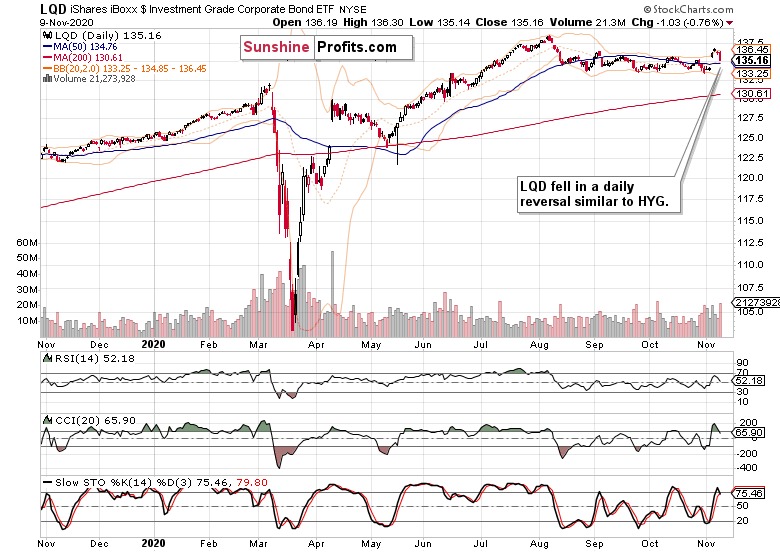 Investment grade corporate bonds (LQD ETF) also moved down, which would be short-term concerning should Treasuries rise.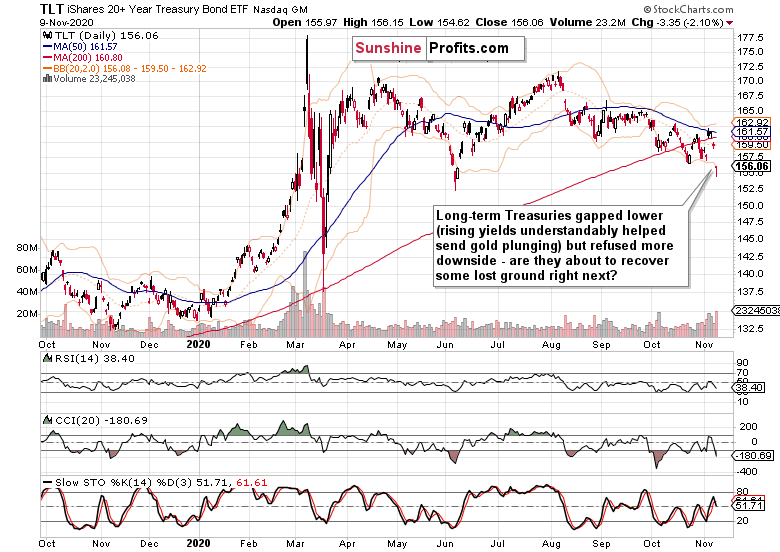 Long-term Treasuries (TLT ETF) opened down, erased intraday decline, and moved up. That's not exactly a daily rise – just a pause with potential for upside reversal, which I see as probable to be fulfilled given the dollar's yesterday session.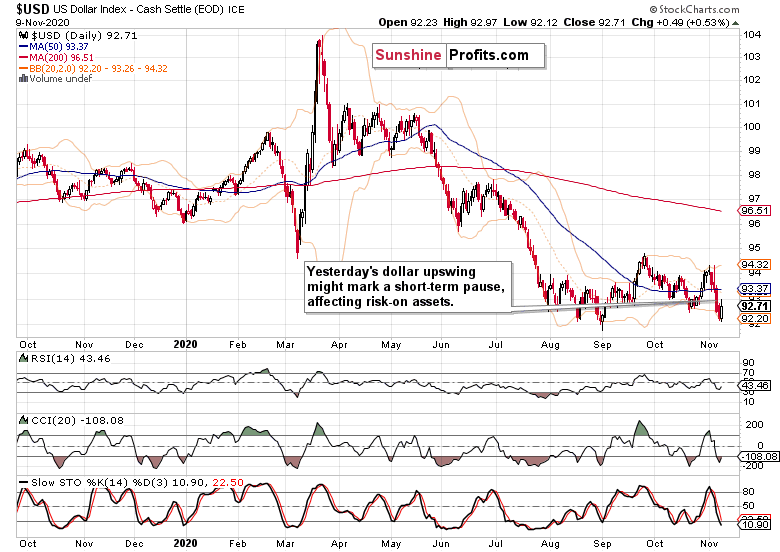 Greenback's daily upswing highlights the potential for seeing more risk-off moves ahead. It's not that the dollar is staging a great rebound from the tripple bottom zone, no – its decline would go on, as protracted or as fast as the market is ready to go at, but the direction is down.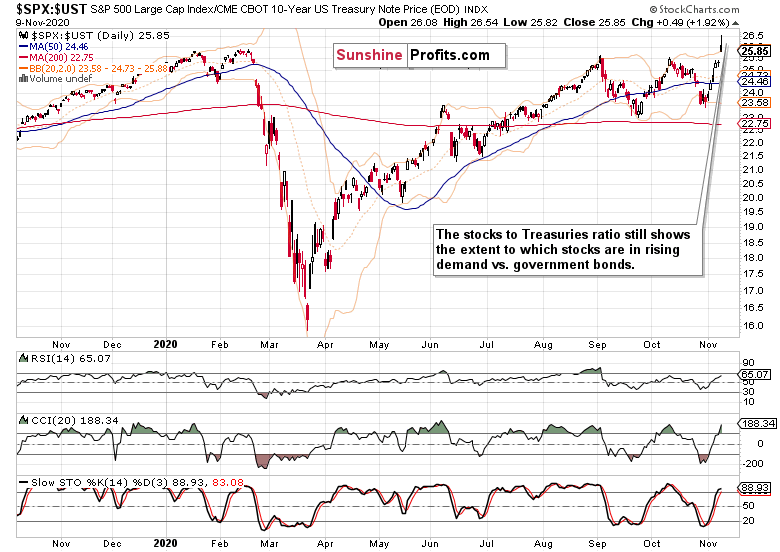 The stocks to Treasuries ($SPX:$UST) ratio provides the big picture view, and it's one of rotation into stocks at the expense of bonds. In other words, healthy young stock bull market.
Commodities Speak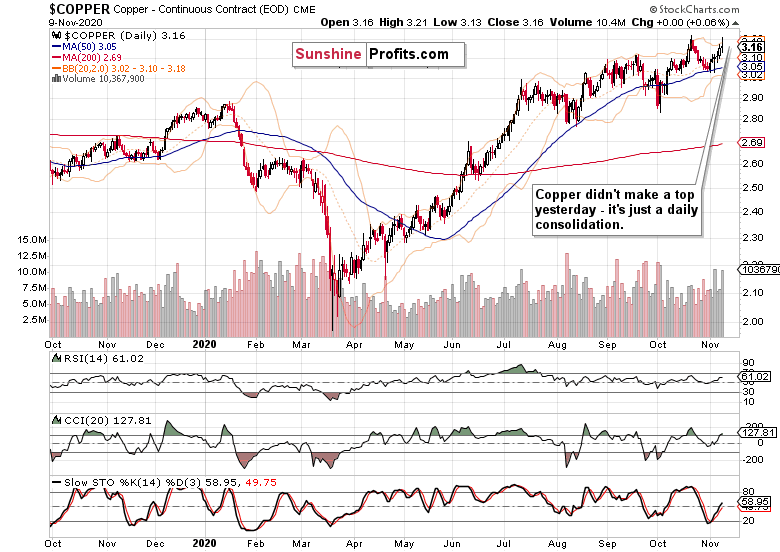 Copper hasn't experienced really wild swings lately – not even yesterday. It's just solidly running higher, not offering too much downside for those willing to jump on this profitable long bandwagon.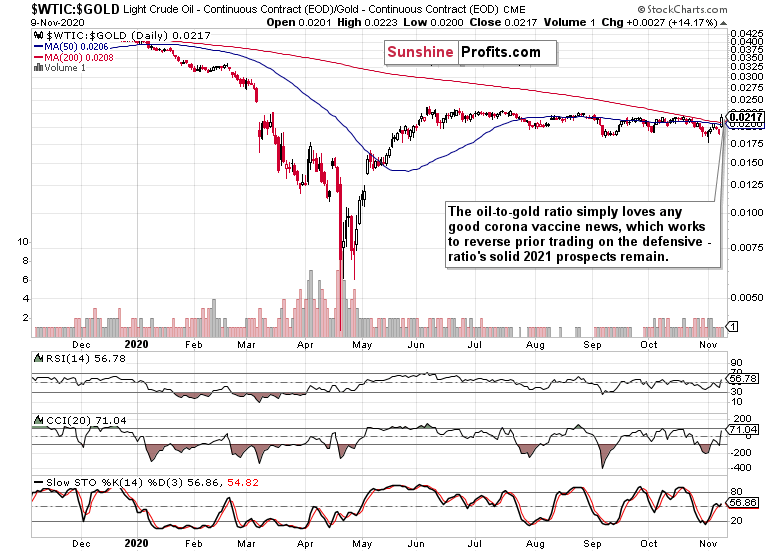 The oil to gold ratio reacted with a spurt higher to the Pfizer news, predictably. Less lockdown fears that help black gold to move higher, and more risk-on sentiment to send nominal and real rates up, thus detracting from gold's appeal (and offering an interesting entry point in the yellow metal as I like the bullish shape of its protracted consolidation).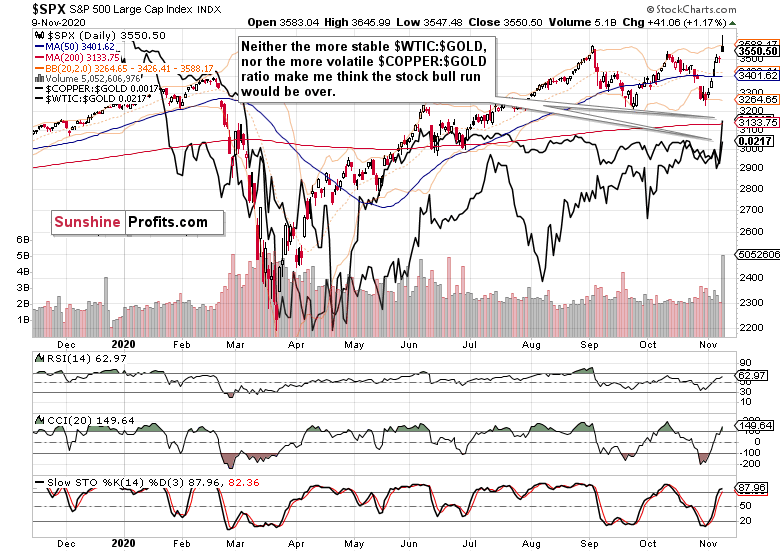 What is key, is that the S&P 500 and the copper to gold and oil to gold ratios, are in sync. They are both pointing to higher stock prices ahead.
Summary
Summing up, yesterday's wild upswing has been indeed reversed, and the implications are rather short-term. Curiously, the sentiment isn't pointing much to greed, and the put/call ratio shows only modestly rising complacency. Technology seems to be among the losers from the post-elections uncertainty, because no winner can be declared until all the legal battles are over, or unless Trump concedes – which I naturally don't expect him to do – who would do so when they know and feel that truth is on their side? I wouldn't certainly.
Regardless of the elections drama though, the path of least resistance for stocks remains higher, and solving the entry point riddle is a matter of risk preferences and holding period horizon.
Thank you for reading today's free analysis. If you would like to receive daily premium follow-ups, I encourage you to sign up for my Stock Trading Alerts to also benefit from the trading action described - the moment it happens. The full analysis includes more details about current positions and levels to watch before deciding to open any new ones or where to close existing ones.
Thank you.
Monica Kingsley
Stock Trading Strategist
Sunshine Profits: Analysis. Care. Profits.
Back