Please log in to read the entire text.
If you don't have a login yet, please select your access package.
Welcome to a Stock Trading Alerts special edition focusing on tech. We will do a brief run-through of what happened in 2020, followed by the emerging tech trends that we can expect, and profit on, in 2021.
Tech's impact on our world was arguably the main economic story of 2020. Nobody truly knew what to expect after the pandemic reached U.S. shores in February because nobody has previously experienced a worldwide pandemic of this nature. A novel disease has never before shut down economies or turned our lives upside down.
As we got used to this "new normal" though, it was obvious that tech would be the biggest beneficiary. It kept our world running, our businesses working, and students learning. With "stay-at-home" as the new norm, the Nasdaq hit record highs and saw its best year since 2009. Between January 2, 2020, and December 31, 2020, the Invesco QQQ ETF which tracks the Nasdaq, gained 46.20%.

The QQQ also gained nearly 85% between the bottom of March 23, 2020, and December 31, 2020.

In its 2021 kickoff, the Nasdaq continued surging, having already gained 2.4% in the first week of the new year.
There are some concerns though about overstretched valuations. Three of the 10 biggest IPOs for U.S. tech companies took place in 2020, including the largest ever, with cloud-based data-warehousing company Snowflake (SNOW). Although old-school investors such as Warren Buffet, are finally seeing the benefits of tech stocks, if you look at the Nasdaq chart below, it screams "bubble".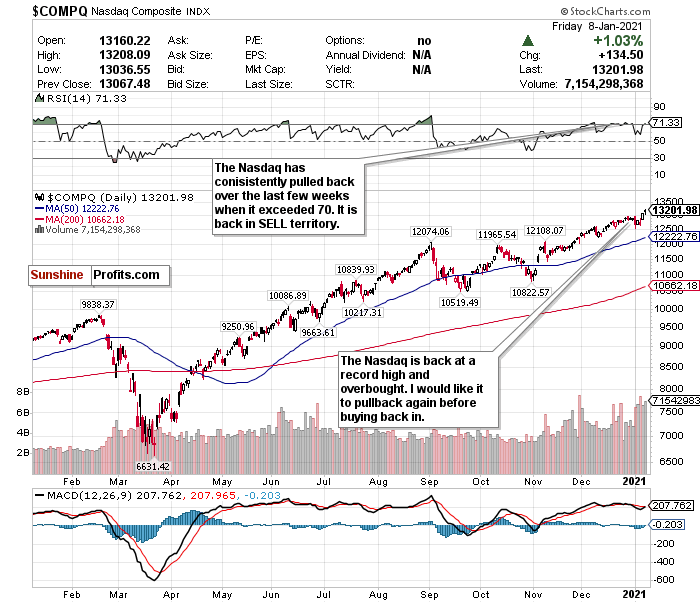 Notice the Nasdaq's RSI. While an overbought RSI does not automatically mean a trend reversal, with the Nasdaq, it tends to reverse in the short run anytime it exceeds a level of 70.
There are also concerns for tech with Democrats winning Senate control. While a tax hike may not happen in 2021, a Democrat-controlled Congress wants to raise taxes on high growth companies. Further regulation for big tech companies could be imminent as well. Additionally, love him or hate him, the censorship of President Trump across social media platforms raises questions about what constitutes free speech and what is stepping over the line for censorship. Expect social media stocks to be hit hard in the near-term due to this controversy.
There are also tailwinds for tech, and they are specific to sub-sectors.
Because technology has been evolving at such a rapid pace, it is important to understand what the top trends were for 2020, and how these trends could have more room to run in 2021.
According to ETF.com, the Top 5 performing tech ETFs in 2020 were the following:
ARK Next Generation Internet ETF (ARKW)
O'Shares Global Internet Giants ETF (OGIG)
ARK Fintech Innovation ETF (ARKF)
WisdomTree Cloud Computing Fund (WCLD)
SPDR S&P Internet ETF (XWEB)
Since March 23, the returns on these five ETFs compared to the QQQ are staggering:

In the paid subscription component of this newsletter, we will examine the ARKW ETF in more detail, what tech sub-sectors it focuses on, and which of these sub-sectors could become big in 2021. We will also discuss what trends to watch out for in those sectors.
Thank you for reading today's free analysis. If you would like to receive daily premium follow-ups, I encourage you to sign up for my Stock Trading Alerts to also benefit from the trading action described - the moment it happens. The full analysis includes more details about current positions and levels to watch before deciding to open any new ones or where to close existing ones.
Thank you.
Matthew Levy, CFA
Stock Trading Strategist
Back