Please log in to read the entire text.
If you don't have a login yet, please select your access package.
Duly on the bright prospect of Biden win as announced by the media, stocks were rising throughout the week, and paused on Friday as they were like to do. But is the big Blue stimulus really approaching? Are the elections truly settled?
Or are stocks cheering the GOP gains in the Senate – divided legislature? I am leaning towards the "irrational exuberance" over Biden's win. That doesn't detract one bit though from stocks' path of least resistance being higher.
But you know, I am a little suspicious when mainstream media (who have not been too favorable to the President throughout the years really) cut his Friday's speech in such a manner. I am sure the elections vote count (as multifaceted as the claims raised are) would go through the state courts, and land with the Supreme Court wherever necessary.
Rightfully so, if you think of it - whenever harm is done, this is the way to go if other options are exhausted. And given the polarization of the U.S. society, the current period of calm is very deceptive in my view. Looking at the George Floyd riots, the days ahead would turn restless should the courts declare Trump the ultimate winner.
Just as I said on Thursday and Friday, the current trading reminds me of the February hooray in stocks while the corona clouds gathered on the horizon – and then it just reversed as the realization dawned. At the same time though, stocks would power to new highs and finish 2020 above the early September top.
But the disappointment over no quick Blue stimulus sugar high has to settle down first. Stocks are likely to get disheartened fast – but as I am not in a position to take you in and out with my fast calls, don't count on me issuing them. Instead, I am laying out what I see as the most probable scenario(s) to unfold, unsure about the precise timing as much as you are.
I don't have a crystal ball either, and the best I can do for you these days, is to lay out the case fundamentally (not even solid non-farm payrolls made stocks rally much on Friday, did you notice?), and recount the anticipated reactions, sentiment and scenarios. The opportune entry point on the long side that wouldn't be so fraught with short-term risks, would come – but I don't see it as here based on the election risks.
Yes, I'm writing these lines at another manic S&P 500 upleg (volatile moves are apt to come both ways), this time driven by the Pfizer corona vaccine news, which is likely to boost the cyclicals and confidence overall. But with S&P 500 futures spurting upwards from 3550 being a rich value at 3650 now, and given the conservative trading style that I better employ in your interests, I would prefer to wait for a more opportune entry point when there are little doubts that the buyers are exhausted.
I look for this to coincide with first Trump successes at the courts. Can you say Pennsylvania, where the mail-in ballots are kept apart? Or if it ever came to that, how do you think the markets would take to repeating the elections in the disputed states?
All right, let's check the charts.
S&P 500 in the Medium- and Short-Run
I'll start with the weekly chart perspective (charts courtesy of http://stockcharts.com ):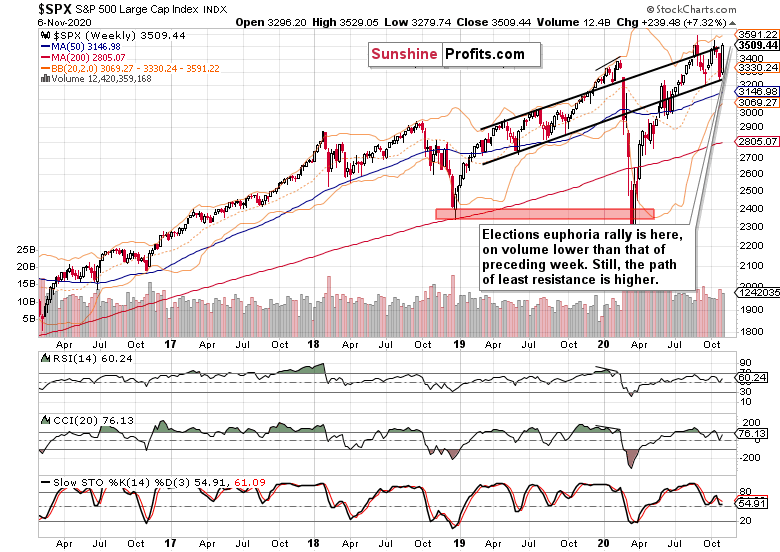 Wov, that's quite a reversal. Despite the lower volume, the path of least resistance remains higher for the S&P 500.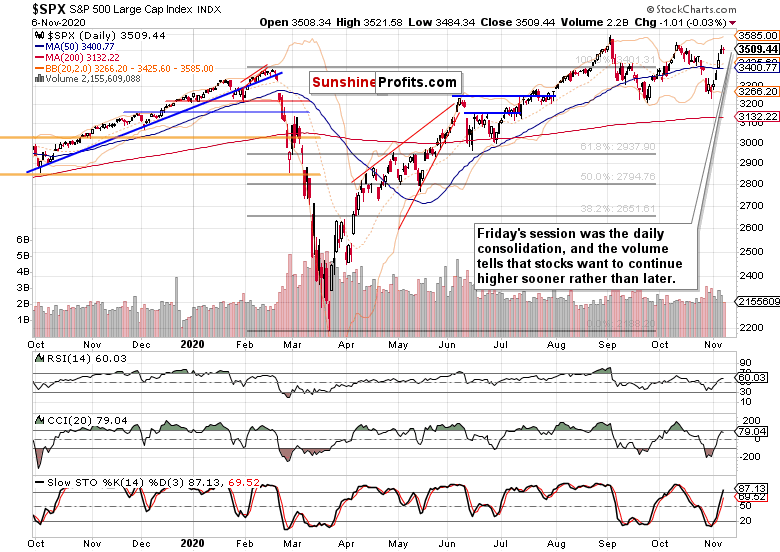 The daily chart refines the short-term picture – stocks consolidated on the day, but didn't sell off. Actually, the low volume tells me that there isn't much willingness to sell.
Credit Markets' Point of View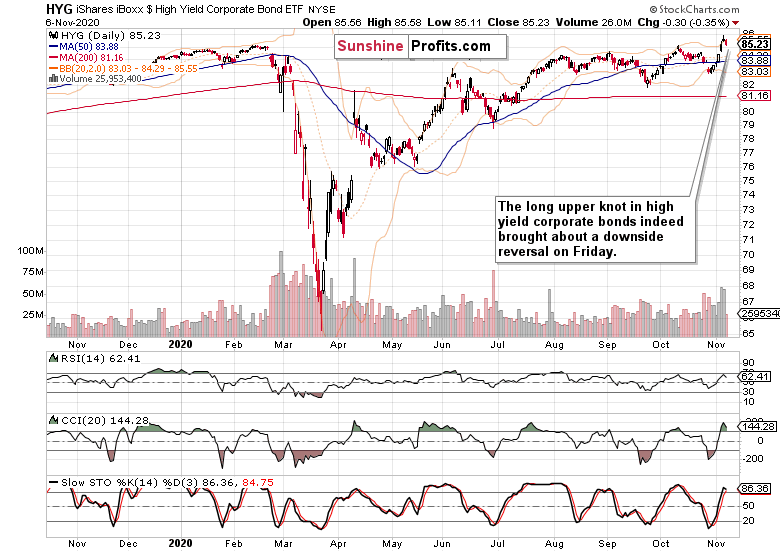 High yield corporate bonds (HYG ETF) let off some air on Friday, but the volume didn't make the daily decline credible at all.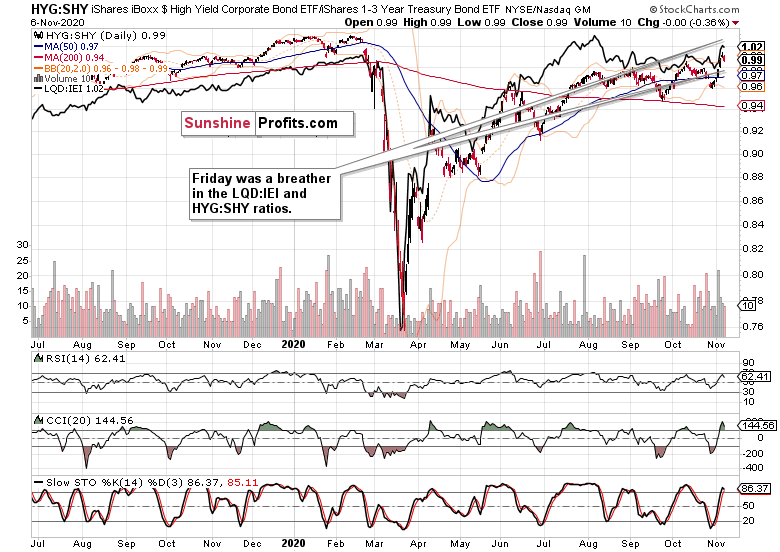 Both the high yield corporate bonds to short-term Treasuries (HYG:SHY) and investment grade corporate bonds to longer-dated Treasuries (LQD:IEI) didn't lose much ground on Friday, and they are giving signs of a run of the mill consolidation in these credit market ratios.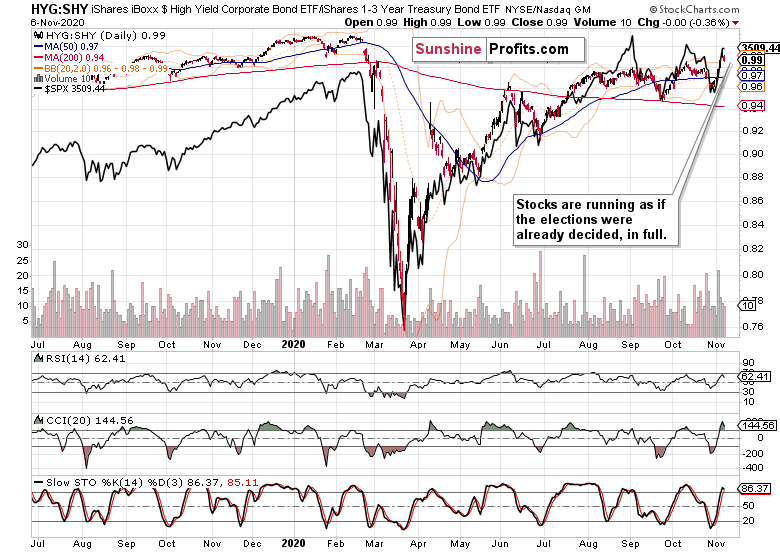 Overlaying the S&P 500 over the HYG:SHY ratio shows that stocks aren't relatively too extended – quite to the contrary, both markets are celebrating.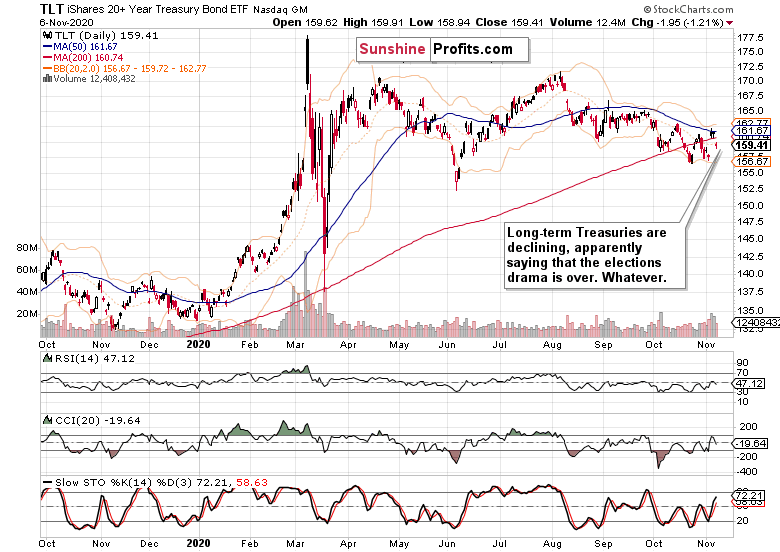 Long-term Treasuries (TLT ETF) consider elections a done deal, and have declined on Friday. That's a risk-on sign, and it's confirmed by the dollar.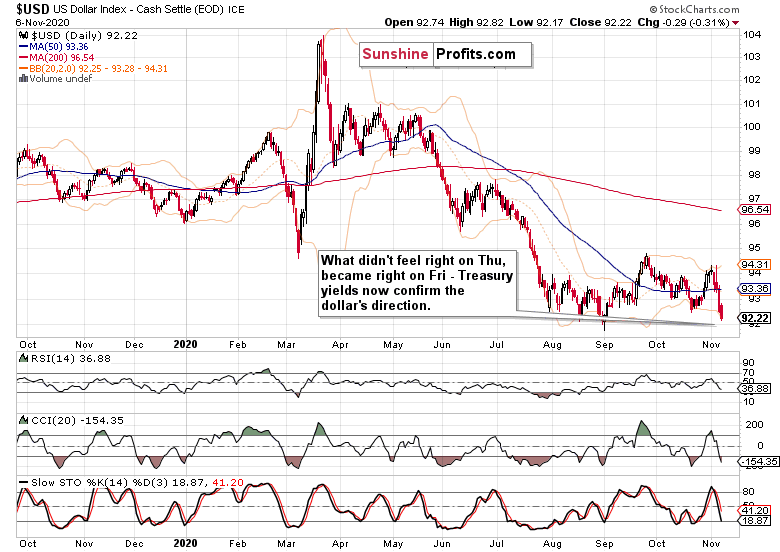 The greenback is agreeing with the risk-on move. And as I've called for earlier, the world reserve currency is only starting its decline.
Market Breadth and the Currencies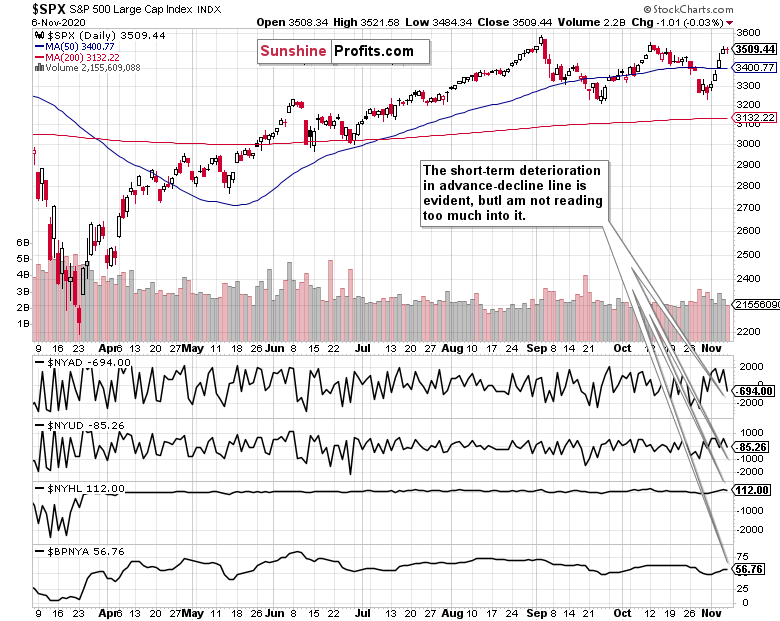 Yes, the advance-decline line has deteriorated, but I am not reading too much into this development. At the same time, a steeper decline would need to happen to present a favorable medium-term entry point from the risk-reward perspective (judged by this chart alone because as you know, my very active short-term style is way richer than acting on a handful of setups).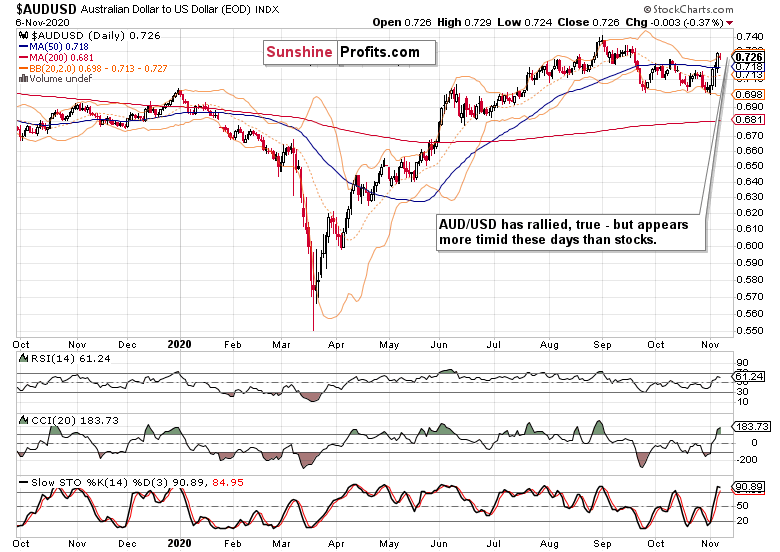 AUD/USD is rising, which is great – but is a little behind stocks. I consider that as a warning sign, a (rather) early one.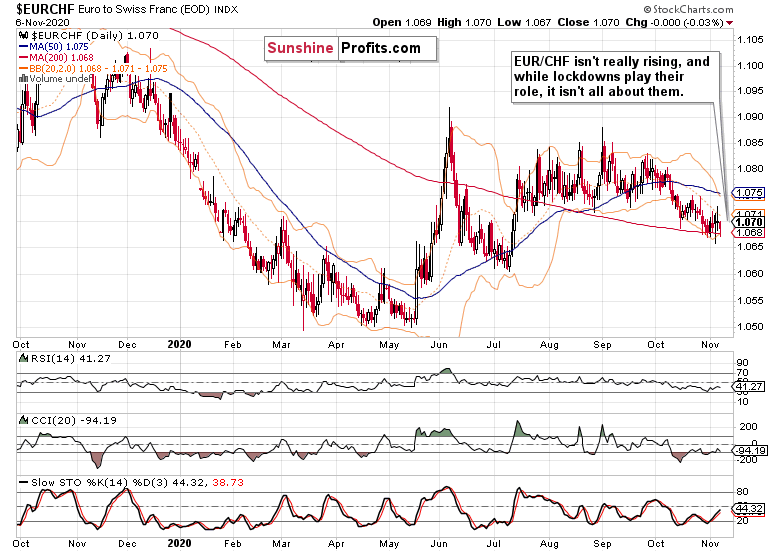 EUR/CHF is trading really cautiously – these are no fireworks in bullish spirits. On the other hand though, look how long it took the pair to take off – it happened only in mid-May.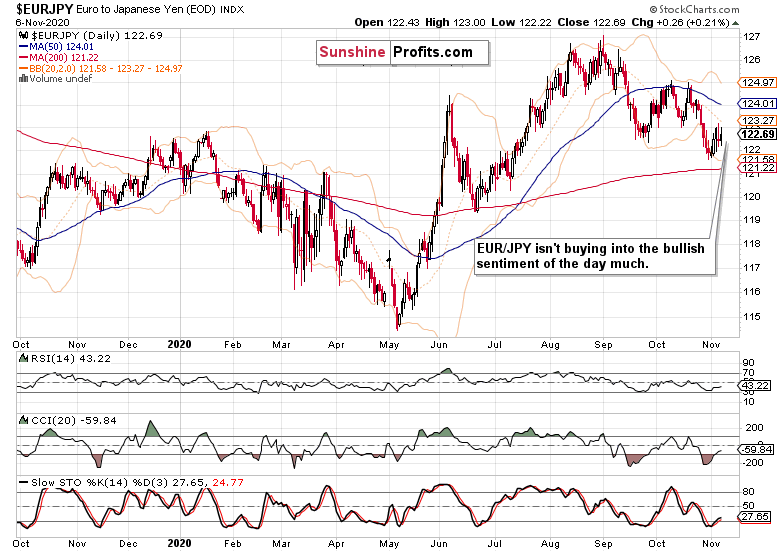 EUR/JPY is similarly facing headwinds, and it doesn't come down to European lockdowns entirely. To exercise some caution in the short run would a smart call here.
Summary
Summing up, stocks consolidated on Friday before taking off in today's premarket on the heels of Pfizer surprise. That's a positive development, but the elections uncertainty hasn't been removed, contrary to public perceptions. But that's a phenomenon that will rise and ebb over the coming days and weeks, at its own pace and timing. Bulls waiting to join / rejoin / deploy more capital on the long side, would do well by paying attention and capitalizing on temporarily discounted prices.
Thank you for reading today's free analysis. If you would like to receive daily premium follow-ups, I encourage you to sign up for my Stock Trading Alerts to also benefit from the trading action described - the moment it happens. The full analysis includes more details about current positions and levels to watch before deciding to open any new ones or where to close existing ones.
Thank you.
Monica Kingsley
Stock Trading Strategist
Sunshine Profits: Analysis. Care. Profits.
Back