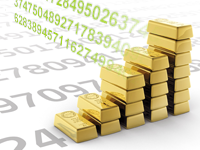 Gold Speculation Can Be Profitable When Positions Are Small
Every now and then we receive messages from our Readers about the sense of gold speculation and silver speculation given that one could simply stick to their long-term investments. In our view, investing in the long term is a very good idea, suitable for many investors, but it's not the best idea.
In our view the best way is to combine long-term investments with short-term speculation, thus diversifying between two strategies. This essay is dedicated to explaining the logic behind this belief and at the same time illustrates the way in which the Position Size Calculator works.
gold-investment-vs-trading.pdf (1.3 MB)
Back