Please log in to read the entire text.
If you don't have a login yet, please select your access package.
As we have reported yesterday, throughout the entire week, crude oil has been in a substantial decline, and by the looks of it, the deterioration is far from over.
In these cases, when a given market clearly moves in a certain direction, corrective moves are bound to happen. After all, no market can move in a straight line up or down. But still, in case of the current situation in black gold, the assumption might be misleading. Obviously, it is taking a breather right now after the several dollars decline. However, that doesn't mean that any sizable rebound is going to happen soon.
In fact, based on how crude oil behaved before the decline, we still believe that it's going to slide down even further.
In the current globalized and hyper connected economy, no market moves completely independently from the rest of the world. Therefore, crude oil, as the most versatile marketplace commodity, is definitely not an exception.
Two of the markets that crude oil often looks up to are stocks and currencies.
Rising stocks remain bullish for crude oil, due to better performing companies that drive greater product demand and transportation. Unquestionably, directly or indirectly, crude oil is used in many of those processes.
Conversely, rising USD Index remains bearish for crude oil as well (at least from the USD point of view), because that's the currency crude oil is priced in.
The USD Index is still after a short-term breakout, and the S&P 500 has just moved below its previous 2020 high, nullifying its breakout. This bodes very well for our profitable short positions in crude oil, but it's not the most bearish signal that is currently available.
Arguably, the most bearish indicator is that crude oil declined even before the above-mentioned USDX strength and general stock market weakness occurred. Even though the USD Index had been declining and the S&P 500 had been rallying previously, crude oil refused to rally based on these indications.
Let us take a look at the following crude oil chart for more details.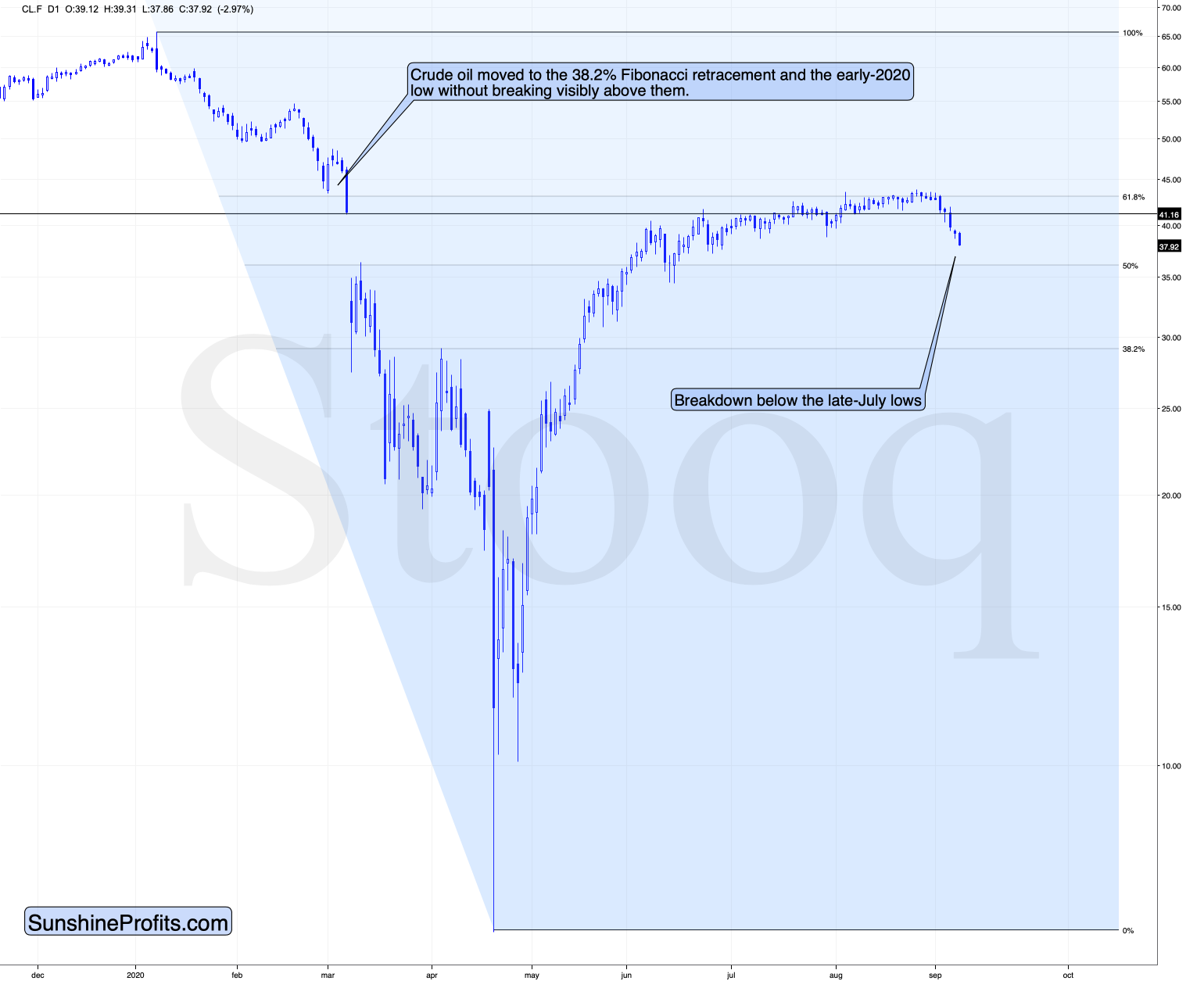 Back in early June, instead of rallying, crude oil simply stopped with its significant growth. Since then, it has consolidated (mostly) below the 61.8% Fibonacci retracement level based on the previous 2020 decline and below the early-2020 low. As a result, the black gold had already shown a significant frailty for weeks, a decline that is completely not surprising given the above.
As such, crude oil became more vulnerable to the bearish stock market or bullish USD Index signals. And now, it just received both.
Technically, crude oil corrected to the 61.8% Fibonacci retracement, however, currently, it is declining once again. The strong resistance stayed on, and consequently, the price turned south.
To us, it seems very unlikely that crude oil would refuse to genuinely rally for months (! - since its June top), and decline by only a few dollars. Undoubtedly, it declined, but only as a response to tiny USDX and general stock market moves. As these moves continue, crude oil is likely to amplify them, just like what it's been doing for the past week.
Back