Many important things happened yesterday. Cohen testified before the Congress, the US-North Korea Summit took place, while tensions between India and Pakistan escalated. Will these developments boost gold?
India and Pakistan Engage in Another Conflict over Kashmir
India and Pakistan are once again squaring off over the disputed region of Kashmir. It began with the suicide attack in Indian-administered Kashmir, which killed more than 40 people. As the Pakistan-based militant group Jaish-e-Mohammed claimed responsibility for the bombing, India retaliated and launched air strikes inside Pakistan, the first aerial attacks across the Line of Control dividing both countries since 1971. The results of these strikes are not confirmed. However, we know that two Indian jets were shot down and Pakistan army captured one pilot.
The conflict is serious. These countries are archrivals, which fought four wars since independence from Britain and colonial India partition in 1947. One detail is important here: both countries have nuclear weapons, so each conflict is potentially very risky. The nuclear war between India and Pakistan would be disastrous not only for these countries but for the whole world. According to some analyses, the spread of ash after a nuclear war would cover the entire earth, plunging temperatures to below ice age conditions. However, this is not good news for gold. The nuclear winter would destroy civilization – with 90 percent of population starved, we doubt whether the gold market would prevail and whether it would matter at all.
Anyway, the renewed tensions have caught the markets off guard this week. However, the reaction has been muted so far. Investors assume that the two nuclear powers are just posturing, and would be unlikely to escalate the conflict much further. If these bets turns out overly optimistic, we could see a short-term rise in the safe-haven demand for gold. But we would not count on something more, as geopolitical issues are not able to cause anything but limited and short-lived reaction in the gold market. Just look at the chart below – as one can see, the price of gold actually declined yesterday!
Chart 1: Gold prices from February 26 to February 28, 2019.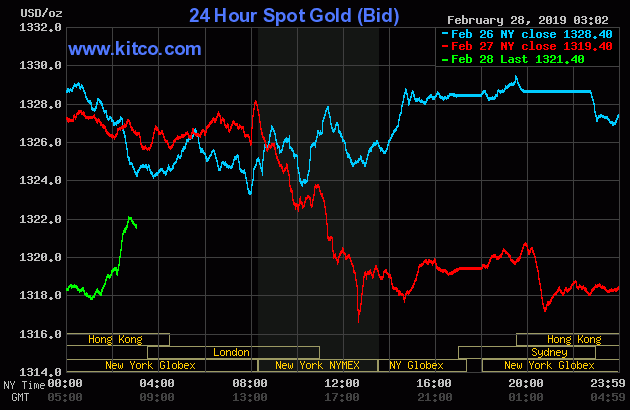 Trump and Kim Meet Again
President Trump and North Korean leader Kim Jong Un held yesterday a second meeting since their first historic summit in June 2018. Both sides wanted to make real progress now, but the talks broke down over the issue of sanctions – North Korea offered to dismantle only some parts of its nuclear infrastructure in exchange for lifting all sanctions. Trump refused to do that. So, it seems that the US is not ready to really end the war and the North Korea is not prepared to surrender its nuclear program. Hence, the conflict may renew from time to time, occasionally supporting the price of the yellow metal. But we wouldn't count on any meaningful rally in gold prices caused by the North Korea-US relations.
Cohen Adds Legal Problems for Trump
Also on Wednesday, Michael Cohen, President Donald Trump's former lawyer, gave testimony to Congress, which highlighted several legal risks Trump may face. One of them is the accusation of Trump that he directed Cohen to make a $130,000 hush money payment to adult film actress Stormy Daniels days before the election to cover up "a sexual encounter with Trump", which could constitute a potential campaign finance law violation. Anyway, we are skeptical whether all these revelations will have a significant impact on the gold market. Trump faces legal problems since the very beginning, without any material effects. The impeachment is unlikely, after all. And next year, we have fresh elections anyway.
Implications for Gold
Wednesday was hot in terms of geopolitical events. Cohen testified before the Congress, Trump met with Kim, while India and Pakistan engaged in another conflict over Kashmir. However, the price of gold declined, allegedly because of renewed worries about trade deal with China. It indicates that markets do not care about geopolitical events. After all, they are mostly just political or media theater without any material impact.
We mean here that the US-North Korea summit was a failure as it did not bring any progress in the relations between two countries. The renewed tensions between India and Pakistan are worrisome, but the full-blown conflict (and nuclear winter) is still (fortunately) unlikely. Cohen added legal challenges for Trump, but they do not materially increase the odds of the impeachment. You see, what moves the gold market are the new pieces of meaningful information, something which is not just a noise and investors did not know earlier. And the precious metals investors are much more interested in trade wars and Fed's monetary policy. In the next edition of the Gold News Monitor, we will focus on Powell's testimony to Congress – stay tuned!
If you enjoyed the above analysis, we invite you to check out our other services. We provide detailed fundamental analyses of the gold market in our monthly Market Overview reports and we provide daily Gold & Silver Trading Alerts with clear buy and sell signals. If you're not ready to subscribe yet and are not on our gold mailing list yet, we urge you to sign up. It's free and if you don't like it, you can easily unsubscribe. Sign up today!
Disclaimer: Please note that the aim of the above analysis is to discuss the likely long-term impact of the featured phenomenon on the price of gold and this analysis does not indicate (nor does it aim to do so) whether gold is likely to move higher or lower in the short- or medium term. In order to determine the latter, many additional factors need to be considered (i.e. sentiment, chart patterns, cycles, indicators, ratios, self-similar patterns and more) and we are taking them into account (and discussing the short- and medium-term outlook) in our trading alerts.
Thank you.
Arkadiusz Sieron, Ph.D.
Sunshine Profits' Gold News Monitor and Market Overview Editor
Back