Based on the January 18th, 2013 Premium Update. Visit our archives for more .
Platinum and gold have been playing a game of tag, and this week, platinum took the lead again regaining its rightful position up front, but for how long?
Looking back at history, platinum has been the front runner with an average $200 to $400 premium to gold. At times the difference was much greater. Before the 2008 Lehman Brothers crash, platinum was trading at more than $2,270 per ounce while gold was trading under $990 an ounce. The prices as of close of this week's issue were $1,686.50 for gold and $1,694.30 for platinum.
As the bull market in the precious metals sector continued, the yellow metal's spectacular marathon over the past few years began posing a challenge to platinum. On September 2, 2011 gold took the lead pumped up on a runner's high. This past year (2012) it looked like gold had hit the wall of fatigue and needed to catch its breath. And this week, for the first time since March, platinum captured its rightful place as leader of the pack.
Platinum rallied strongly in the first two weeks of 2013 on bullish fundamental reasons, but the true catalyst for this week's move up came on news of supply disruptions from Anglo American Platinum Ltd. (AMS.JO), the world's largest platinum producer which announced that it will suspend production at several mines in South Africa. Closing the mines will cut platinum production by 400,000 ounces annually, according to some news reports. The company produces about 40% of the world's mined platinum. The troubles for platinum don't stop there. The cutbacks will result in 14,000 job losses, or 3% of the country's mineworkers, and a 20% drop in annual production. Union leaders are already threatening new strikes, which brings to mind the violent strikes of last summer which resulted in about 50 deaths. On Thursday miners returned to work after an illegal walkout, but it's difficult to predict how this will play out.
There are several fundamental factors influencing the platinum market. Analysts say that global platinum production as a whole is in a deficit; with some citing a supply deficit of 400,000 ounces in 2012, versus a 430,000 ounce surplus in 2011. This news comes in tandem with a forecast of a rebound in automotive sales. Platinum's greatest industrial use is in auto catalysts, so the simple equation of tight supplies and higher demand underpins a strong fundamental outlook.
Platinum prices began to fall around a year ago in when demand dropped due to the poor economy. Then in August prices picked up again due to the labor strikes in South Africa, which produces 75% of world platinum supply. As the labor disputes were resolved, prices drifted lower once more, until recently.
Platinum is much more rare in nature than gold. Approximately 10 tons of ore must be mined - sometimes almost a mile underground at high temperatures- to produce one pure ounce of platinum. More than ten times more gold is mined each year than platinum. In fact, all the platinum ever mined throughout history would fill a room of less than 25 cubic feet. Unlike gold, which is either held in bank vaults or used in jewelry, more than 50% of the yearly production of platinum is consumed (used up) by industrial uses, mostly in the automobile industry so that are no large inventories of above-ground platinum.

Having discussed platinum's fundamentals, let's see what charts tell us about its near future. We'll begin today's technical part with its direct "competitor" – the yellow metal (charts courtesy by http://stockcharts.com.)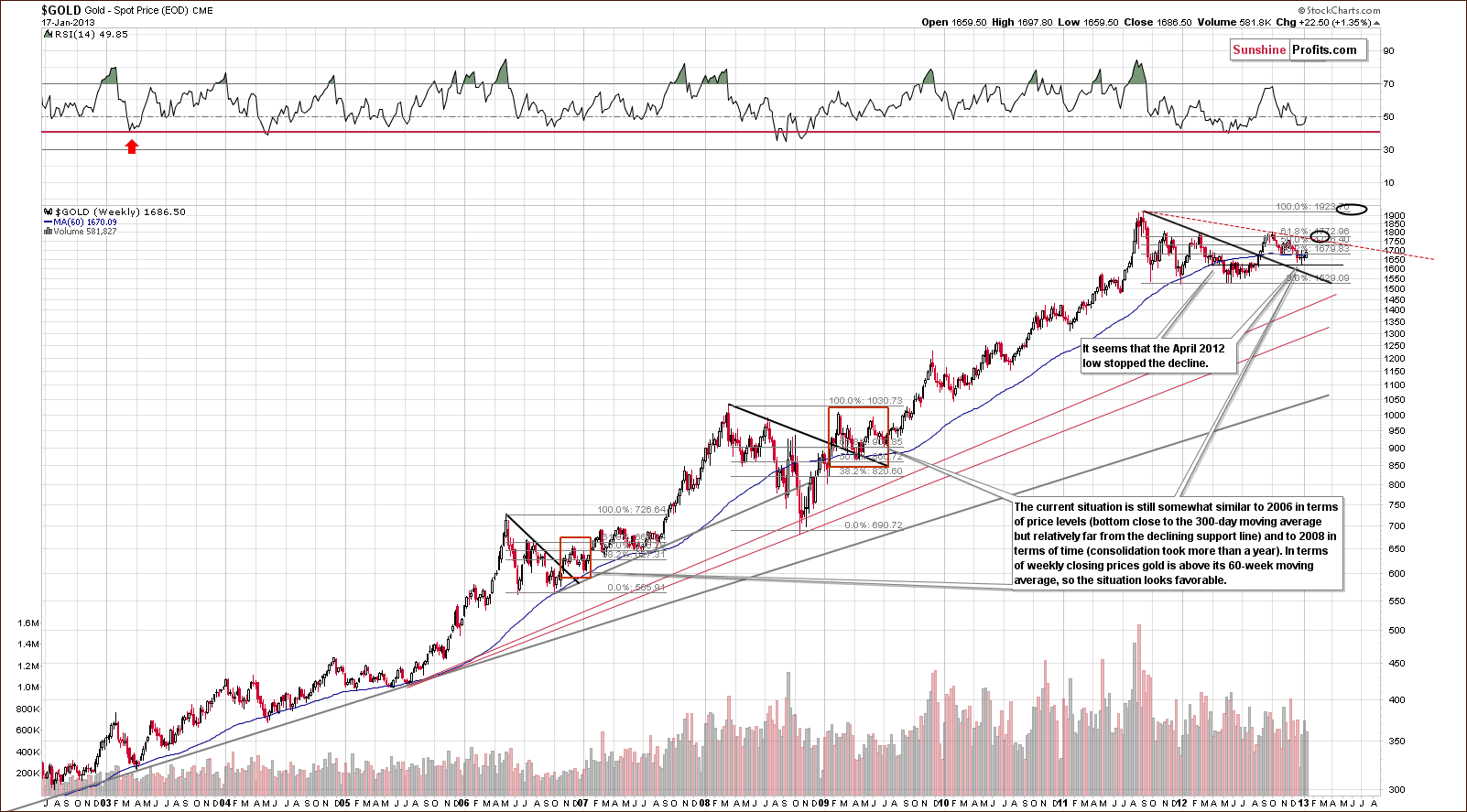 In gold's very long-term chart, where the daily noise is nicely filtered out, we see that gold formed a bottom slightly below the 300-day moving average. This is similar to what was seen in 2009 and also 2007, when gold bottomed close to this support line. It seems that another powerful rally for gold prices could be in the cards. All-in-all this chart and the long-term trends are clearly bullish for the yellow metal for the coming month.
Now let us move on to a chart that shows platinum's long-term performance relative to gold.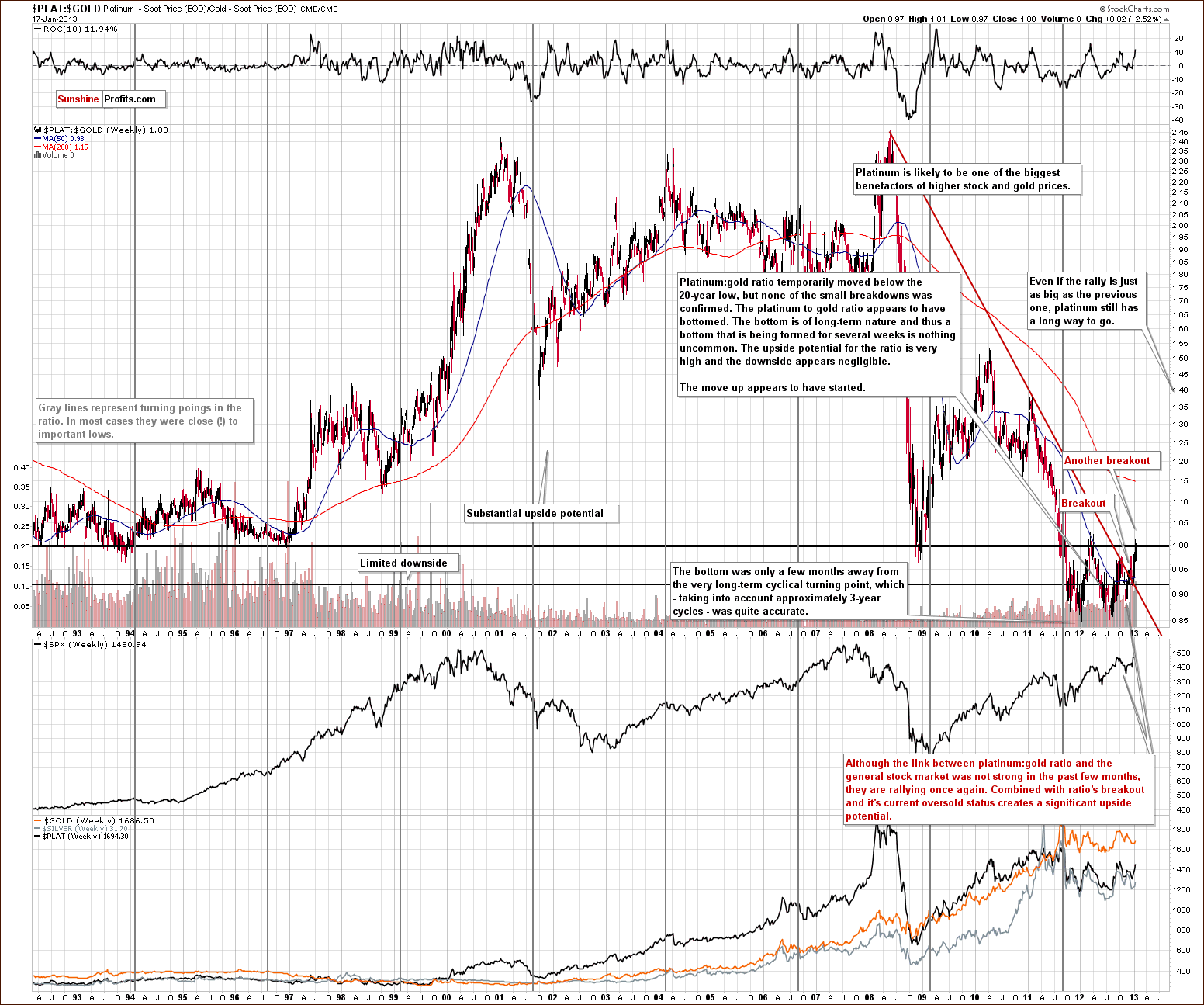 In the platinum to gold ratio chart, recent trading days have seen a post breakout rally triggered by supply issues in South Africa. Fundamental factors and news, however, don't determine how much prices will rally in the short-term or if the rally should be followed by a correction or a big move to the upside, which seems to be the case today – technicals do.
An important technical development is the breakout above the declining long-term resistance line. This is something we have emphasized previously and will still have bullish implications next month since the price of platinum is still well below the long-term average relative to gold. It seems that platinum is undervalued and we feel it will outperform gold in the months ahead (regardless of whether it rallies today or the next week).
Summing up, the long-term outlook for gold remains positive. Long-term analysis shows patterns which are similar to those seen right after major bottoms (and one was just in). This has bullish implications. The platinum market seems poised to outperform gold in the coming months. With the yellow metal's outlook being bullish for the medium term, this makes platinum likely to rally strongly in the future. It still does not seem too late to take advantage of this. If you're interested in short-term price targets and probable price path for gold in the coming weeks along with direct trading suggestions, please join our Premium Service subscribers.
Thank you for reading. Have a great weekend and profitable week!
Sincerely,
Przemyslaw Radomski, CFA
Related content:
Back