We focused on the U.S. economy in the few last articles. Today we would like to adopt a more global perspective. The starting point is yesterday's hot news from the Antipodes. The Reserve Bank of Australia cut its benchmark interest rate to a record low of 2.25 percent (Figure 1). Why is this important and what can be the implications for the U.S. economy and the gold market?
Figure 1: Australian benchmark interest rate from 2001 to 2015.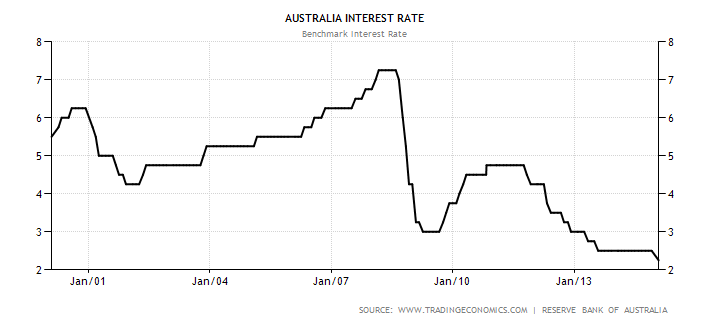 The 0.25-percentage-point cut represents a dramatic shift, since the cash rate had not been changed for 18 months. This move indicates that Australian economy is dealing with the economy slowing down. It is not surprising. Australia is a resource-based economy, therefore the falling commodity prices have negatively impacted the mining sector, which has been an important driver of the Australian economy during the commodity boom. Low commodity prices and China's slowdown put the Antipodes in serious trouble. An interest rates cut will not help; it may only fuel an already upbeat real-estate market, leading to further problems.
Let's notice that Canada found itself recently in a similar (however, not identical) situation and also cut interest rates, which confirms our thesis that low commodity prices will drown some economies, mostly emerging markets, but probably also Canada and Australia, the big commodity producers and exporters.
Summing up, Australia is another country which cut interest rates. It has followed the Eurozone, China, Canada, Denmark, India, Korea, Singapore and Switzerland which have all cut interest rates in recent months. On surface, it is bullish news for the U.S. dollar and bearish for gold, however, investors should not forget that gold is the best asset class during slowdowns, therefore the usual negative correlation between the greenback and yellow metal may not hold in the following months (gold could decline in the short term though – the above relationship doesn't say much about the short run). Indeed, gold has been rising this year, despite a strong U.S. dollar. Moreover, such an easing in global monetary conditions could make the Fed more reluctant to hike interest rates and be a "loser" in the global currency wars.
Arkadiusz Sieron
Sunshine Profits' Market Overview Editor
Gold Trading Alerts
Gold Market Overview
This articles is exclusive to Sunshine Profits; please do not copy it (you are free to link to it, though).
Back