Gold & Silver Correlations - Check the Gold, Silver, Dollar and Euro Correlations
Please Log in to your premium account to read more.
New to Sunshine Profits? Sign up for free trial and get acess to all available tools and our professional assistance!
Correlation Matrix overview
 
Displays the "big picture"
The Correlation Matrix shows the markets that influence precious metals, gold stocks and juniors. It gives you an advantage over most investors that focus on the precious metals market alone.
Works as a litmus test for markets
It estimates the strength of influence that a particular non-PM market is about to have on gold, silver and corresponding equities in the coming days/weeks/months.
Shows "how much" the markets have moved together in the past
The correlation coefficient takes values from -1 to 1. A negative value means that a particular pair of markets moves in the opposite direction on average. A positive value indicates movement in the same direction.
Identifies the markets that go one step ahead
It enables you to pay attention to the markets that show the future trends. It also enables you to detect a possible catalyst of either breakout or breakdown.
 
Here's how it works: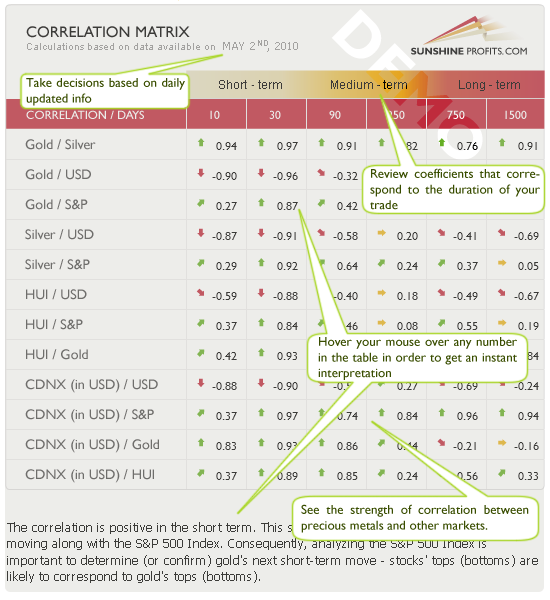 Get The Big Picture
Free For 1 Week
Try 6 industry leading tools, and receive free newsletter:
No credit card required
Premium Updates
More
Status

Status

Status