MAY 21 GOLD MARKET ALERT
Yesterday we wrote that "[in 1976] there was a pullback in gold before it moved below the initial low. We could see this type of action shortly. If silver and mining stocks consolidate below their previous lows it will simply serve as a confirmation of the breakdown and an indication of further declines." We didn't have to wait long for the pullback to be seen. Gold, silver and mining stocks moved higher yesterday.
Silver's intra-day price action appears particularly encouraging as it moved almost to $20 (below its 2008 high) only to climb back up later. Is the decline over based on that day? Should you "back up the truck" with gold and silver yet? What about mining stocks?
Log in or sign up for the free trial of our Premium Service to read today's Market Alert with our replies to the above questions.
Gold & silver trading

Trends that move before the market, overlooked by the masses. Clear buy & sell signals for gold & silver traders.
Analyze charts
Gold investment tools

More than just a standard set of tools. Tools that set a new standard for gold investment.
Explore tools
See the video
Featured Video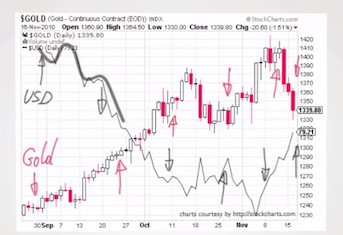 In the coming days, weeks and months some markets will influence the price of gold more than the others. What will have the most influence? What will have none? The stock market, U.S. dollar, mining stocks? This video is intended to educate you on how to see the big picture, and take the most out of these correlations.
Keywords: market correlation, correlation matrix,
gold dollar correlation
free newsletter + 7 days trial
Gold Trading Signals
Gold is at $1,405. Is this a turning point? You could wait for a few days and know for sure -- but it might be a few days too late... Try Sunshine Profits Indicators. Spot early signs of upcoming changes on the market.
No credit card required
Premium Updates
More
Status

Status

Status
Sunshine Tweets