HUI Index
The Amex Gold BUGS (Basket of Unhedged Gold Stocks) Index, also known as the HUI Index, is an index of gold mining companies that do not hedge their production beyond 18 months. Contrary to the XAU Index, it includes only gold stocks.
Eric asks:
After the relay competition in cross-country skiing…
Read the whole discussion
The Amex Gold BUGS (HUI Index) Index is an index of sixteen gold mining companies. It is traded on the New York Stock Exchange, under the symbol HUI. Together with the Philadelphia Gold and Silver Index (XAU Index) it is one of the two most important precious metals indices in the world. The HUI Index is a modified equal-dollar weighted index – this means that most of its components carry equal weight. Greater weight, however, is given to the top three companies with the biggest market capitalization.
HUI Index Components (as of 12/01/11)
| Company name | Weight |
| --- | --- |
| Goldcorp Inc. | 16.20% |
| Barrick Gold Corp. | 15.37% |
| Newmont Mining Corp. | 10.88% |
| Harmony Gold Mining Co. Ltd. | 5.21% |
| Coeur d'Alene Mines Corp. | 5.11% |
| Yamana Gold Inc. | 5.00% |
| AngloGold Ashanti Ltd. | 4.88% |
| Gold Fields Ltd. | 4.80% |
| Randgold Resources Ltd. | 4.71% |
| Iamgold Corp. | 4.43% |
| Eldorado Gold Corp. | 4.34% |
| Hecla Mining Co. | 4.14% |
| Compania de Minas Buenaventura SA | 4.08% |
| New Gold Inc. | 3.90% |
| Kinross Gold Corp. | 3.85% |
| Agnico Eagle Mines Ltd. | 3.11% |
HUI was launched on March 15, 1996 with an initial value of 200. It is adjusted quarterly, on the third Friday of March, June, September and December. Amex can add or remove companies from the index, thereby responding to changes in the market.
HUI vs. XAU
The HUI and XAU indices are the most popular for precious metals mining stocks. There are two main differences between them:
The HUI Index doesn't include hedgers while the XAU Index does. To be precise, HUI includes only stocks that don't hedge their gold production beyond 1.5 years.
The XAU Index includes both gold and silver stocks, while the HUI Index includes only gold miners
Consequently, both indices will not move identically at all times. However, differences between them should not be major. Significant breakouts or breakdowns in the mining stocks should be confirmed by both HUI and XAU. If a move is seen in only one of them, it should not be viewed as truly significant until the other index confirms it.
HUI Chart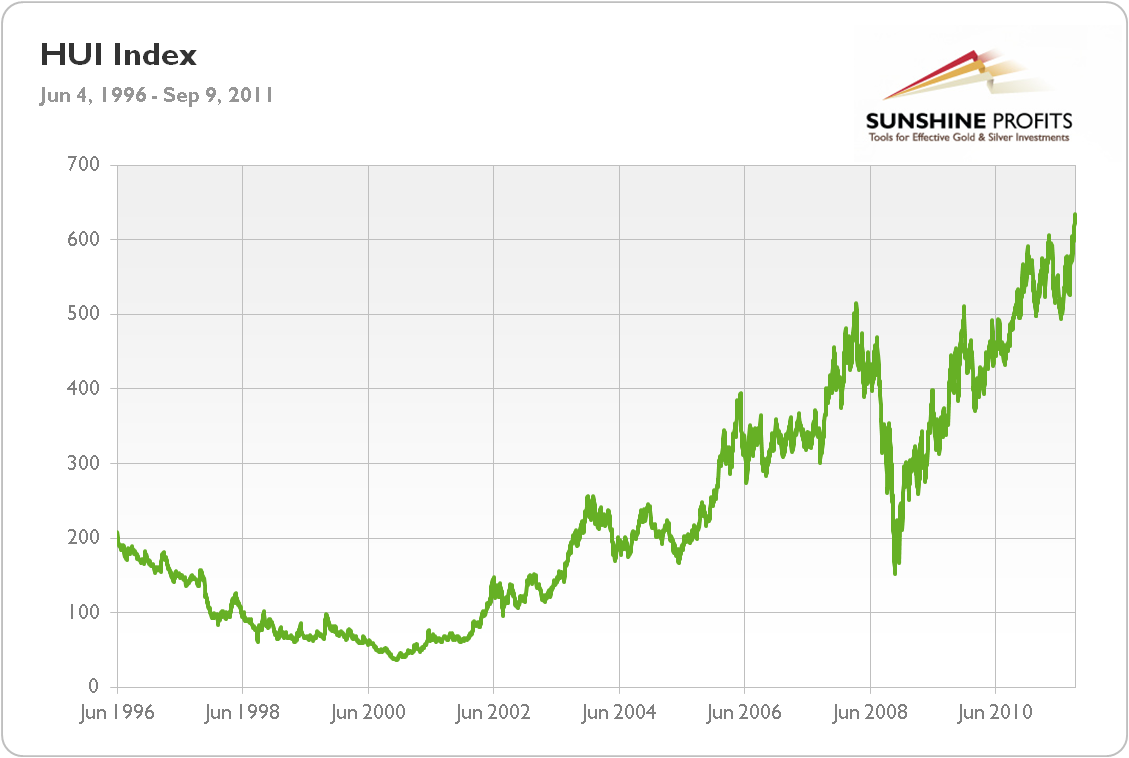 HUI Ratio
HUI/Gold Ratio is calculated by dividing the HUI Index value by the price of gold. It is used to show the relative strength of gold stocks vs. gold. Please take a look at the following chart for details: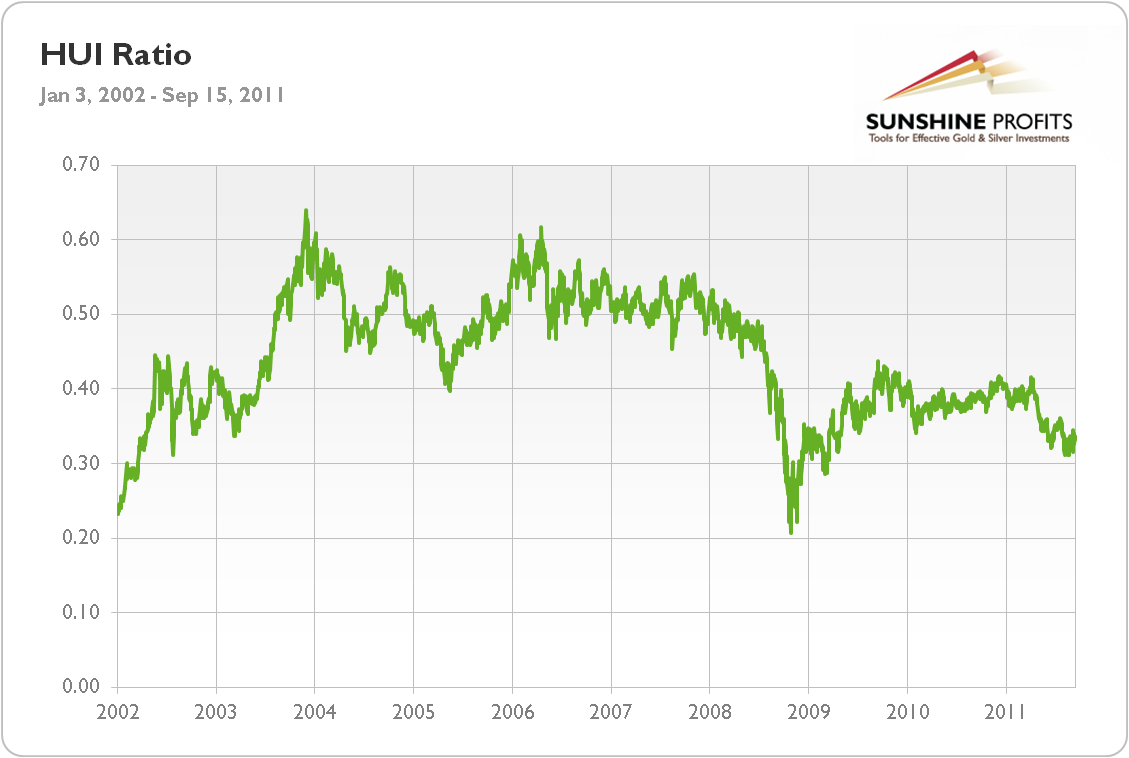 Back