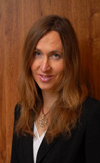 Monica Kingsley
Hi, let me introduce myself. My name is Monica and I have a love affair with the financial markets, economics, marketing and writing.
Apart from these, I like to see people succeed and realize their dreams. And quite a part of such accomplishment can come from trading and investing. Besides, it's a passion to take this route of day-to-day development, and I'm glad to say I've been at it since the early months of Ben Bernanke at the Fed's helm. Yes, that's the guy who came right after the Maestro, Alan Greenspan.
The trading path has no real end, because when exactly can a trader or investor say that they have seen and achieved it all? That there can't be anything made to work better, or no new learning applied in practice? That the market character hasn't changed thus no adaptation is needed? As they say, the journey is as important as the end goal – if not more.
It's certainly the case with me, day in and day out. Apart from the financial markets, it just naturally extends to the other professions that I have more than a close affinity to. You know, the master degree in economics prepared me greatly for a career in central banking or monetary policy think tanks, yet I was eyeing something more hands-on and directly related to clients, to consumers.
While I am into mathematics and statistics, I more than appreciate the people element, the psychology involved not merely in meeting their needs. Unsurprisingly, I was drawn to marketing, choosing its most tools-rich and demanding branch as my first field of vocation: FMCG, fast-moving consumer goods. Interestingly, I was able to use several languages throughout, and had gained exposure to many more.
But I was still drawn to macroeconomics, and had the added excuse of wanting to efficiently put modest savings to work. Where else to turn to than to finance again? Even back in the university years, I enjoyed financial markets also because of the psychological element inside. When you think of it, every market transaction is actually an auction – and it just comes out in reading the tape.
On one hand, it's the rich world of technical analysis featuring trends or indicators – on the other, it's about financial accounting metrics such as valuations or earnings per share. In the markets, we also get the geopolitical wildcards and the more or less sustainable price moves that follow – and commodities such as oil can be even more sensitive to such gyrations than stock indices. Couple that with the real economy and economic policy outlook, and you pretty much get at the stage of the stock or commodity cycle we're in. This is where identifying the true game changers comes handy – here, some PhD. studies in polithology serve me as well as the ongoing interest in international economic and political trends and news.
Thus, my second field of vocation was painlessly born way more than a decade ago! What an enlightening and fulfilling journey it has been… Here I am, having made it through the school of hard knocks, ready to put the experience, talents and dedication to your benefit.
Thank you for taking the time to get to know me. Try out my Stock Trading Alerts, Stock Investment Updates, or both – and you'll get to know what I can do for you, every day.
With respect and care,
Monica Kingsley
Recent articles written by Monica Kingsley
Free :
Premium:
No credit card required