MAY 23 GOLD MARKET ALERT
Yesterday was a particularly volatile and interesting day on the precious metals market. The sector moved slightly higher, then it soared, stayed high for several minutes and crashed. Stocks did more or less the same and the USD Index did the opposite. The likely reason? Comments from Ben Bernanke who said the Fed could decide to scale back the pace of bond purchases at one of the "next few meetings" if the economic recovery looked set to maintain forward momentum.
So, what happened was markets discounted the information about the possible tapering of the stimulus. Will the Fed really decrease the Quantitative Easing? Actually, it could. The Fed has actually been quite good in making people believe that you can really get away with creating money out of thin air...
The above is the first part of today's Market Alert. The following part includes our trading plan for the coming days/weeks, target levels and stop-loss levels. If you'd like to read it and then continue to receive our premium analysis, please log in or sign up for the free trial of our Premium Service.
Gold & silver trading

Trends that move before the market, overlooked by the masses. Clear buy & sell signals for gold & silver traders.
Analyze charts
Gold investment tools

More than just a standard set of tools. Tools that set a new standard for gold investment.
Explore tools
See the video
Featured Video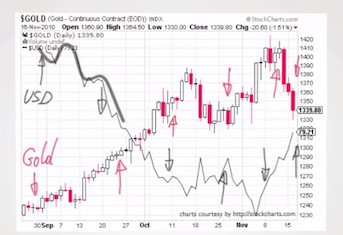 In the coming days, weeks and months some markets will influence the price of gold more than the others. What will have the most influence? What will have none? The stock market, U.S. dollar, mining stocks? This video is intended to educate you on how to see the big picture, and take the most out of these correlations.
Keywords: market correlation, correlation matrix,
gold dollar correlation
free newsletter + 7 days trial
Gold Trading Signals
Gold is at $1,405. Is this a turning point? You could wait for a few days and know for sure -- but it might be a few days too late... Try Sunshine Profits Indicators. Spot early signs of upcoming changes on the market.
Gold Market News
Delivered To Your Inbox
Free Of Charge
Bonus: A week of free access to all our paid products.
No credit card required
Premium Updates
More
Status

Status

Status
Sunshine Tweets