Please log in to read the entire text.
If you don't have a login yet, please select your access package.
As investors weighed the latest vaccine news, stimulus progress, and economic data, the S&P 500 eked out another gain on Wednesday and closed at a record high for a second day in a row.
News Recap
The Dow Jones climbed 59.87 points, or 0.2%, the S&P 500 gained .18%, and the Nasdaq fell 0.1%.
Senate Majority Leader Mitch McConnell's rejection of a bipartisan $908 billion stimulus proposal weighed on stocks and muted gains.
Despite the positive vaccine data from today, with the UK becoming the first country to approve the usage of Pfizer and BioNTech's vaccine, Federal Reserve Chairman Jerome Powell called the economic outlook "extraordinarily uncertain" yesterday.
November's private payroll data disappointed today and missed expectations. Economists expected 475,000 private jobs to be added in November. However, according to ADP, only 307,000 were added. This was also the lowest figure since July.
The US reported 180,083 new Covid-19 cases- the most in four days and up from 157,901 the day before. 2597 people also died - the second-highest daily rate on record. Hospitalizations also continue to hit records with at least 98,691 beds occupied on Tuesday.
Energy and financials were the best performing sectors on the S&P 500 today and rose 3.2% and 1.1%, respectively.
Boeing led the Dow higher with a gain of 5.1%, while Salesforce lagged by nearly 9% after it confirmed its $27.7 billion acquisition of messaging platform Slack.
Because of the short-term tug of war between optimism and reality, it is fairly difficult to proclaim BUY or SELL calls for the near-term future. Rather, in the short-term, I feel more comfortable staying neutral and calling HOLD for broader markets. There will be optimistic days where investors rotate into cyclicals and value stocks, and more pessimistic days where investors run towards "stay-at-home" names and COVID winning tech stocks. Broader market selloffs could always happen as well.
In the mid-term and long-term, however, there is certainly a light at the end of the tunnel. Once this pandemic is finally brought under control and vaccines are mass deployed, volatility will surely stabilize, and optimism and relief will permeate the markets. The UK's approval of Pfizer and BioNTech's vaccine on Wednesday was a huge step forward on that front.
It is a simple fact - markets will continue to wrestle with the negative reality on the ground and optimism for an economic rebound in 2021. Today's muted and mixed moves should be more of the new normal than the March crash or November surge. Any short-term moves upwards or downwards should be relatively modest and tame. There is still too much pushing and pulling between bad news and good news to say with conviction that another crash or surge will come. If anything, this tug of war will keep markets relatively sideways.
Therefore, to sum it up:
While there is long-term optimism, there is short-term pessimism. A short-term correction is very possible. But it is hard to say with conviction that a big correction will happen.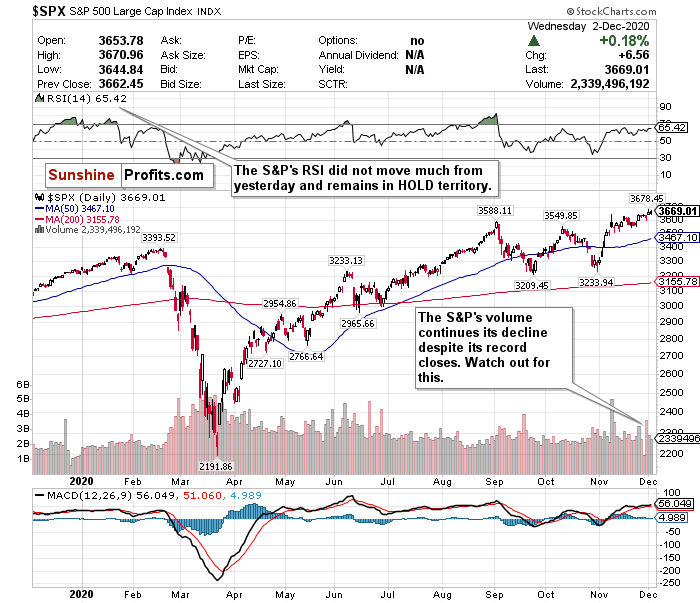 In the S&P chart above, there are a few indicators that show that the S&P could face some near-term volatility - especially after its run towards multiple record closes in the last week. However, again, it is hard to say with conviction there will be a major downturn. The RSI of 65.42 keeps the S&P in a HOLD category. While it is still close to an overbought figure, it has remained relatively stagnant this week.
The sharp decline in volume, especially relative to its record closes, is what is more concerning for me.
The consistent decline in volume for the S&P has been sharp and swift and continues to trend downwards. This is very concerning for volatility purposes.
Low volume, especially a sharp drop in volume, means that there are fewer shares trading. Lower volume also means less liquidity across the index, and an increase in stock price volatility. Therefore, this drop in volume puts some serious doubt on the sustainability of the recent rallies and the S&P's short-term outlook.
We're in the early recovery phase of the cycle following the COVID-19 recession, but this rapid rebound is under pressure. Further pullback from these elevated levels would not be a shock… but another surge based on good news would not be a shock either. Because of all of the uncertainty, a HOLD for the S&P is an appropriate call. For an ETF that attempts to directly correlate with the performance of the S&P, the SPDR S&P ETF (SPY) is a good option.
Thank you for reading today's free analysis. If you would like to receive daily premium follow-ups, I encourage you to sign up for my Stock Trading Alerts to also benefit from the trading action described - the moment it happens. The full analysis includes more details about current positions and levels to watch before deciding to open any new ones or where to close existing ones.
Thank you.
Matthew Levy, CFA
Stock Trading Strategist
Back