Do you have exposure to small-cap equities? How do the small-caps measure up versus the large-caps at this moment?
There is always opportunity somewhere, and we do our best to find it. Not only in trading and business, but in life too. So, what can we find today in the markets?
Yesterday, the Russell 2000 ($RUT) closed above its 50-day simple moving average, a welcome sign for small-cap bulls. The index has lagged behind its large-cap counterparts as of late and hasn't closed above its 50-day moving average since May 7th.
After taking the pulse of the markets and digesting the opinions of other participants, it can be challenging to get excited about an $SPX at 4200 and with a 44.58 P/E ratio (trailing twelve months). So, more aggressive swing traders tend to look elsewhere in the hunt for return.
A quick note on the $SPX P/E ratio (ttm):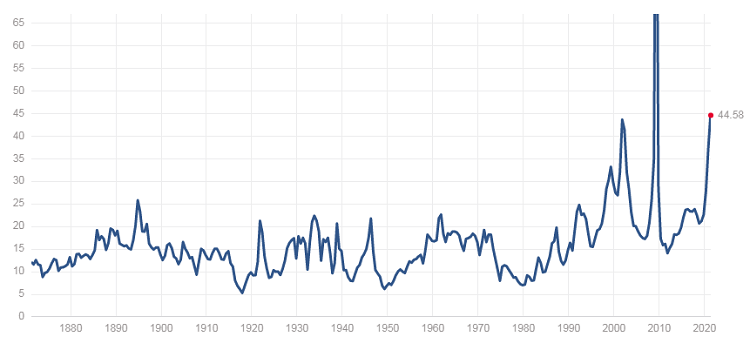 Figure 1 - S&P 500 PE Ratio 1870 - 2021. Source multpl.com
Talk about a long-term chart. Anyway, this does look like a potential head and shoulders setup here, although it looks like current levels have exceeded the neckline. Food for thought. At what point is the S&P 500 fundamentally overvalued?
Let's get back to small caps.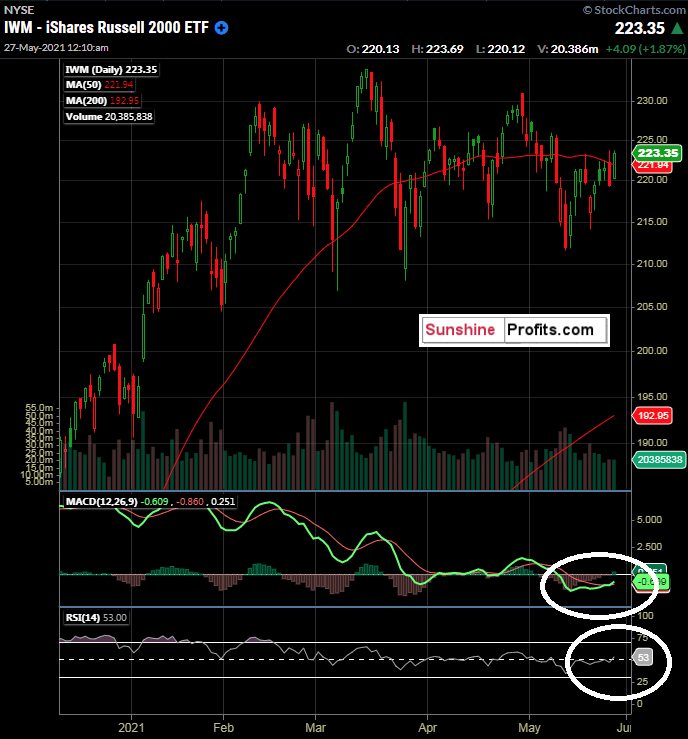 Figure 2 - IWM iShares Russell 2000 ETF December 10, 2020 - May 26, 2021. Source stockcharts.com
Above, we see the close above the 50-day moving average, the MACD(12,26,9) fast/slow line cross approaching the zero line, and the RSI(14) crossing 50. This, my friends, is visual Mozart to me; a confluence of indicators. Of course, nothing works all of the time, but when multiple technicals can be stacked in your favor, a distinct advantage can be created.
Wednesday's settlements had the SPY up 0.20% on the day, the DIA up 0.03%, the QQQ up 0.35%, and the IWM up 1.87%. A whopping change in tune from the recent large-cap money flow theme. It is certainly worth noting and perhaps utilizing for adjustment and/or speculation.
Why Were the Small-caps Up So Much Comparatively on Wednesday?
Isn't this a valuable nugget?
Another viable way to play the Russell reconstitution would be to pair it with another index ETF like SPY. If you are overall bearish on the market, this could be a great way to reduce risk, and still participate in the "Russell reconstitution trade".
Take a look: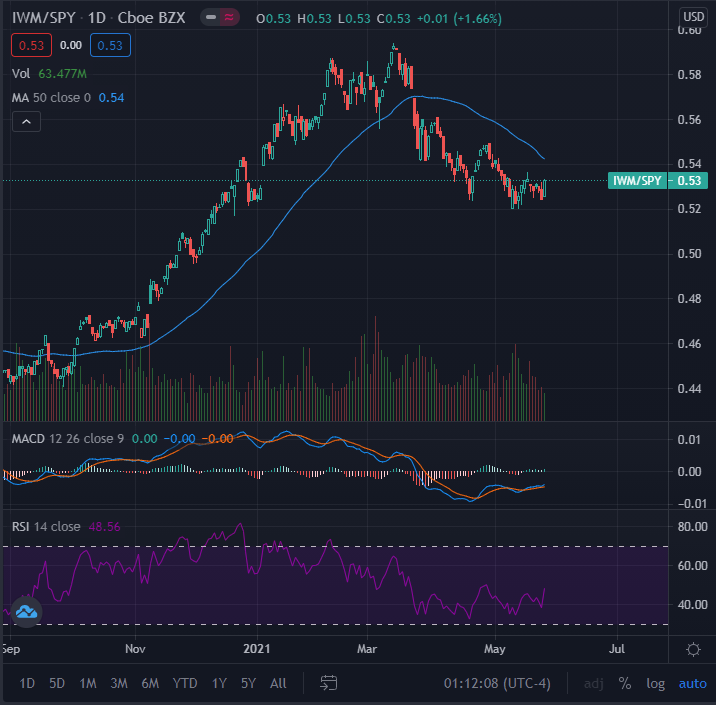 Figure 3 - IWM iShares Russell 2000 ETF / SPY S&P 500 ETF Ratio August 27, 2020 - May 26, 2021. Source stockcharts.com
This chart is the IWM divided by the SPY. The IWM to SPY ratio. You can see that the small-cap index had fallen out of favor versus the large-cap index from March until now. Again here, we see the MACD looking to tilt bullish and the RSI(14) looking to bullishly cross the 50 line.
So, this can be a way to take advantage of the Russell Index reconstitution even if you are bearish. This can be achieved by buying IWM and selling SPY, on a dollar-for-dollar basis. It is a way to look for one index to outpace the other (or not decrease as much as the other). Got it?
Letters to the Editor
Q: Hi Rafael. Your opinion on the 10-year note - does it refer to futures or options. It seems to me that the TNX will rally shortly I like to take advantage of it. Good luck with your new service!
-Theo
A: Thanks for reaching out, Theo! The original analysis that I wrote was for the June 10-year note futures contract. While I cannot give investment advice, I can say that the directional exposure that you are looking for (higher TNX yields / lower June 10-year note prices) can also be achieved using options. 10-year note futures are one of, if not the most liquid trading instruments in the world. The options liquidity is also excellent in the majority of strike prices. If a long options strategy is utilized (buying puts in this case), I am always very cognizant about buying options at-the-money or very close to the money (meaning the strike price is very close to the current futures contract price). If a trader expects volatility to increase and has a directional bias, buying options can be a viable choice. It is important to buy options far enough out in time so the Theta (time decay) of the options doesn't erode the option value too quickly. Buying short-dated options can be brutal and volatile. Also, when evaluating buying options versus using a futures contract, be sure to check the implied volatility levels of the options. If implied volatility is low, the options could be "cheap". The opposite applies if implied volatility is high. CBOE used to have the $TYVIX index that tracked the implied volatility of the 10-year note futures. However, they did away with that in 2020. Again, while I cannot provide investment advice, I would check and know the 10-year note contract specifications on the CME website here. There is also a tab for options contract specs. Be sure to know the expiration dates of whatever options you are trading, as the time decay will increase exponentially as expiration approaches. I hope this helps!
Dear readers, keep the questions coming!
To sum up the current viewpoint and opinion:
I have BUY opinions for:
iShares Trust Russell 2000 ETF (IWM) for an index reconstitution trade. At this time, I would be looking to be long and then exiting upon the actual reconstituted index going into place on June 28, 2021. Buy the rumor, sell the fact type of trade. For bearish folks, see above for the IWM/SPY spread idea.
Defiance Quantum ETF (QTUM) between $44.00 - $47.25. Update 05/27: I will now raise my buy idea zone upwards to $47.60. Look for pullbacks for entries, and always use a stop loss level that caters to your individual risk tolerance.
Amplify Transformational Data Sharing ETF (BLOK) between $37.68 - $37.91. BLOK has a history of high volatility, so proceed with caution. Always use a stop loss level that caters to your individual risk tolerance. Update 05/27: Patience, patience. I like pullbacks,
Invesco MSCI Sustainable Future ETF (ERTH) between $67.76 - $70.82. Always use a stop loss level that caters to your individual risk tolerance. Update 05/27: ERTH closed at $73.50 yesterday and is continuing to look good.
I have a SELL opinion for:
June 10-Year Notes (ZNM2021) between 132'06 - 132'17. Always use a stop loss level that caters to your individual risk tolerance. Update 05/27: Yesterday, I mentioned a daily close above 133'01'5 would have me looking elsewhere. It closed on 05/26 at 132'29, so this idea is still in play.
Invesco DB Commodity Index Tracking Fund (DBC) $18.50 - $18.75. Target 17.50 (old highs) to $17.75. Always use a stop loss level that caters to your individual risk tolerance. Use caution if you are trying this trade, knowing that the DXY could capitulate to this level. See the May 19th publication for more details.
I have a HOLD opinion for:
First Trust NASDAQ Clean Edge Smart Grid Infrastructure Index Fund (GRID). GRID has traded through our idea range of between $86.91 and $88.17. I do not encourage chasing it, if not already long, in my opinion. Update 05/27: GRID closed at $89.72 yesterday and is chugging along. I now have it listed as a Hold because there were better entry prices a week ago. Don't chase.
Short-term traders can look at the 52-week high of $90.96 and high $90.00's to the psychological $100.00 level as take profit level ideas. Always use a stop loss level that caters to your individual risk tolerance.
Today's publication is my last for this week. Remember, most US equity exchanges are closed on May 31st, in observance of Memorial Day. Some futures products may trade in abbreviated sessions. Be sure to check the exchange websites. Have a great Memorial Day Weekend!
Thank you,

Rafael Zorabedian
Stock Trading Strategist
Back