After opening the day in the red, markets reversed midday and hit fresh record highs as the UK began its vaccine rollout with doses of Pfizer and BioNTech's offering.
News Recap
The Dow Jones gained 104.09 points, or 0.4%, to close at 30,173.88 and hit an intraday record of 30,246.22. The S&P 500 rose 0.3% to 3,702.25, and closed over 3,700 for the first time ever. The Nasdaq also closed at a record and climbed 0.5% to 12,582.77. The Russell once again outperformed all the indices and closed 1.40% higher.
Pfizer began to roll out its COVID-19 vaccine in the U.K. and boosted optimism of an economic reopening in 2021. The U.K. ordered enough vaccines for 20 million of its residents to start getting.
The U.S. FDA said Pfizer's vaccine provides some protection after the first dose, also adding that it found no safety concerns. It could be approved by the weekend.
Pfizer (PFE) shares rose 3.3% on this news and reached their highest level in about two years. BioNTech (BNTX), which partnered with Pfizer on the vaccine, also rose 1.8%.
Investors sharply monitored stimulus negotiations on Tuesday as well. At this point, legal immunity for businesses and aid for state and local governments are holding up the deal. However, Democrats and Republicans apparently have found consensus in some areas such as PPP loans.
Republican and Democrat leaders said Monday that Congress is trying to extend government funding for an additional week to try and strike a deal on the new stimulus before the end of the year.
More than 14.8 million coronavirus cases have been confirmed in the U.S., according to data from Johns Hopkins University. The U.S.'s seven-day-average daily infection rate is also at an all-time high.
Several states and cities have reimposed stricter measures as a result of the spike in cases. New York Gov. Andrew Cuomo said Monday that New York City could lose indoor dining next week among other more severe restrictions if hospitals become overwhelmed.
Dow Inc. (DOW), Johnson & Johnson (JNJ) and 3M (MMM) were among the Dow leaders, rising more than 1% each. Energy led the S&P 500 higher, popping more than 1.5%.
In the short-term, there will be optimistic days where investors rotate into cyclicals and value stocks, and pessimistic days where there will be a broad sell-off or rotation into "stay-at-home" names. During other days like Tuesday's session, there will be a broad rally due to optimistic catalysts.
In the mid-term and long-term, there is certainly a light at the end of the tunnel. Once this pandemic is finally brought under control and vaccines are mass deployed, volatility will likely stabilize, while optimism and relief will permeate the markets. In fact, CNBC personality Jim Cramer said that beating COVID-19 would feel like "the end of prohibition." Stocks especially dependent on a rapid recovery and reopening such as small-caps should thrive.
Markets will continue to wrestle with the negative reality on the ground and optimism for a future economic reopening. More positive vaccine news seemingly trickles in by the day despite discouraging COVID-19 news, economic news, and political news. While short-term downside pressure could certainly persist based on days where bad news outweighs good news, due to this "tug of war" between sentiments, any subsequent move downwards would likely be modest in comparison to the gains since the bottom in March and since the U.S. election at the start of November. It is truly hard to say with conviction that another crash or bear market will come. If anything, the mixed sentiment could keep markets trading relatively sideways.
Therefore, to sum it up:
While there is long-term optimism, there is short-term pessimism. A short-term correction is very possible. But it is hard to say with conviction that a big correction will happen.
This morning's premium analysis will showcase the "Drivers and Divers" of the market. I will break down some market sectors that are in and out of favor. Dear readers, do me a favor and let me know what you think of this segment! It's always a pleasure to hear from you.
Driving
Financials (XLF)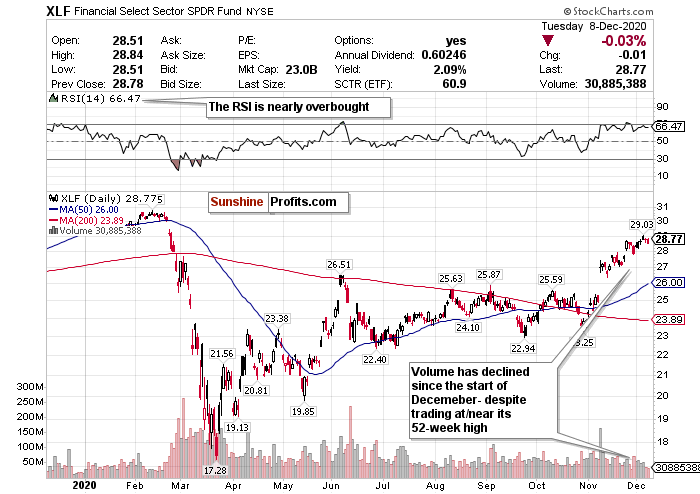 Financials performed strongly in November and have kicked off December just as strong. Although the XLF ETF closed somewhat flat on Tuesday, on optimistic days when hopeful investors believe in businesses fully re-opening in 2021, banking stocks will rise. Furthermore, an increase in higher quality loan applications has fueled the broader rally in financial stocks.
But be cautious. Interest rates are still at unprecedented lows and will not change until possibly 2022-2023. Interest rates are a huge driver of banking revenue, and until these rates start rising again, profit margins will continue to narrow.
Despite these low interest rates hurting profits, the influx of new investors and new money in the markets has almost more than made up for the losses in interest revenue. There has been such a glut of new retail investors with a fear of missing out on the rallies, that certain big investment bank stocks have seen record growth. Many other big investment banks have tried to enter the retail investment space with strategic acquisitions of retail brokerage platforms as well.
I worry about overheating with this sector though - judging from its RSI, the decline in volume, pricing position relative to its moving averages, and proximity to its 2020 high. Without rising interest rates, it's hard to fully justify the gains.
The theme of mixed sentiment continues for this sector. However, because so much of the sector's revenue depends on interest rates, and those will not go anywhere for at least the foreseeable future, I have this at a SELL. Take the profits while you can!
Energy (XLE)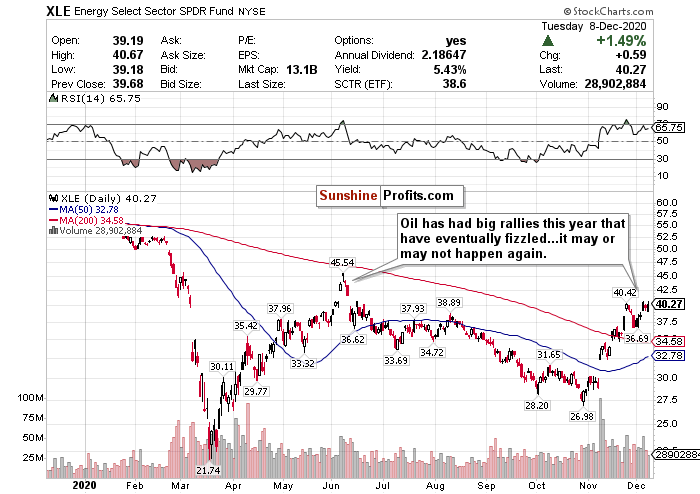 Largely fueled by holiday travel, and optimism on a return of fuel demand, energy was by far the best performing sector in November. It has started off December relatively mixed though. Energy is another sector largely dependent on sentiment. On optimistic days, like Tuesday, it will lead the S&P 500. On pessimistic days, like Monday, it will be the laggard.
It is a very difficult sector to make a bullish call on. There are still simply too many headwinds to be overly euphoric. While energy is still largely undervalued, the RSI is trending towards oversold, the volume is not stable, and most importantly, nobody truly knows what oil's long-term prospects are with the increased adoption of renewable energy and ESG investing.
This year, we have also seen that when energy rallies, it eventually pulls back. Judging from the chart, that inevitable pullback could possibly come again. While there is vaccine optimism now that there wasn't before, conditions are largely the same on the ground with regard to COVID-19 and travel demand. Therefore, my call is to take profits and SELL.
Small-Caps (IWM)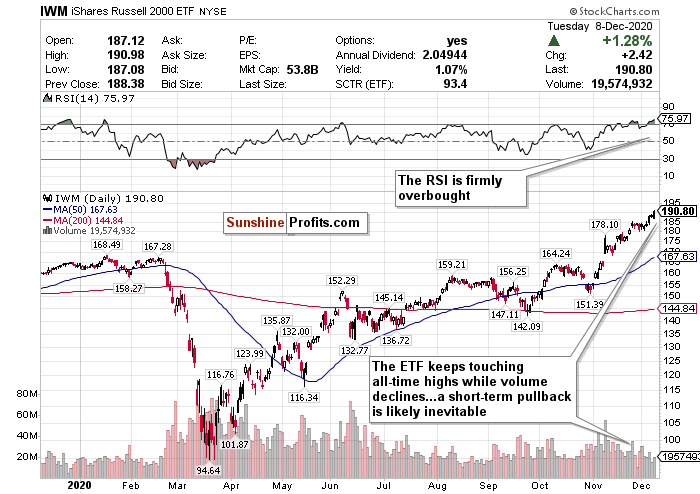 Small-caps keep winning and outperforming the other indices. On Tuesday, the trend continued with the Russell 2000 rising by 1.40%. This run by small caps is what makes the overall market rally since November different from the one in April/May. Instead of tech, which led the April/May rally, small-caps and cyclicals have led the way. This is a bullish sign for an economic recovery and shows that investors are optimistic that a vaccine will return life to relatively normalcy in 2021.
However, when looking at the chart for the Russell 2000 ETF, it becomes pretty evident that small-cap stocks have overheated in the short-term. These are stocks that will "sell the news" more so than other stocks, and experience more short-term volatility. The ETF keeps hitting record highs while the RSI keeps overinflating way past overbought levels and the volume declines. I would HOLD in the small-term, and maybe take some profits if you can - but do not fully exit these positions. BUY for the long-term recovery on a pullback.
Diving
Communication Services (XLC)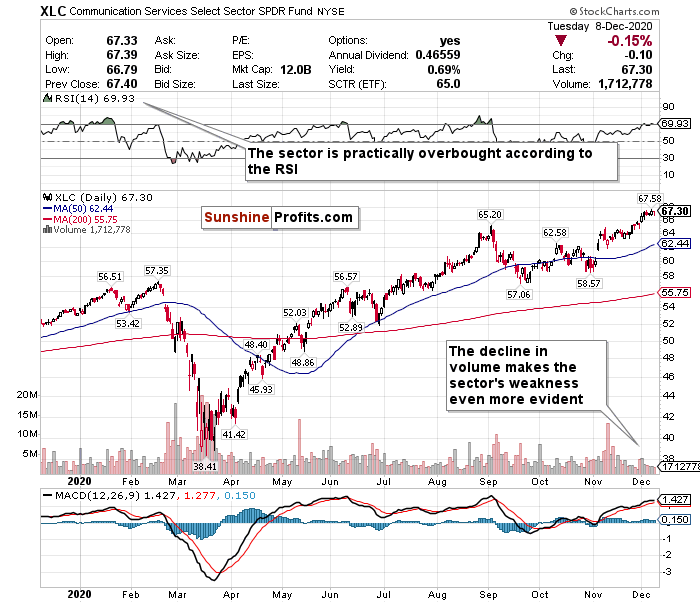 Although the Communication Services ETF just touched on a 52-week high, the gains have not been as robust compared to other sectors. That is generally how communications stocks trade though. The ETF somewhat declined on Tuesday while staying around an overbought RSI. The decline in volume has also been sharp and swift. For the long-term, communications stocks have largely underperformed other sectors as well. It is hard to foresee how this sector will truly benefit from a vaccine rally relative to other sectors, therefore, I give it a SELL call.
Health Care (XLV)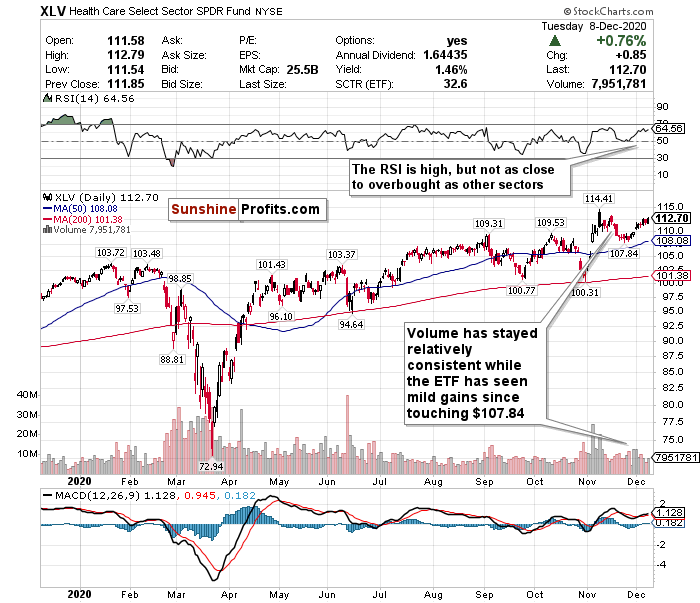 Healthcare should in theory benefit from a vaccine, however, it continues to be one of the market's biggest underperformers. Although a vaccine will cause short-term surges in companies that are directly involved in vaccine production and distribution, it will not be a long-term profit driver for these companies. Additionally, the vaccine will only benefit a few companies while the rest of the sector lags. The pandemic has caused hospitals and providers to lose a lot of money, and there could be more pain on the horizon.
Keep this in mind as well. Hospitals make a lot of their money from elective procedures. With the pandemic, hospitals' resources are being stretched thin, and they are often prohibiting these types of procedures nowadays.
Outside of a few companies, it's simply hard to see the upside in healthcare now. However, volume, while low, is stable, and the RSI is not as close to overbought as other sectors.
While there will not be as much upside in this sector as others, there will also not be as much volatility. Therefore, I give this a HOLD call (and if you own a vaccine stock, consider trimming some profits).
Utilities (XLU)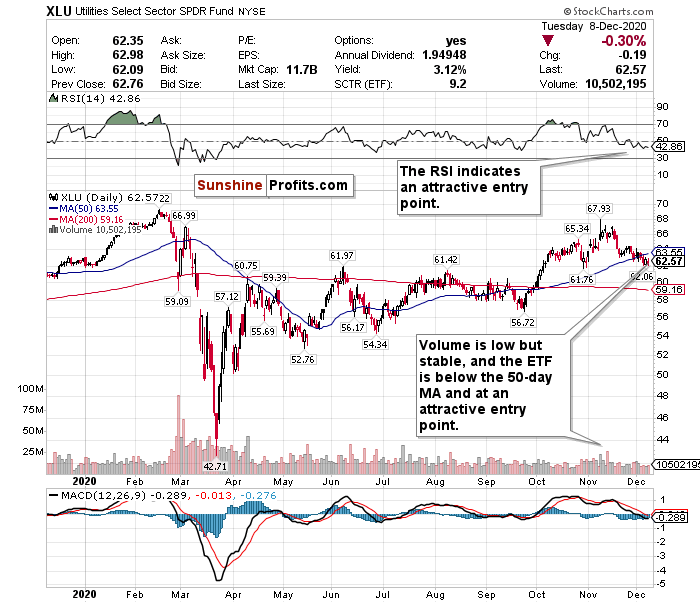 It is very hard to find value in this surging market. However, utilities may offer just that. Utilities have underperformed other sectors because it is a defensive sector - not offensive or one focused on growth. It is a sector that does not move much either upwards or downwards and is generally a safe place to park your money. However, investors have increasingly fled this sector towards riskier growth sectors to chase gains. Yet in the short-term and long-term, this sector may be a good hedge against volatility and bad news and may be a good way to invest in renewable energy and 5G.
Utilities are not exciting, and they will not give you robust returns, however, these are stable investments - if not boring. Utilities do not pose the same type of overheating risks as other sectors, such as small-caps and energy. Most importantly, no matter what the economic condition is and no matter what the news of the day is, you can always count on utilities to stay relatively tame. The RSI is low and almost overbought, the ETF is trading below its 50-day moving average, and volume, while low, has been stable.
Therefore, at this valuation, I give utilities a BUY call - with the understanding that these stocks may not move much to the upside or downside but will provide a consistent yield.
Summary
While the surging spread of COVID-19 and resulting economic shutdowns may drive some short-term concerns, the progress made on the vaccine/treatment front poses significant optimism for 2021 and beyond. The start of vaccinations in the U.K. should be cheered by everyone, and the FDA's imminent approval of the vaccine should be cheered on as well. Although sentiment seemingly changes day by day, the long-term outlook for equities, namely value stocks and cyclicals, could be very positive.
We are thankfully in the home stretch of 2020. This has been a year filled with turmoil and pain, but one that will hopefully end with happiness and optimism - and maybe a stimulus package. But COVID-19 will not disappear before 2021 starts and may be here with us for a little bit longer. But if last month showed us anything, it showed there is finally a light at the end of the tunnel. Until COVID-19 is brought under control or is eradicated though, there will be a continuous tug of war between vaccine optimism and health/economic pessimism.
Please keep in mind that markets are forward looking instruments and are investment vehicles that look 6-12 months down the road. However, it is very plausible that there could be some short-term uncertainty and volatility mixed in. But please remember how sharp and swift the rally was after the crashes in March.
Markets long-term always end up going up and are focused on the future rather than the present.
If everything goes well with the vaccines, and the virus can be somewhat contained, the short-term volatility may be worth monitoring for opportunities before the eventual mid-term and long-term reality turns positive and stable in 2021.
To sum up all our calls, I have a BUY call for:
Small-Caps (VSMAX) - but ONLY on a pullback for the long-term
Utilities (XLU)
HOLD calls for:
S&P 500 (SPY)
Materials (XLB)
Small-Caps (VSMAX) - in the short-term
Health Care (XLV)
And I have SELL calls for:
Financials (XLF)
Energy (XLE)
US Dollar ($USD)
Communication Services (XLC)
Thank you.
Matthew Levy, CFA
Stock Trading Strategist
Back