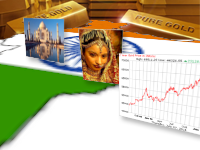 India and Gold Market – A Comprehensive Canvas
Blogosphere discussions on Indian gold demand generally ends up in jewelry, jewelry, jewelry… nothing else! Gold is an integral part of the Indian life style. Promising demand outlook from Indian jewelry segment is a strong pillar in the gold market fundamentals. India's improving economic scenario, demographic advantages, traditional buying power during marriage and festival seasons and the never ending, insatiable demand for gold as investment will likely encourage global gold market moves substantially.
Additionally, looking at the recent trends, investment demand for gold in India is anticipated to witness a high growth rate in the upcoming years. Among the gold investment options in India, an immense future potential is seen for gold ETFs. Is that all about India while considering factors affecting gold market? Let's check out (...).
india-gold-report-revised2.pdf (1.7 MB)
Back