Janet Yellen
Janet Yellen was born on the 13th of August , 1946 in New York City. She received her Ph.D. in economics from Yale University in 1971. She wrote her dissertation under the supervision of Nobel laureates James Tobin and Joseph Stiglitz – and she married George Akerlof, another Nobel laureate in economics. She worked in academia for many years, but later started her public service. In 1997-1999, she served as Chair of President Bill Clinton's Council of Economic Advisers. From 2004 until 2010, Yellen was the President of the San Francisco Fed. In 2010, she became a vice-chair of the Fed, and in 2014 she replaced Ben Bernanke as Chair. She maintained the position until 2018, when Jerome Powell took her place.
Yellen and Gold
What is the link between Yellen and gold? Well, she was considered to be a dove – and indeed, gold slightly gained (about 2.35 percent) under her tenure, despite all the federal funds rate hikes. Why?
Firstly, as Yellen focused mostly on the labor market, she didn't fear the uptick in inflation as long as there was a slack in the labor market. She, thus, believed that ultra low interest rates could and should stay near zero for far longer than previously thought to combat unemployment. Yellen hiked them not earlier than in December 2015. Since then, she gradually raised them to the range of 1.25 percent to 1.5 percent, which is still very low. The gradual tightening was positive for gold, which would have likely struggled more, had monetary policy been more aggressive.
Secondly, Yellen managed to start the unwinding of the Fed's massive balance sheet, without triggering stock market turmoil. After unconventional actions of Bernanke, such as quantitative easing, she had to get back to normal monetary policy, but not too fast. She definitely succeeded. If anything, the Fed remained behind the curve. This is why gold wasn't strongly hit by the Fed's tightening. The U.S. central bank raised interest rates a few times, but the financial conditions remained easy.
Thirdly, Yellen smoothly telegraphed the decisions of the FOMC well in advance. Thanks to the well-planned expectations guidance, Yellen – contrary to Bernanke who triggered a taper tantrum by his unexpected remarks in 2013 – avoided any major stumbles. The clear communication transformed gold's reaction ability.. Under Yellen, the yellow metal reacted more to the changes in the rate hike expectations than to real monetary policy decisions. As one can see in the chart below, gold investors adopted "sell the rumor, buy the fact" strategy.
Chart 1: Gold prices under Yellen's Fed tenure.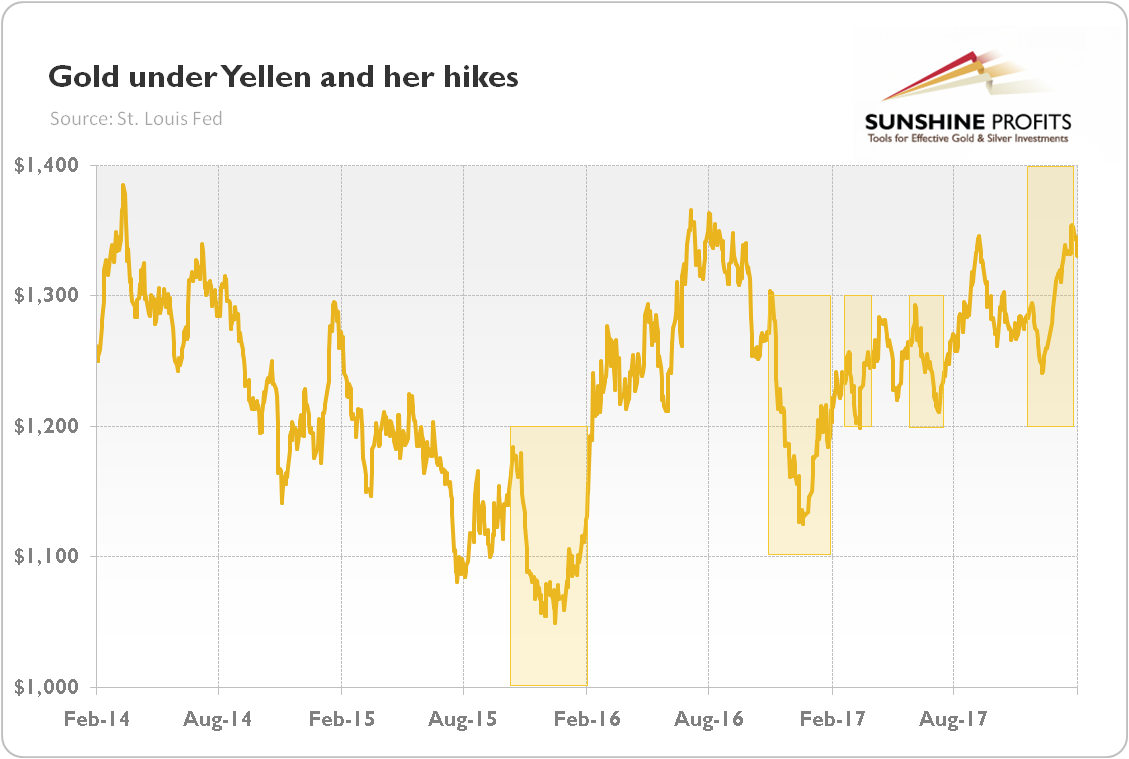 We encourage you to learn more about the gold market – not only about the link between Janet Yellen and the yellow metal, but also how to successfully use gold as an investment and how to profitably trade it. Great way to start is to sign up for our gold newsletter today. It's free and if you don't like it, you can easily unsubscribe.
Back