Contango
Traders, especially arbitrageurs, make use of contango when it widens or narrows from normal values. Gold contango creates arbitrage opportunities in this particular metal.
A forward curve is said to be in contango (contango in gold) when futures (for instance gold futures) are traded at a premium over spot (for instance spot gold price). In commodity markets, the same is true when a far month delivery is priced high in comparison with a near term delivery. In case of a non-perishable commodity, contango refers to the cost of carry; however, this difference between spot and future is not constant. Contango indicates the supply demand balance in commodity markets to an extent; in fact, supply demand determines the shape of the forward curve. Commodities do not follow contango/backwardation strictly; they are highly prone to shifting from contango to backwardation and vice versa depending on the market fundamentals.
The reverse condition where futures trade at a lower price than spot is termed as normal backwardation.
Let's detail the situation using an example. Look at the chart below. At t=0 (today), if the futures are priced above spot, the condition is contango. On the other hand, if the futures trade at a discount to spot, then it is referred as normal backwardation scenario. Ideally, both forwards and expected spot are anticipated to merge at maturity.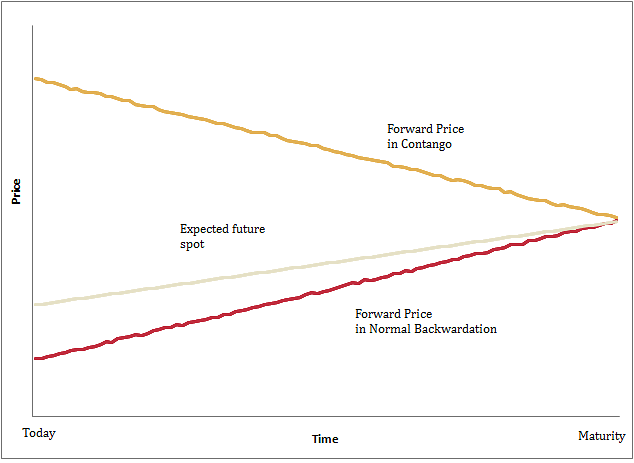 Back