In short: speculative long positions, target at $19,500, stop-loss at $8,600.
Bitcoin has not moved all that much but the move has mostly been to the downside. But it seems that there is more room for action.
The current dominance of Bitcoin among the digital currencies is sometimes called into question when reports on the advantages of newer currencies hit the spotlight. It turns out, however, that Bitcoin might actually be even more dominant than can be surmised from the market capitalization of the currency. In an article on the Forbes website, we read:
Researchers found that if bitcoin's dominance is adjusted for liquidity by calculating the volume-weighted market capitalization it soars to over 90%, reducing the rest of the cryptocurrecy market, including major tokens ethereum, Ripple's XRP and litecoin, to a combined less than 10%—and making their ultimate success more unlikely.
"Every day bitcoin stays ahead, it becomes less likely that any other cryptocurrency can compete as a money," warned Bendik Norheim Schei, an analyst at Arcane Research, who carried out the study.
"That is important to understand not only for investors and those building out payment infrastructure, but also those building out solutions leveraging the security of a public blockchain."
This is something to keep in mind when analyzing new digital currencies. Sure, new entrants can't be dismissed and it's true that a first iteration of an idea rarely is the prevailing on in the tech world (think: operating systems, browsers, social media, cell phone manufacturers, etc.). At the same time, the sheer dominance of Bitcoin can't simply be denied. With such numbers, it seems that Bitcoin is the most important ingredient of the whole digital currency ecosystem. By far. And so focusing on important developments in Bitcoin might give you and idea where digital currencies as a whole are going.
Outlook Does Not Change
While yesterday we focused on the short-term picture, today let's take a look at the long-term one.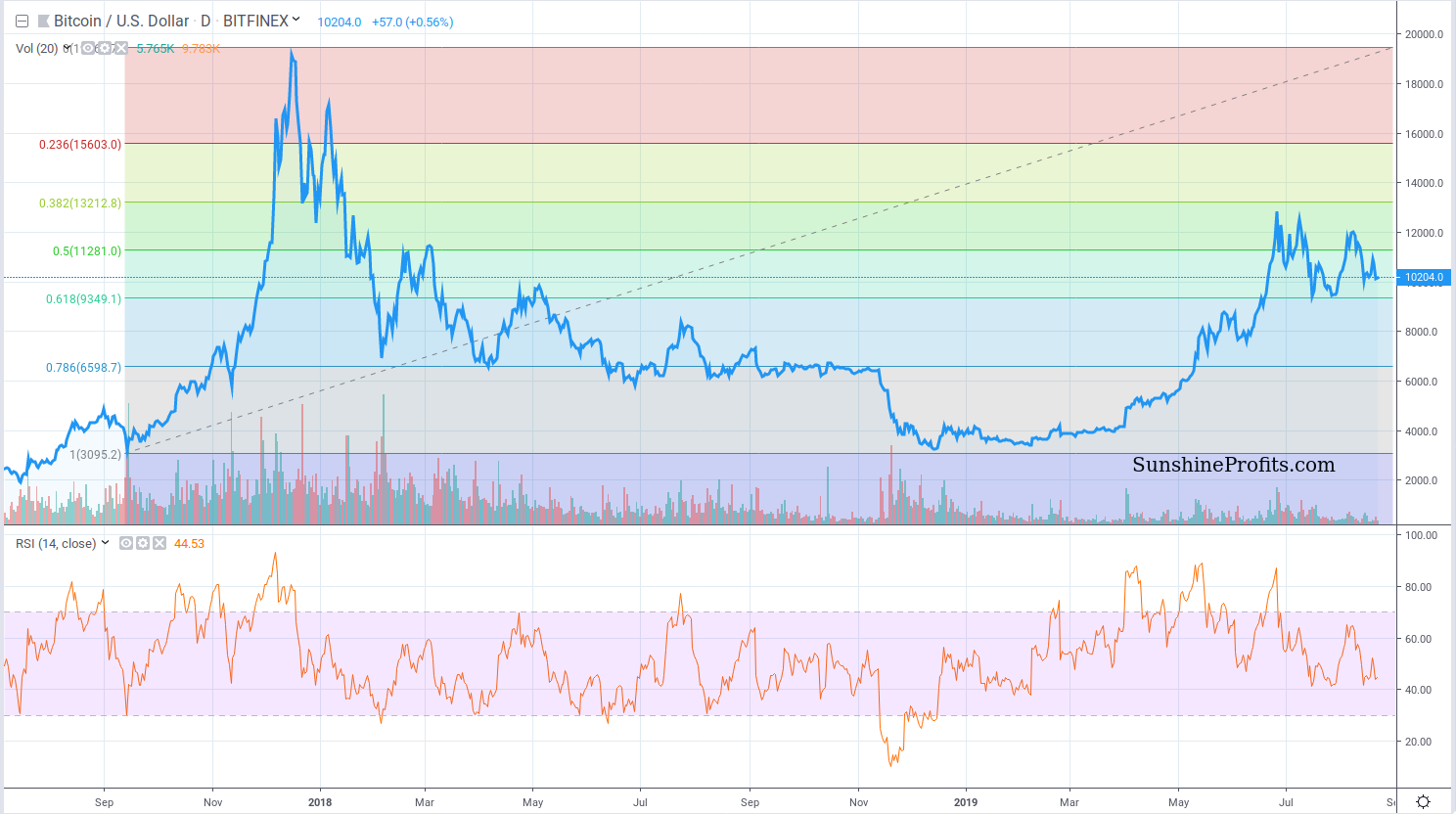 The long-term picture is largely consistent with the short-term one. Namely, Bitcoin has depreciated from important local tops but hasn't gone far enough for the outlook to have changed. This is represented by the fact that the currency hasn't gone to the 61.8% Fibonacci retracement. Such a situation can be read as an indication that the outlook hasn't changed and remains bullish. The 61.8% retracement is the level to observe for changes to the downside. How about changes to the upside? The $12,000 level is still one to look at. If we see a break above this level, then more appreciation could very well follow. This might be supported by the fact that the RSI is now in a position indicating that there might be enough room for another move up.
Summing up, in our opinion long speculative positions might be favorable at the moment. The short-term focus is on $12,000.
Trading position (short-term, our opinion): long positions, target at $19,500, stop-loss at $8,600.
Thank you.
Regards,
Mike McAra
Bitcoin Trading Strategist
Bitcoin Trading Alerts
Back