In short: speculative long positions, target at $19,500, stop-loss at $8,600.
A move up, a move down, a pause, we have seen it all recently. The current environment looks a bit like a turnaround from the short-term perspective. But is it really? Both the short- and long-term pictures hint toward a possible answer.
The appreciation in Bitcoin has not faded away. This makes Bitcoin all the more interesting for the media outlets. And so stories about Bitcoin have become more popular than was the case only a couple of weeks ago. In an article on the Forbes website, we read:
While Bitcoin flutters between being viewed as a store of value or a digital currency, veterans of the FinTech space, payments companies like Square, Skrill, PayPal and Circle are firmly honing in on driving the Bitcoin revolution.
(...)
Banks began seeing cryptocurrencies as a non-event, then they decided to laugh at it - Jamie Dimon's anti-Bitcoin rhetoric springs to mind - then they began fighting it by putting out their own coins - JPM coin - which I think we can all call a win for Bitcoin.
For payments companies, it has been a similar path, except I would add another step in there as the likes of Square, Skrill and Circle are actually starting to champion Bitcoin and are backing the digital currency to be the next big thing in the payments space.
News has flooded recently about Square and its cryptocurrency and Bitcoin dealings. The payments company, that is headed up by Twitter CEO and Bitcoin-believer Jack Dorsey, has said it plans to "improve money."
Our main takeaway from this would be to not get to excited about the "new money" story. So, it's probably best to filer such pieces of news and always have some healthy skepticism at the back of your head. Sure, it's appealing to read that Bitcoin can revolutionize the payment system, and it could very well end up doing so, but we have seen such ideas for years and the level of excitement does not necessarily explain the moves in Bitcoin, in our opinion. It might actually be the other way around – strong moves up might tend to reignite the interest in the currency.
$12,000 Becomes Even More Important
On the short-term BitStamp chart, we are seeing that Bitcoin has not given up its recent gains.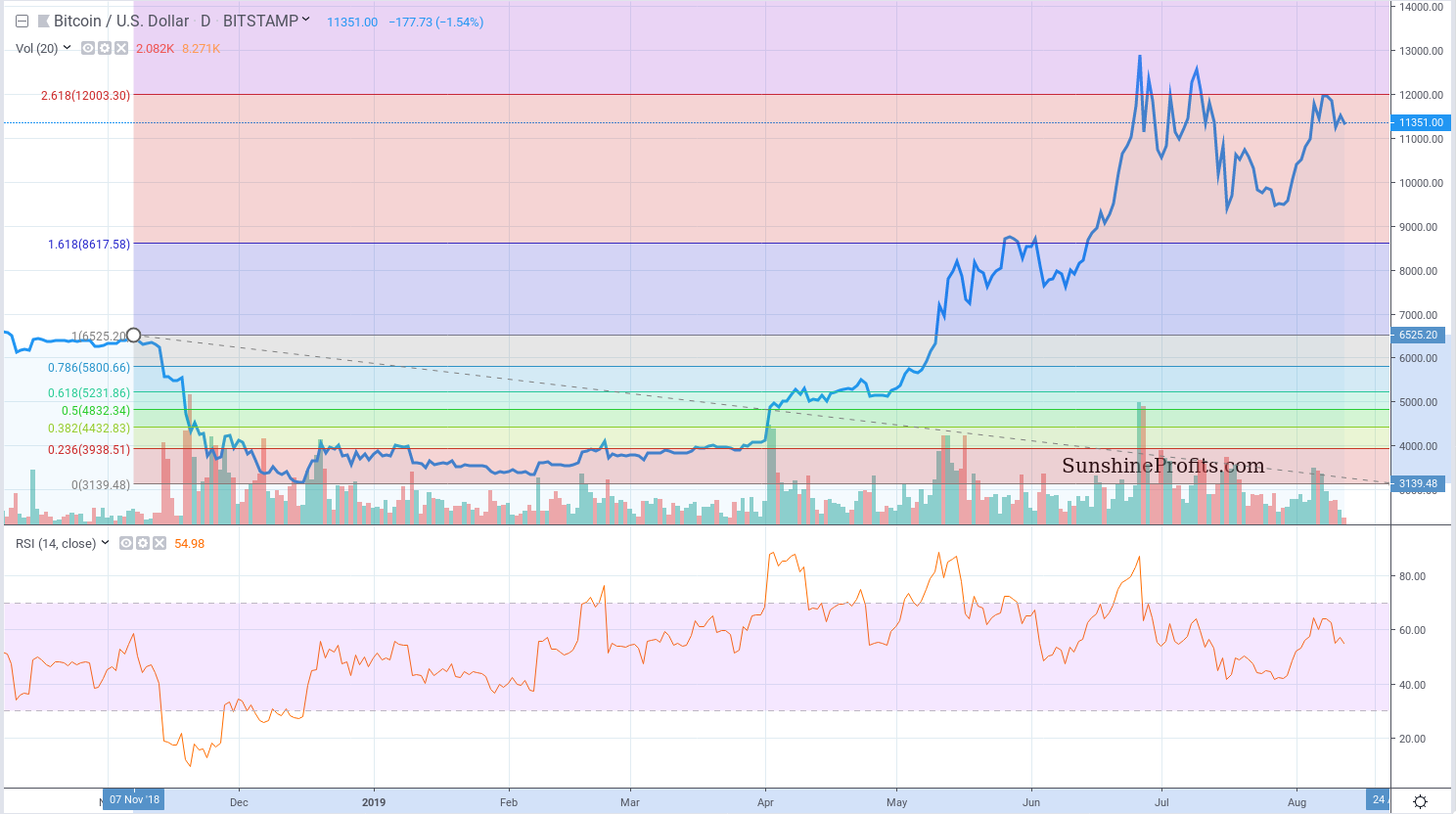 In terms of Bitcoin volatility, Bitcoin has not moved all that much in the recent days. The most important part of the recent moves from the short-term perspective is the fact that Bitcoin went right to the 2.618 Fibonacci retracement before turning back. The meaning here might be that Bitcoin has tested this level but has not broken it. Is this a bearish indication? Not necessarily, as we haven't really seen a bearish indication – we simply haven't seen another bullish one. So, even though the situation has not changed to more bullish, it is still quite bullish. The recent action marks one change, though. The $12,000 has just become even more important with the recent test. If we do see a break above this level, the picture would likely change to seriously bullish.
Outlook Improves
On the long-term Bitfinex chart, we are seeing the move down but it's really tiny compared with the previous action.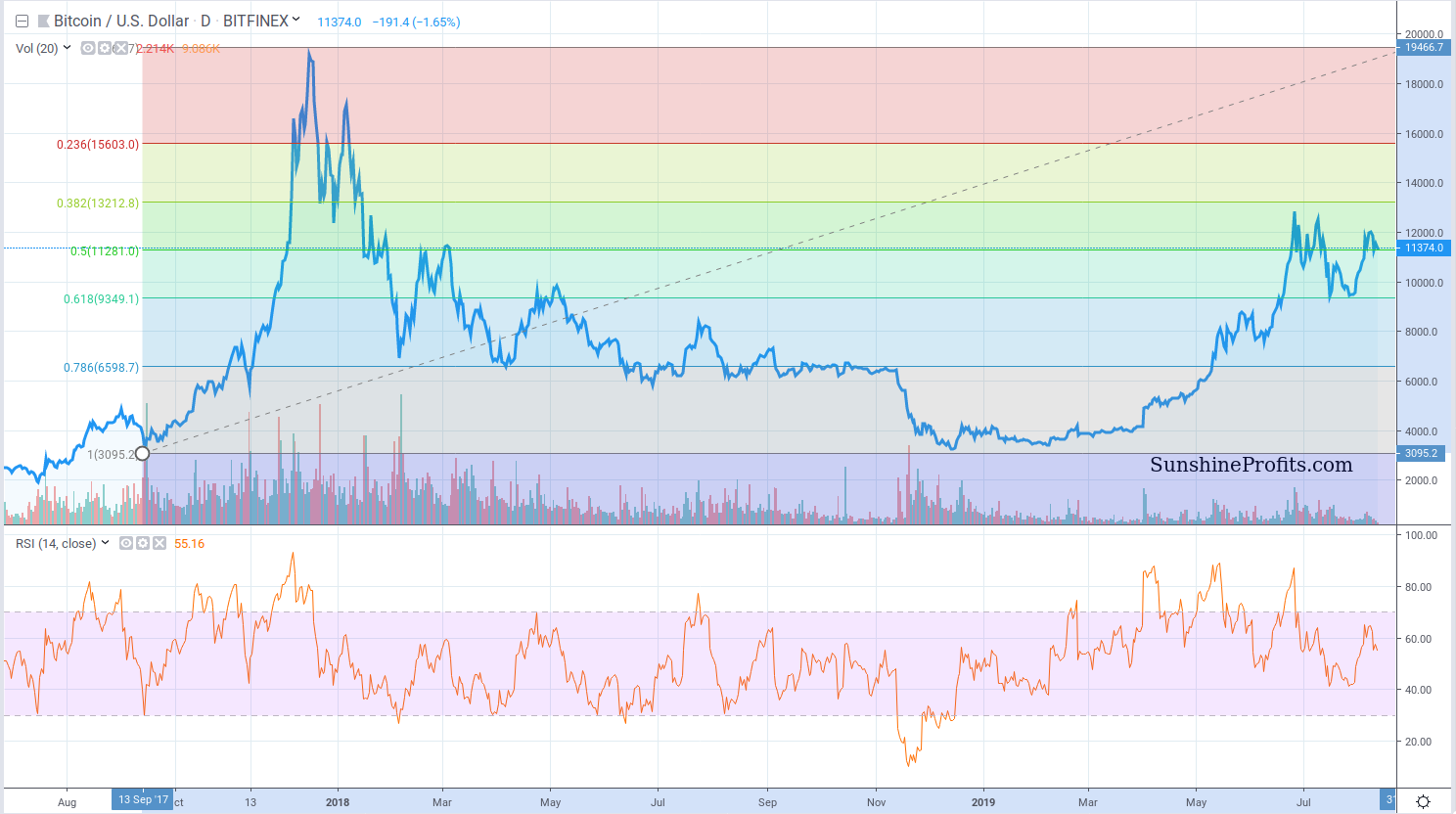 The long-term chart also reveals one interesting quirk. Namely, Bitcoin has tested the 50% Fibonacci retracement based on the move from around $3,000 to around $20,000 and the currency hasn't managed to convincingly close below this level. This means that from the long-term point of view, the situation hasn't deteriorated. More than that. A failed move in one direction could actually be a indication supporting a move in the opposite direction. In this case, a failed move down could be an indication that the outlook has improved a bit. And this slight bullish change has added to an already bullish environment.
Summing up, in our opinion long speculative positions might be favorable at the moment. The short-term focus has shifted to $12,000.
Trading position (short-term, our opinion): long positions, target at $19,500, stop-loss at $8,600.
Thank you.
Regards,
Mike McAra
Bitcoin Trading Strategist
Bitcoin Trading Alerts
Back