Eric, the Beginner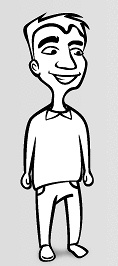 Eric is our beginner investor. He knows very little about the intricacies of investing, mostly what he picks up on the television news, but he asks good questions and is willing to learn about gold and silver. He knows some basic concepts like bull and bear markets and he's heard about ETFs but is not really sure what they are.
He became interested in investing in gold from watching all the television commercials offering to buy old gold jewelry. Eric is savvy enough to know that the world economy is in trouble and that investing in gold is a safe haven. Luckily, he has two good friends who are seasoned precious metals investors and they are bringing him up to speed.
Thanks to his friend, John, Eric discovered Sunshine Profits and is learning as much as he can about precious metals through the website's Dictionary, Key Principles and Multimedia sections. He knows that the time he invests will pay off handsomely in the future, especially since his savvy friends tell him that the bull market in gold and silver is far from over.
Eric, the Beginner comments

Eric, the Beginner comments:
Eric, the Beginner comments:
Eric, the Beginner comments:
Eric, the Beginner comments:
Eric, the Beginner comments:
Eric, the Beginner comments:
Eric, the Beginner comments:
Eric, the Beginner comments:
Eric, the Beginner comments:
Eric, the Beginner comments:
Eric, the Beginner comments:
Eric, the Beginner comments:
Eric, the Beginner comments:
Eric, the Beginner comments:
All advisors
Meet New Profits
Now you can build solid profits on top of the work we've put over the years in tools, charts, updates, and free newsletter:
No credit card required