MAY 17 GOLD PREMIUM UPDATE
The currency war is hitting again, with Australia, New Zealand, Sweden and Israel joining the theater, as the smaller economies react to the quantitative easing of large economies. This week we also look at the latest World Gold Council Gold Demand Trends report showing that the gold market is driven by diverse global demand, and the appetite for owning gold jewelry, bars and coins continues to grow. But will the prices follow? In the latest Premium Update we focus on the following factors:
Crude oil is closing to the major resistance line for the third time this year
Gold to bonds ratio back below the 50% retracement level
Gold's recent decline reveals its shape - the reversed parabola - how low and how fast can gold decline?
No true underperformance of silver to gold has been seen recently - implications thereof going forward
Trading plan for the coming weeks, detailed suggestions regarding trades in gold, silver and mining stocks - including stop-loss levels
Long-term investment suggestions: stay in or stay out?
Log in or sign up for the free trial of our Premium Service to read our latest Premium Update with the above-mentioned details.
Gold & silver trading

Trends that move before the market, overlooked by the masses. Clear buy & sell signals for gold & silver traders.
Analyze charts
Gold investment tools

More than just a standard set of tools. Tools that set a new standard for gold investment.
Explore tools
See the video
Featured Video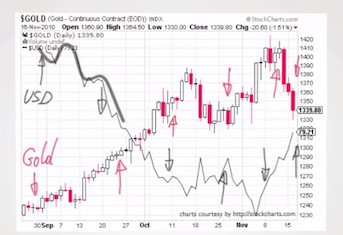 In the coming days, weeks and months some markets will influence the price of gold more than the others. What will have the most influence? What will have none? The stock market, U.S. dollar, mining stocks? This video is intended to educate you on how to see the big picture, and take the most out of these correlations.
Keywords: market correlation, correlation matrix,
gold dollar correlation
free newsletter + 7 days trial
Gold Trading Signals
Gold is at $1,405. Is this a turning point? You could wait for a few days and know for sure -- but it might be a few days too late... Try Sunshine Profits Indicators. Spot early signs of upcoming changes on the market.
No credit card required
Premium Updates
More
Status

Status

Status
Sunshine Tweets